SIGN UP FOR STORIES
We would like to invite you to sign up to receive sporadic emails from us about House events, news, special offers, products and services from The Chimney House.
x
Spring at The Chimney House
We're proud to be welcoming you back to The Chimney House! Join us for meetings, conferences, private dining and the most beautiful weddings, ceremonies & parties...
Find Out More
x
Fall in love with Chimney House Weddings
The most perfect wedding ceremony and wedding reception venue in Sheffield. We have it all! The romance of history and heritage that our iconic riverside building brings, alongside an adoration and dedication to all things weddings.

Our wedding consultations mean you can enjoy the romance and delight of having your wedding planned to perfection as we arrange menus, styling and create a beautiful ambiance bespoke to you. Our beautiful couples are welcomed as part of The Chimney House family for the months, weeks leading up to their big day.
Our knowledge and experience of hosting weddings at The Chimney House means your day will be a beautiful dream, perfect in every sense with the smallest of details taken care of. Come dine, drink and toast with us! We'll make sure your celebrations are everything you want them to be and more!

We also arrange, style and host fabulous hen parties with a difference, perfect pre-wedding 'rehearsal' evenings and of course the most glorious marriages, civil ceremonies, receptions and parties imaginable for up to 50 guests to feast on the finest food from the seven hills of Sheffield.
Enquire Now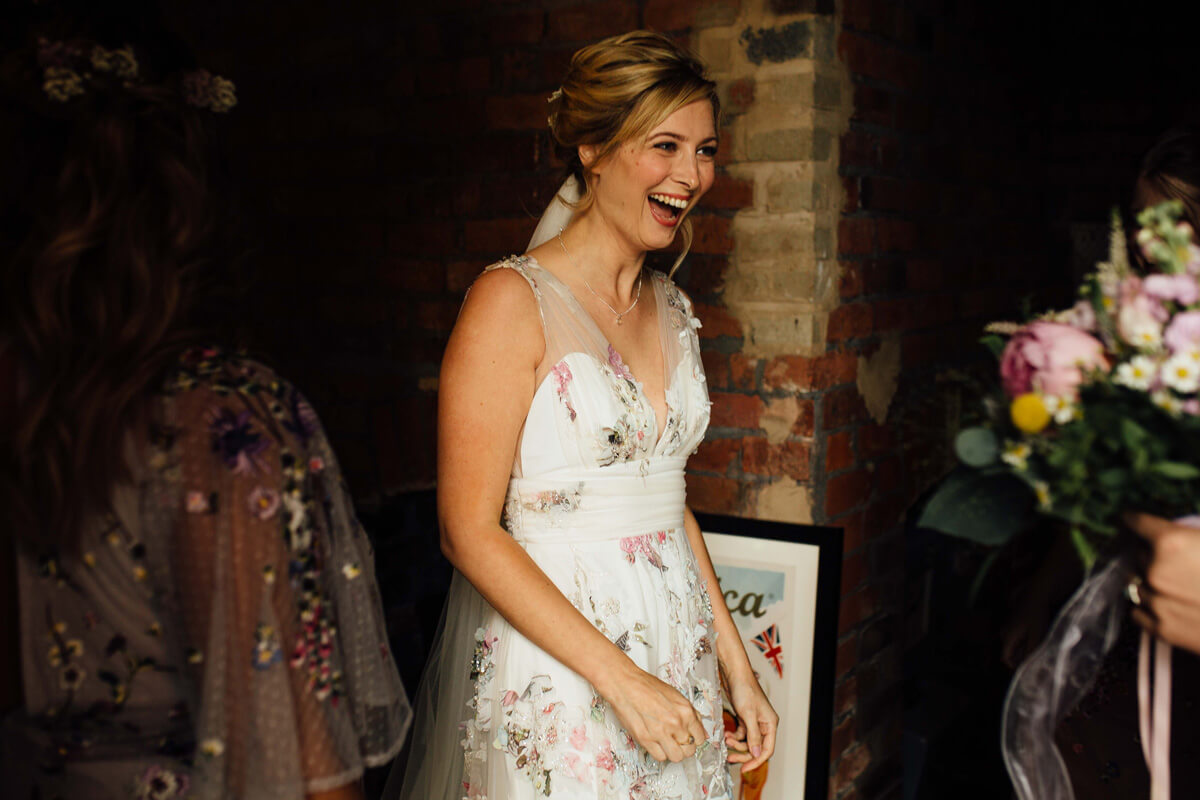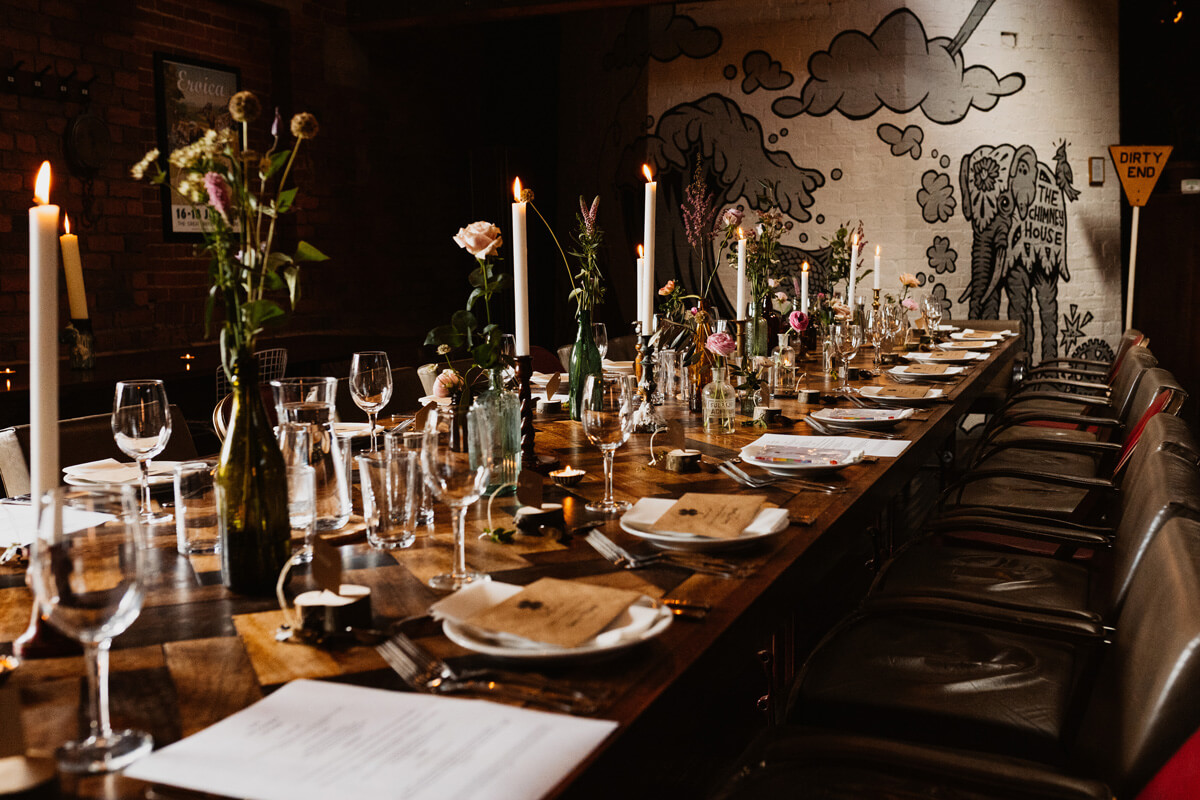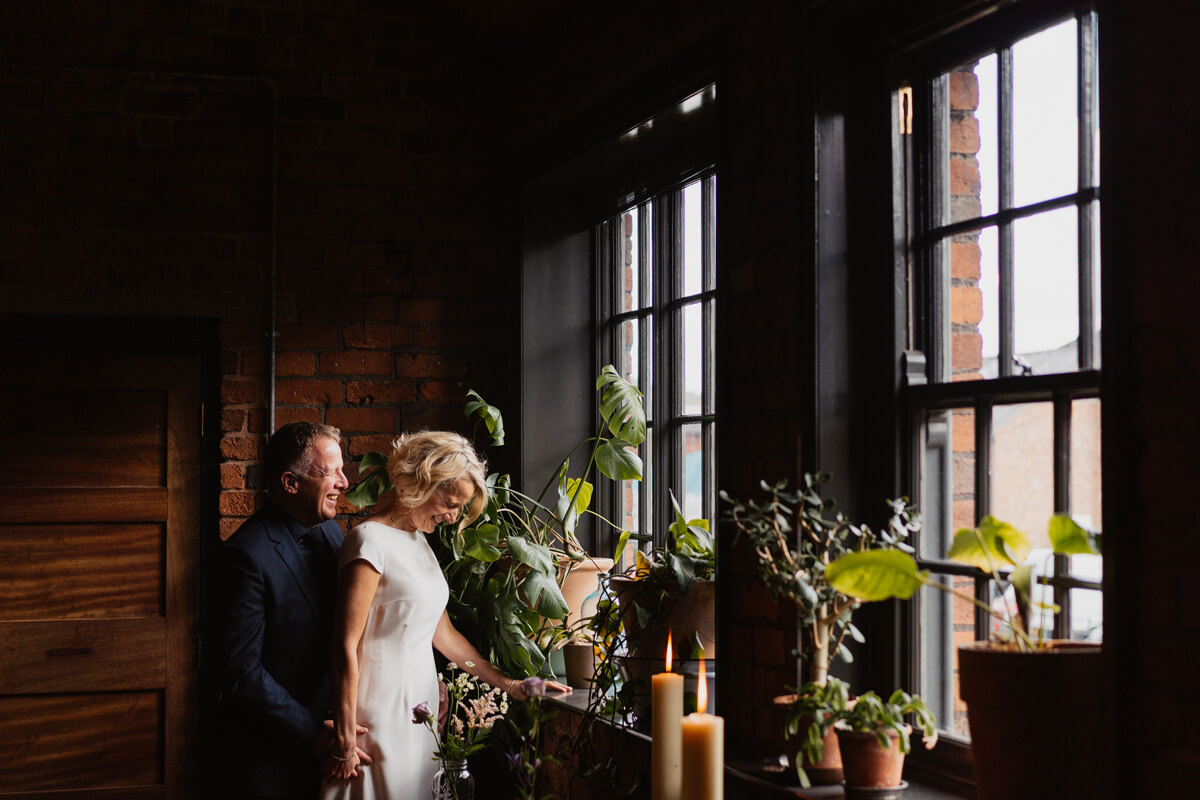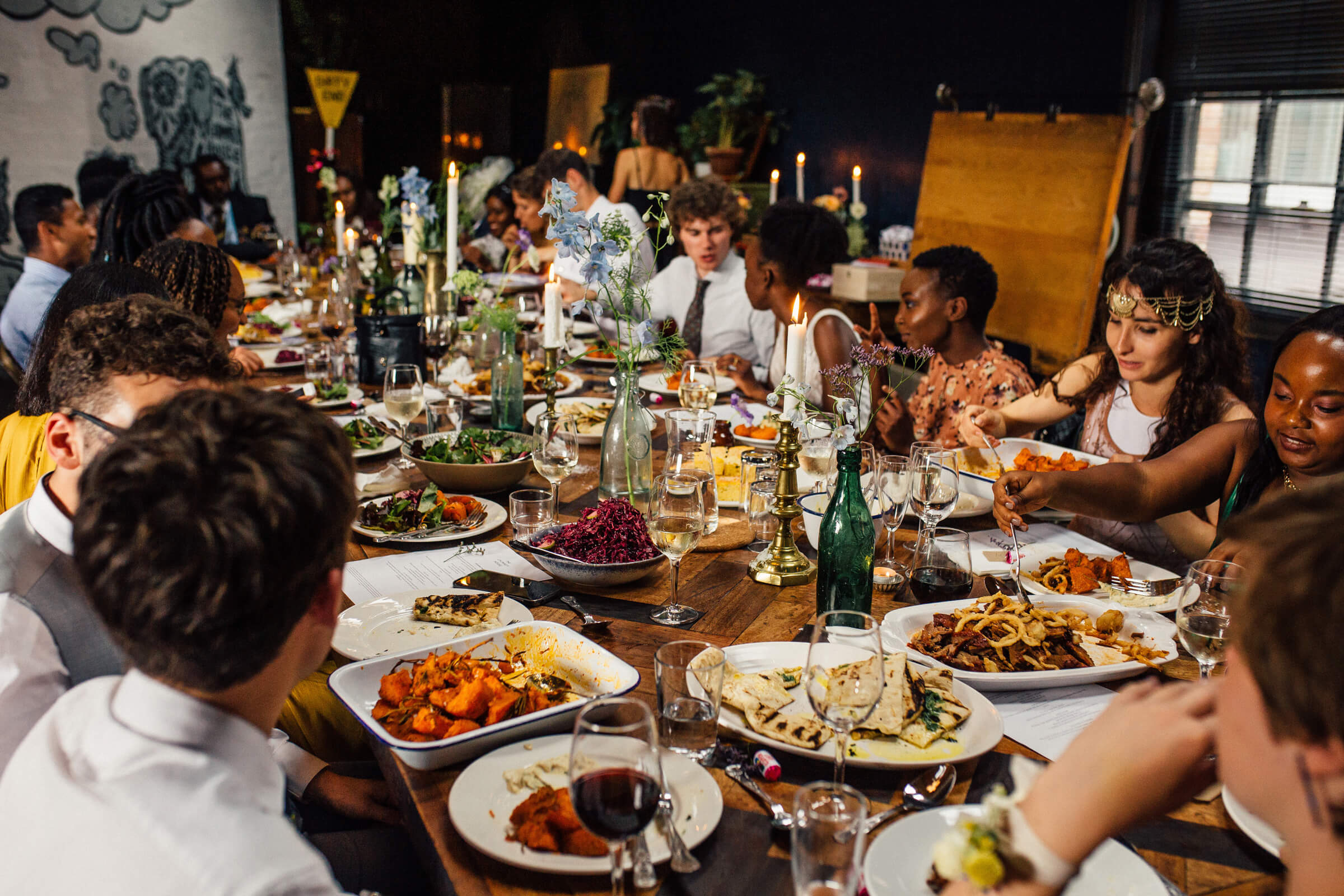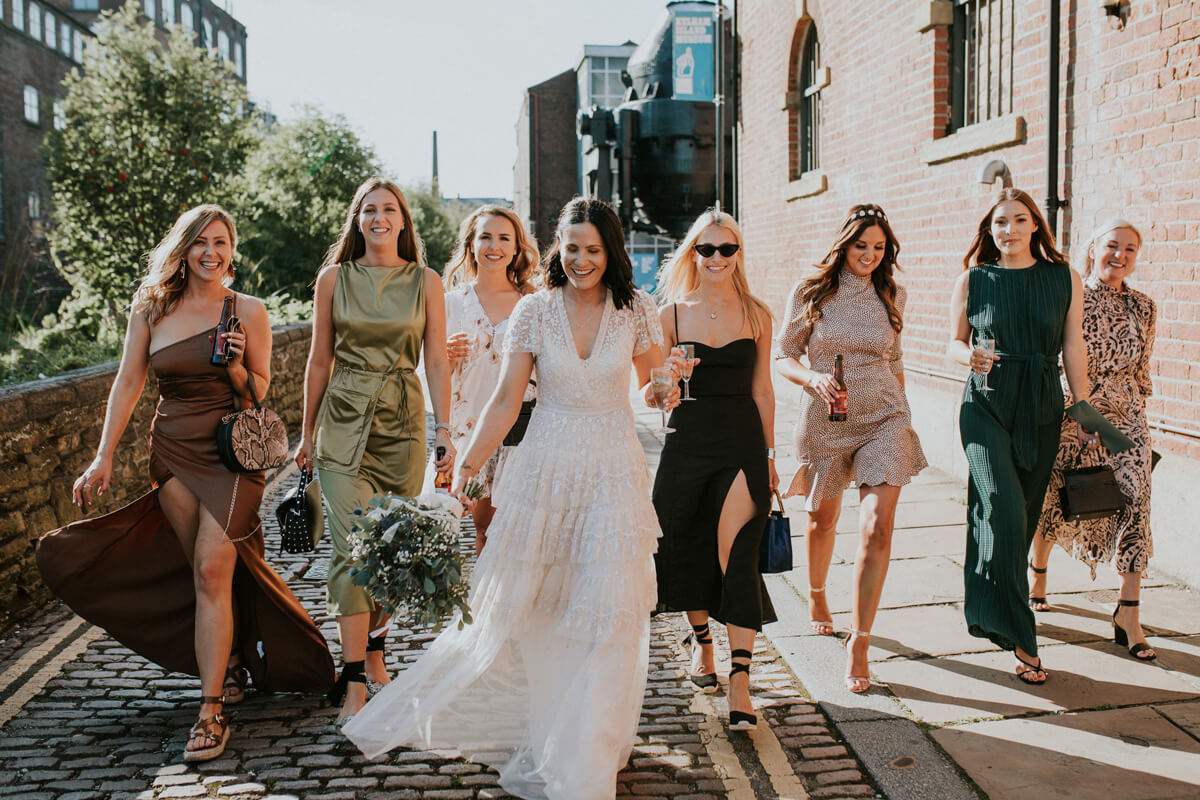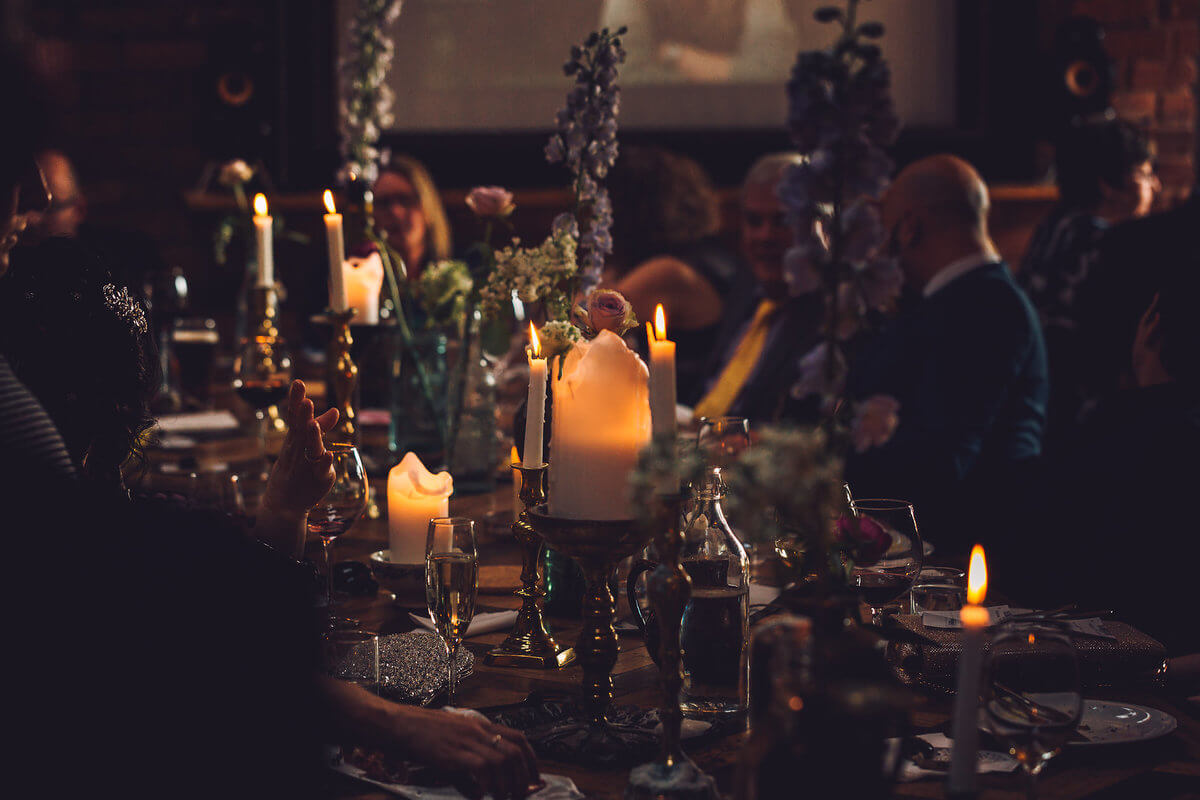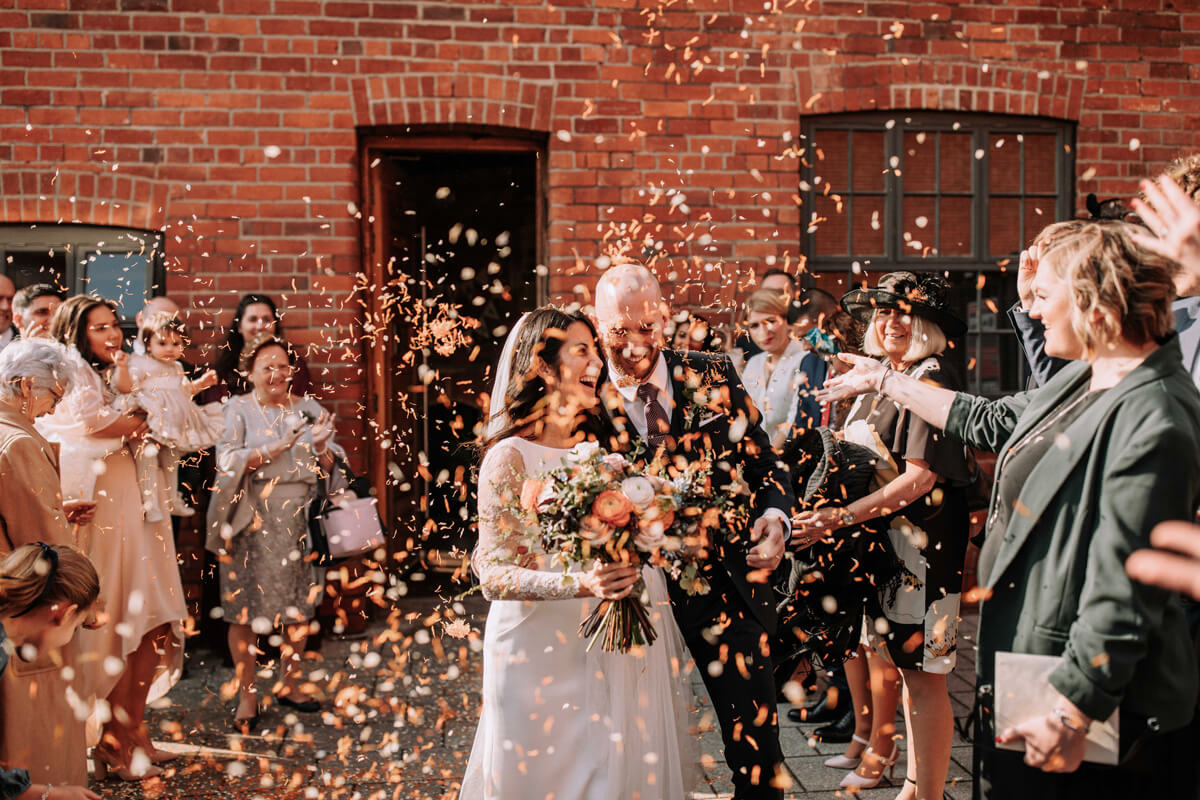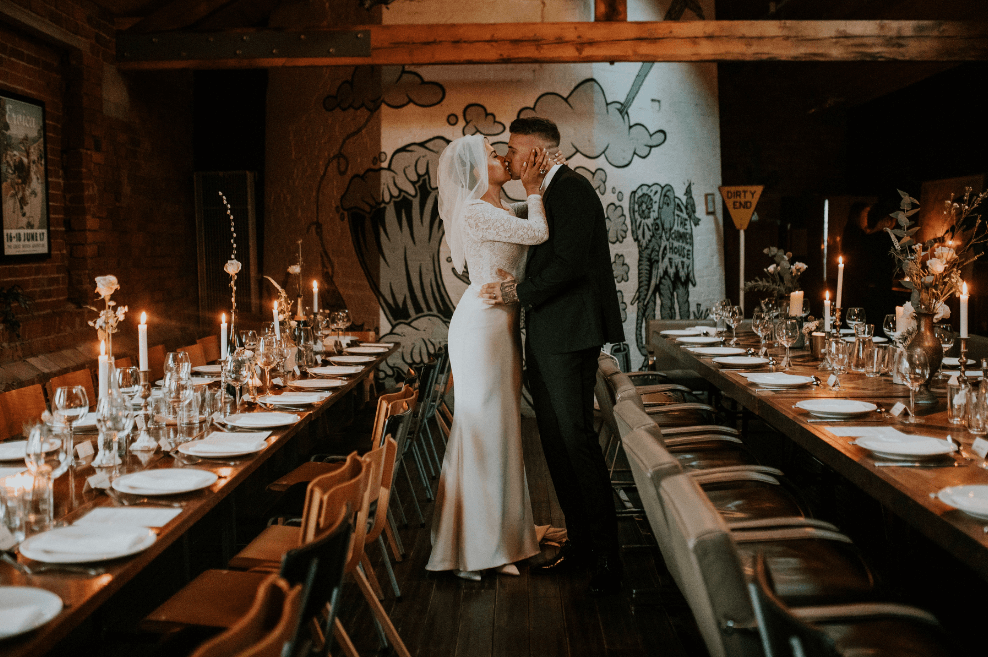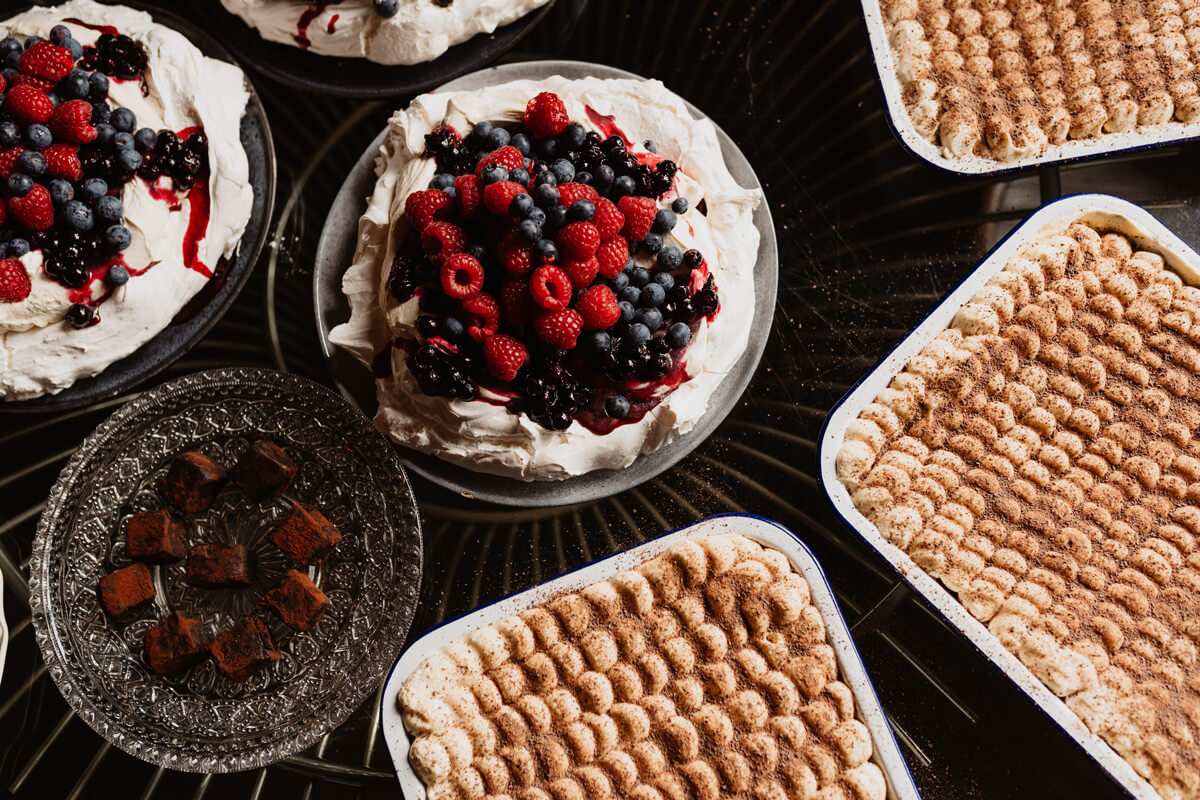 Taking care of everything

Venue Styling
Famous for our attention to detail and our lavish love of all things beautiful holds us in renowned stead for minuscule detailing as we dress the room for your event. The most beautiful curiosities and the prettiest florals will only ever make it into The Chimney House!

Consultations
Planning your wedding? Let us plan it for you! You choose your guests and we'll do the rest! We'll look after the detail and you can look after all the fun stuff of your big day!

The Cake
You've dreamt of it, planned it, made it - now it's time to slice it! We'll take care of a silver Sheffield knife and cake slice for the big moment, plus we'll serve to your guests or parcel gifts of cakely delights for hometime treats.

Seasonal & Local Menus
We have the privilege of working with chefs who love seasonal food changes as much as us! We only serve the freshly baked, cured and cooked, and only the local best will do.

Marriages & Civil Ceremonies
New for 2019 - we are fully licenced for marriages and civil ceremonies . Let us take care of the most beautiful ceremony for up to 50 guests.

Bar Service
Indulge in carefully chosen wines, ales and soft drinks to match your menu - and be sure to ask about House Punch Bowls and cocktails for arrivals, feasting and post dinner tipples!

Luxury Amenities
We are one of the only venues in the North to stock the iconic Aesop amenities. We have chosen Reverence Aromatique Hand Wash and Resurrection Aromatique Hand Balm to add a super dose of luxury to your day.

The Extras
Seating plans, name cards, table decorations and guests gifts and favours. You bring them and we'll style and place them perfectly.

Audio Visual
Relax! Plug and play! Full colour projector, screen, full audio/visual services. Superfast fibre WiFi broadband in each room. Black out or natural daylight – it's up to you! All of our lighting operates on dimmers.
Marriages & Civil Partnerships at The Chimney House
From January 2019 The Chimney House is licensed for Marriages and Civil Partnerships for up to 50 guests.

Let us welcome your guests into the most special day of your life in the most beautiful of settings. Perched on the edge of the historic waterways right on the borders of where old Kelham Island meets new Kelham and a stone's throw away from The Mowbray.

Let us book your ceremony at The Chimney House and choose between The Chimney House or The Mowbray for your wedding reception for a perfect day curated just for you with effortless style and ease.
Get in touch
We had an absolutely fantastic day, everything at The Chimney House worked like a dream. I could not have been happier with it all. Everybody RAVED about the food!
Helen & Ben
I had been following The Chimney House on Instagram following an event we attended and I had fallen in love with the enchanting corners, soft romantic lighting of the candles, rustic tables and natural decoration. It was simply beautiful. Our family friends got to sit round the most stunning tables sharing the most wonderful food. The food served was out of this world we received so many fantastic reviews from our guests. We had several dietary requirements all which were met with the most amazing taste and textures.
To the chefs who worked so hard, you made our day perfect! The food was such an important part of our wedding and it was more than we could have imagined. Guest have even tried recreating the flavours of sharing table back at home. The quality of food and being sourced locally satisfied our need to support local businesses and showcase what Sheffield has to offer.

The Chimney House is such a special venue and we are so grateful to have celebrate our wedding here. Lucy was exceptionally helpful, her communication was fantastic and we cannot thank her and the staff enough for making our day 'our day'. Lucy also introduce us to the uber special and industrial Mowbray to accommodate our evening guests.

The Mowbray offered a big space for our 160 evening guests to sit, sing and dance. The quirky industrial vibe continues here at the mowbray steeped with the history of Sheffield. The Mowbray was stunning and we received wonderful comments from our guests, from the deep green velvet curtains to the beautiful wooden tables. The decoration at the mowbray was elegant and natural alongside the rustic raw walls, it is a such a stunning place, not like any venue I have seen before. We opted for wholesome and hearty food for our evening guests and had pie and pies, which was delivered again most perfectly by the chefs.
Lucy & Christopher
Thanks so much for everything, it was absolutely perfect and everyone was so impressed with The Chimney House! Thanks for such a special day.
Amanda & Eoin
We wanted a small, intimate wedding with our closest family and friends, so the moment we saw the Chimney House we knew if was perfect. Lucy and the team were amazing, everything just happened like magic and we were left to simply enjoy the day while they looked after every detail.
The room was beautifully decorated, the candles and flowers gorgeous, and the light and surroundings just beautiful - you simply couldn't take a bad photo! The food was perfect, and all our guests commented on how much they enjoyed it. Fabulous food served in a way that allows everyone to share and chat as they eat.
Michelle & Simon
It was fantastic, the food was out of this world, and the staff you had on for our wedding, so attentive but laid back and chilled also. Loved it, all the guests complimented the dishes and are wanting to come back for food!
The chimney house looked amazing as we knew it would. We had a magnificent day!
Hayley & Jake
What can we say? Thank you so much for making our wedding reception totally fabulous!
Everybody raved over the food and it made a perfect venue and warm hospitality even better. We simply could not have asked for anything more and if we marry each other again, we will certainly come to you for our reception.
Thank you again for all the attention to detail, it made a sparkling difference.
Sue & Dave
Tom and I are so grateful that we got to have our reception at your beautiful venue.
Everything was perfect on the day and the food was amazing! Everyone seems to have really enjoyed the day too.

Cynthia & Tom
It was completely perfect in every way, thank you!
Natalie - Hen Party
Our son and daughter in law held their wedding at the chimney house, stunning food, venue and lovely people.
It was a perfect day and we couldn't have asked for anything more. Thank you so much to you all!
Helen - Mother of The Groom
Thanks to all of you at The Chimney House for making our day so special. Right from booking through to the day you were so helpful and answered all our questions.
The venue looked amazing and the food was out of this world - truly amazing. Everyone said so. Thankyou to every single one of you involved in making our day so special.
Mr & Mrs Brooke
Thank you to Lucy and the team at the Chimney House and The Mowbray, from start to finish they were simply wonderful to work with and made planning a wedding from the opposite side of the world so much easier.
The venues themselves are absolutely stunning and the perfect backdrop for the best day of your life.
Every mouthful of food, from the fist canape right through to our booze busters at 9pm was scrumptious, I wish I could eat it all again.
The only thing that would have made our day even better, is if we could stop time and do it all over again.
Nicola & Phillip
Just wanted to say a big thank you to all you're team for their hard work to make everything so special for us on Friday!
We had the best day!
We had so many complements about the venues and the food which only reflects on your teams hard work and your exceedingly good taste and style of course!
Katy & Dan
We were told that The Chimney House were in the final stages of getting their licence to hold marriage ceremonies and we could get married there. This was our perfect set up, being able to feature both beautiful venues for our special day; married at The Chimney House for an intimate ceremony and then on to The Mowbray for a feast and most importantly a party.
Kelly & David
We had always wanted a small ceremony and The Chimney House was perfect for this. Since the very beginning of our journey the whole team were incredible, offering us advice and support throughout.
We had absolute confidence in the guys and they did not disappoint on the day.
All of our guests have commented on what a beautiful, intimate ceremony and meal it was and we feel truly honoured to have been hosted by The Chimney House.
There is not a single thing that we would change about the day, which is surely the way it should be?!
We will forever remember our day and still do not have words to describe our thanks to The Chimney House.
Heather & Gav
We hired The Chimney House for our wedding in November 2019 and it was the best decision we ever made.
Lucy and her team did such a good job with the organisation and were so helpful and professional.
Jasmine in particular was great, we bombarded her with a million questions and she always answered everything promptly.
Amy and her team looked after us so well on the day.
The venue was so beautifully decorated and the food was to die for!
All our guests were still raving about it days later.
The staff took care of everything so there was minimal stress, even when it looked like the torrential rain might put a spanner in the works.
The communication was excellent and the whole day went perfectly.
It was everything we could have wished for.
We would like to say a huge thank you to the entire Chimney House team for a day we'll never forget.
And to anybody wondering whether to book the Chimney House for an event: what are you waiting for?! Book it now, you won't regret it!


Laura and Hendrik
We would just like to a say a massive thank you to the events team at The Chimney House.
They have guided us through many Covid rule changes, had video chats out of hours, and ultimately ensured that we had the best day possible given the strange circumstances.
Nothing was ever too much trouble for Lucy and her team!
We will be forever grateful for the time and effort they gave us in the run up to our wedding day and we can't wait to celebrate our wedding in The Mowbray next year (hopefully when social distancing is a thing of the past!)
One of our guests even said to his partner "why aren't we getting married here" after attending our ceremony!
Elizabeth & Andrew
From the moment we saw The Chimney House, we knew it was the perfect venue for us for an intimate wedding of 30 guests. Lucy was absolutely brilliant through-out the whole planning of the wedding.
We soon found ourselves planning our wedding through a pandemic with many different changes to our day. The staff were so accommodating and were as determined as us to make our day special.
To fit in with government guidelines, we found ourselves planning a wedding for 15 guests. Three days before our wedding, the guidelines changed again, which meant we would not be able to have our reception. Lucy and the team were amazing and spent that afternoon helping us move our wedding day, 2 days earlier, so we could have our wedding reception. We simply could not have made it happen without their help!!!
Our wedding day was perfect and the team had listened to every little detail that we wished for. The day ran so smoothly and the room looked beautiful. The beauty of the venue meant that we could leave the dressing of the venue in the very safe hands of The Chimney House team. Everyone commented on the candle light, the flowers and the table decorations. This was all organised by the venue and we knew we didn't need to worry about anything other than the favours. The table could not have looked more perfect, including the menus, the champagne tower, the cake set up and glasses which the champagne came in (commented upon by many guests!)
As a couple, we really enjoy eating delicious food and drinks.
It was really important to us that the food was THE BEST on our wedding day. It couldn't have been better! The food was absolutely amazing and everyone was blown away with the quality, even the fussiest of eaters were impressed! We had The Laden Table option and it was perfect. The guests constantly spoke about how fantastic the food was from the bread served on the table, the roast potatoes, the meat (cooked to perfection) and the delicious PAV and sticky toffee pudding. They were so accommodating with dietary requirements too. We just wish we could have fit more in our bellies!
Many of our guests told us that it was the best wedding they have ever been to! Our intimate numbers meant that we could all relax around one table and enjoy our feast together. As the bride and groom, we could relax and not worry about rushing around the venue to speak to everyone. We really wish that we could do the day all over again - our guests do too!
Thank you so much for all of your help.
We could not recommend this venue enough
Michelle & Rob
We immediately fell in love with the intimacy, warmth and laid-back style of the Chimney House.
We were looking for a venue to host our small wedding ceremony and the Chimney House was perfect.
We had our wedding planned for April 2020 before we were forced to postpone due to Covid-19.
The Chimney House team were so lovely, understanding and patient. They helped us to rearrange the date twice, as we decided fairly last minute to squeeze in our wedding before the second lockdown.
Despite the short notice, Lucy was super organised, she put us at ease with prompt replies and ensured the day ran smoothly (whilst also keeping our guests safe by following all the relevant Covid protocols).
The uncertainties of this year would have caused us much more stress without your support. It may not have been the day we originally planned but we are so grateful to the Chimney House for still making it special.
It was an incredible day, one we will never forget and we wouldn't want it any other way. Thank you all so much for everything!
Abi & Ben
I've known for a very long time that I wanted to get married at the Chimney House and when I showed my fiancé some pictures, he felt exactly the same. We're born and bred in Sheffield so knew we wanted something with some history and character relating to Sheffield and where better than Kelham Island and the Chimney House?

Shortly after we booked, the pandemic hit and everything was thrown into chaos. We can't fault the communication and support from Ellie and Lucy throughout such an uncertain time when they were going through it all.
We were in regular contact and when our wedding was cancelled by lockdown 2, it was made so much easier by the flexibility offered and even the willingness to do the wedding at short notice. Nothing was too much trouble and they were happy to help with anything and make the day happen while working within restrictions and a new way of working for them.
This showed to us how dedicated the team are and how much they love what they do.
We felt really well looked after and like our day was important to them.

On the day, although it was now a micro wedding, it still felt perfect and exactly what we wanted from the Chimney House, despite restrictions. Once again, everything was flexible and not rushed even when the groom was late and everything was done for us so we didn't have to stress. The venue was decorated beautifully with flowers and candles and everything felt very safe and secure with the restrictions in place.

We had the perfect afternoon and are so glad the team were able to make our wedding happen despite everything. Thank you to the team for everything. If we could do it again, we absolutely would!
Bella & Joe
The Chimney House was the perfect venue for us to have our small wedding at.
We cannot recommend them highly enough.
The building is lovely and cosy – perfect for our small wedding party of 15! The team dressed the venue well for little extra cost. But it was the Chimney House team, especially Lucy, who really made our wedding special despite some real challenges! Lucy was in constant contact with us throughout the wedding planning whilst the COVID restrictions and rules changed. She really helped make the planning less stressful. Lucy and the whole team were very friendly and flexible with us and went the extra mile on our wedding day to make sure everyone was looked after.
As was our luck, we had torrential rain on our wedding day, and COVID restrictions meant that we could only hold our reception outdoors and this was planned to be on the roof of their sister venue, The Mowbray.
Lucy and the team were amazing, re-organising everything to let our photos and speeches to be done back in The Chimney House. Because we could not eat inside, they quickly turned the wedding breakfast into a takeaway for us. We all went home and had the best takeaway meal ever! The food was excellent and plentiful, and even in the last-minute change of plans, every guest's dietary preferences were accounted for.
We had a beautiful wedding day despite the heavy rain and challenges of COVID restrictions, and we really cannot thank The Chimney House team enough for helping to make our day so special.
Kerry & Michael
In terms of our testimony well! Our double chins and laughing faces is our testimony to you guys.
The Mowbray is a special place, the people, the place and most importantly the food.
Our day was incredible.
Our day was supported by the most incredible people who work at The Mowbray and The Chimney House who made our day better than we ever could have imagined.
Our guests (and us) raved about the food and the beautiful venue and we could not have been happier to have our big day at The Chimney House and The Mowbray.
Laura & Jono
The Chimney House is a perfect venue and the decoration and attention to detail is sublime. Lucy was fabulous throughout the whole of the planning and made everything so easy. The two Hannah's looked after us so beautifully in the evening and the food was simply awesome. I know there were a team of people working hard that we didn't see that evening and we are very grateful to them all. Everyone of our family and friends said it was the best food they had had in a long long time. I still crave the yorkshire blue, honey and walnuts…. The food was tasteful, plentiful and beautifully presented. I loved the help yourself, family style laden table. Excellent idea.

Sally & Duncan
The setting of the Chimney House was beautiful! The room was filled with gorgeous autumnal blooms from Swallow and Damsons, and romantically lit with lots of antique candles. All of our guests were able to sit around one table which made it feel just like a big family feast! Every element of it was pure delight and we were able to pair it with wines chosen by ourselves. We can't thank everyone at the Chimney House enough for making our day so perfect! You gave us the most wonderful wedding day with memories that we will treasure forever!
Katie & James
We can't put into words how wonderful it was. The Chimney House was our absolute dream venue to to be able to celebrate our wedding there was so amazing.
Anna & Jamie
Thank you so much for all the effort you and your team put in to making our wedding day so special. We've been flooded with messages from our guests about how much they loved the venue, how it was organised and laid out and how friendly the staff were.
We both had the time of our lives and it was the perfect end to our wedding day! Again, thank you so much for doing such a great job with our reception - everyone went home buzzing!
Simran & Frankie
It felt like all 50 of us were sitting around a family table sharing a meal and everyone exclaimed at how brilliant the food was. Three desserts to finish was a highlight, We did very little to decorate The Chimney House – it's filled with quirky, mid-century furniture, mural walls and exposed brickwork. We did add lots of flowers though – a wreath, concrete planters filled with blooms on the long tables and single stems dotted around.
Beth & Gerald
Just a quick note from both of us to thank you and your colleagues for making our wedding day so incredible on Saturday! We were over the moon with how everything panned out. The venue looked stunning, the food was beautiful and the hosting second to none. Simply, it was perfect!
Clare & Stephen
I just wanted to email to say thank you SO much once again for looking after us so well at our wedding in February. It turned out to be the perfect day and you guys just went so far above our expectations to make everything run so smoothly and beautifully.
Jordan Turner
Thankyou for such an amazing night. It was great all the staff were exceptional!
Kristina Macmillan
Just wanted to send a big thank you to you and the team and everyone involved in the wedding. Everything was perfect and everyone was wonderful. We really couldn't have asked for more - we genuinely don't have the words to articulate how amazing everything was. Also - the food! It was quite possibly one of the best meals we've ever eaten and the guests are still raving about it! We really don't have the words to fully express our joy of having the Chimney House as our venue and our gratitude to all involved. It really was wonderful!
Sophia & Paolo
Thank you so much for making our wedding so special. Sheffield is the city where we fell in love & it represents so much that is important to us... You captured all of that & more, and created so many new memories for us that we will always treasure. You fed us, look after us & smiled with us through an incredibly joyous day. Thank you for your hard work, friendliness & willingness to make everything perfect. With love and heartfelt thanks.
Becky & Gavin
The Chimney House is simply perfection! We wanted something relaxed and intimate and that's exactly what Kirstin and Kathryn did for us. The venue is just too beautiful; in a great part of the city it's a perfect marriage of industrial heritage and uber cool decor! The owners obviously have a great eye for detail and this comes across in the way we were dealt with, the way the room was laid out and the food they served. We couldn't have designed it more perfectly if we had spent years trying, but we simply rocked up and had the best day ever!
Merryn & Ash
We cannot recommend The Chimney House enough! A beautiful setting, friendly and attentive staff and absolutely wonderful food. What more needs to be said? Other than if you are looking for somewhere to hold an event you will remember for years to come then look no further, your search is done! Thank you Chimney House for making our Wedding Day awesome :-)
Eric & Mogs
I just wanted to write and express my thanks and gratitude to you and your lovely colleagues for making the wedding day of my daughter, so wonderful! You made everyone feel so welcome, the food, the venue, the warm atmosphere - everything was perfect! (So many of our wedding party said this was one of the loveliest weddings they have attended!) For this, and your professionalism, your total commitment to making our day perfect and your unfaltering kindness & support, I send my heartfelt thanks. You made our day!
Alyson Nevis Edwards
Fabulous venue. We were married in March this year and wanted a very quiet intimate place to hold our reception. This was the first place we visited and fell in love at first sight. The venue, setting, food, staff everything was superb, nothing could come close to the exceptional service and ambiance The Chimney House provided for our very special day... Amazing!
Corrine & Bhu
The captivating, elegant beauty of The Chimney House is equalled by the charming attention to detail, warmth and meticulous hosting of The Chimney House team. We thoroughly enjoyed our delicious feast in your fantastic setting. A truly magical experience which left both ourselves and our guests enchanted. We didn't want it to end and we will certainly be back.
Becky & Emma
Read more...
3 rooms · 1 house
1. The Meeting Room
The Main room in the House, the jewel in the crown. Hosting daily meetings, training, away days, conferences and events we're proud to welcome up to 50 guests by day to meet, gather, innovate, debate. By night we are a Private Dining Room, seeing daytime meetings through to candlelight suppers and corporate dinners and beautiful weddings for up to 50.
2. The Living Room
A bright airy space, stacked full of green living plants, log burning stove, fireside arm chairs and views out on to Kelham's idyllic waterways. For smaller meetings of up to 10 guests, or to include as a breakout space for larger meetings. Interconnecting to The Meeting Room or completely private.
3. The Front Room
A ground floor room just a step away from the beautiful Mill Race. Great for meeting, greeting and small reception drinks. Use as an additional breakout space to the main Meeting Room or as a second breakout space to The Living Room. Only available for hire when booked with The Meeting Room or The Living Room.
The Mowbray
The Mowbray is the sister venue to The Chimney House and is a popular private events space for 15 - 200+ guests. An affordable daily conference and meeting space and a unique Sheffield wedding venue housed in an iconic building restored from 1889. Our aim is to inspire you with hospitality, great food, drink, architecture and design for all of your daily meetings, private dining and life celebrations.

A short walk alongside the waterways of the River Don connects The Mowbray in Neepsend and The Chimney House in Kelham Island.
Visit The Mowbray
Chimney House Weddings :: Sam + Christina
Planning and hosting Sam & Christina's wedding was a total joy from the very first chat. Based in Gibraltar, the couple had to put...
Read more
Make an Enquiry
We are very happy to arrange viewings, to talk about prices and offering to suit your event. Please fill out the form below or call us on The Chimney House Hotline on 0114 276 7885.