SIGN UP FOR STORIES
We would like to invite you to sign up to receive sporadic emails from us about House events, news, special offers, products and services from The Chimney House.
x
Hello From The Chimney House
We're looking forward to welcoming you into The Chimney House this year!

Booking are open and well and truly underway for Wedding Feasts, Wedding Ceremonies, Private Dining, Celebrations and daily Meetings, Training Sessions & Away Days for 2023/24
Find Out More
x
A Premium Sheffield Conference and Training Venue
The Chimney House is a premium Sheffield conference facility. We have created a highly acclaimed conference venue with a first class offering and team which is proud to work with leading brands and companies from across the UK.

We offer affordable and luxurious surrounds to make sure that you have quality and professionalism from the moment you arrive at our Sheffield conference venue.
Our pride in attention to detail, excellent catering and creative yet professional surrounds means we attract high-flying names and brands in the UK to use our training facilities. We hold conferences and training days with capacity from 4-50 people.

The biggest feedback we receive from companies that use us is that they noticeably observe higher levels of performance and interaction from teams and individuals as a result of our 'thinking space' interior and building.

Need more space? Our sister venue The Mowbray can host from 15-200 + guests. Take a look!
Enquire Now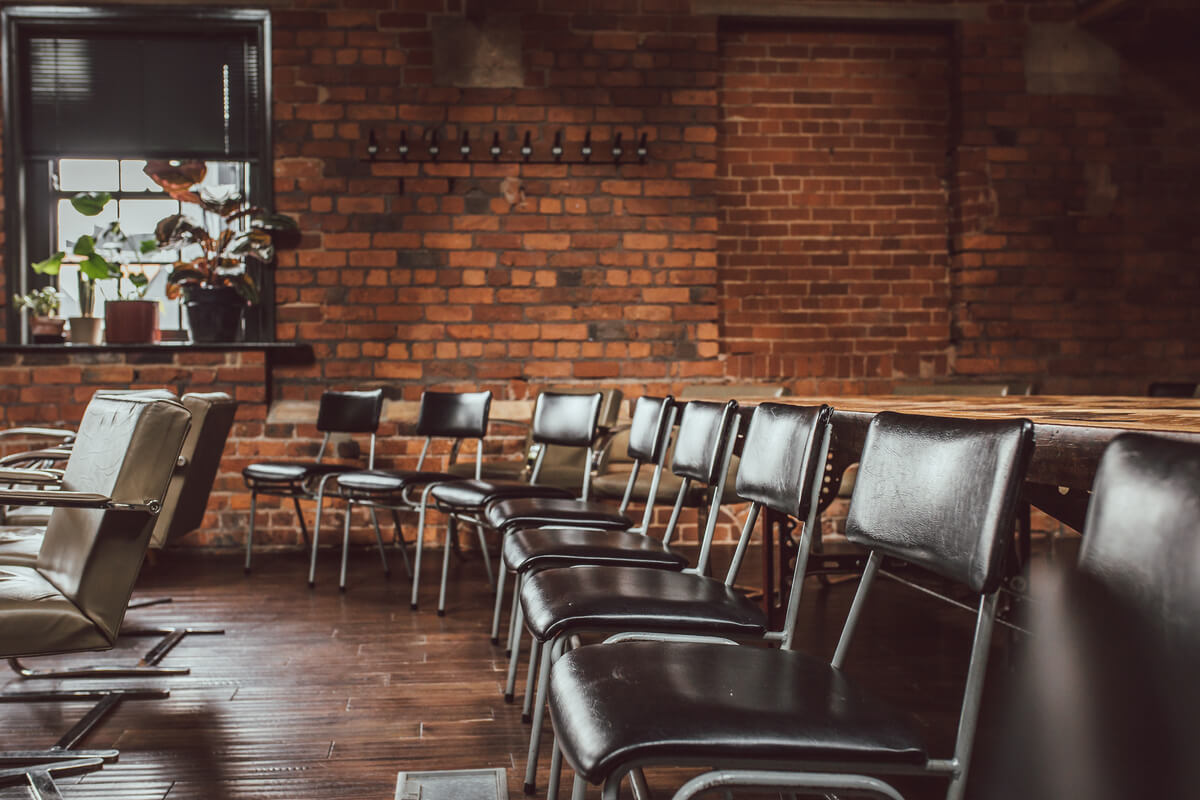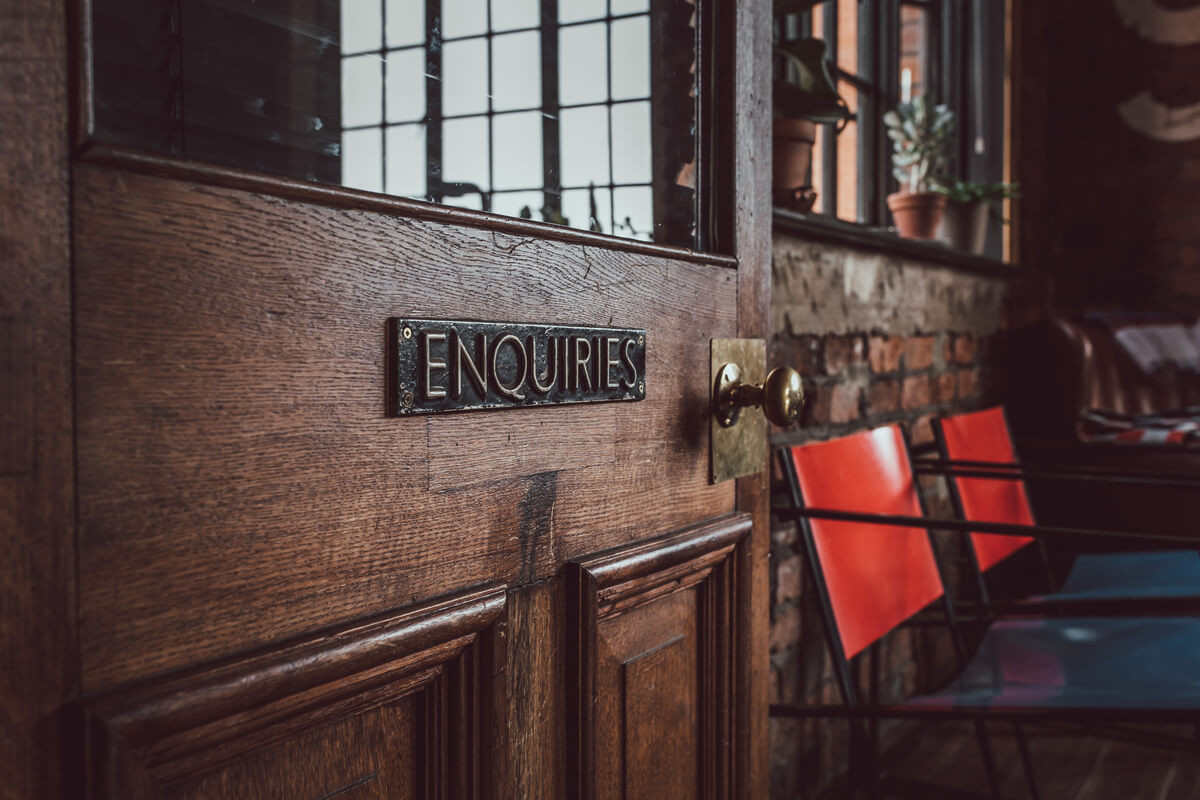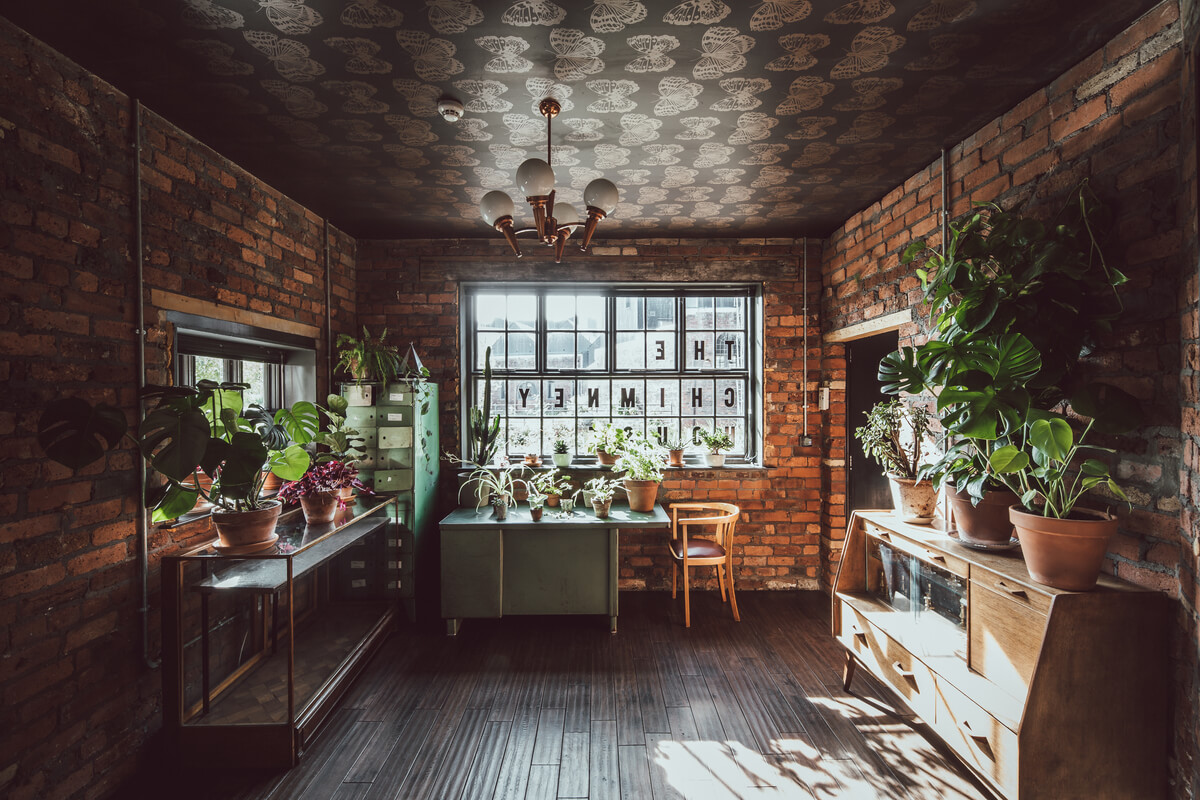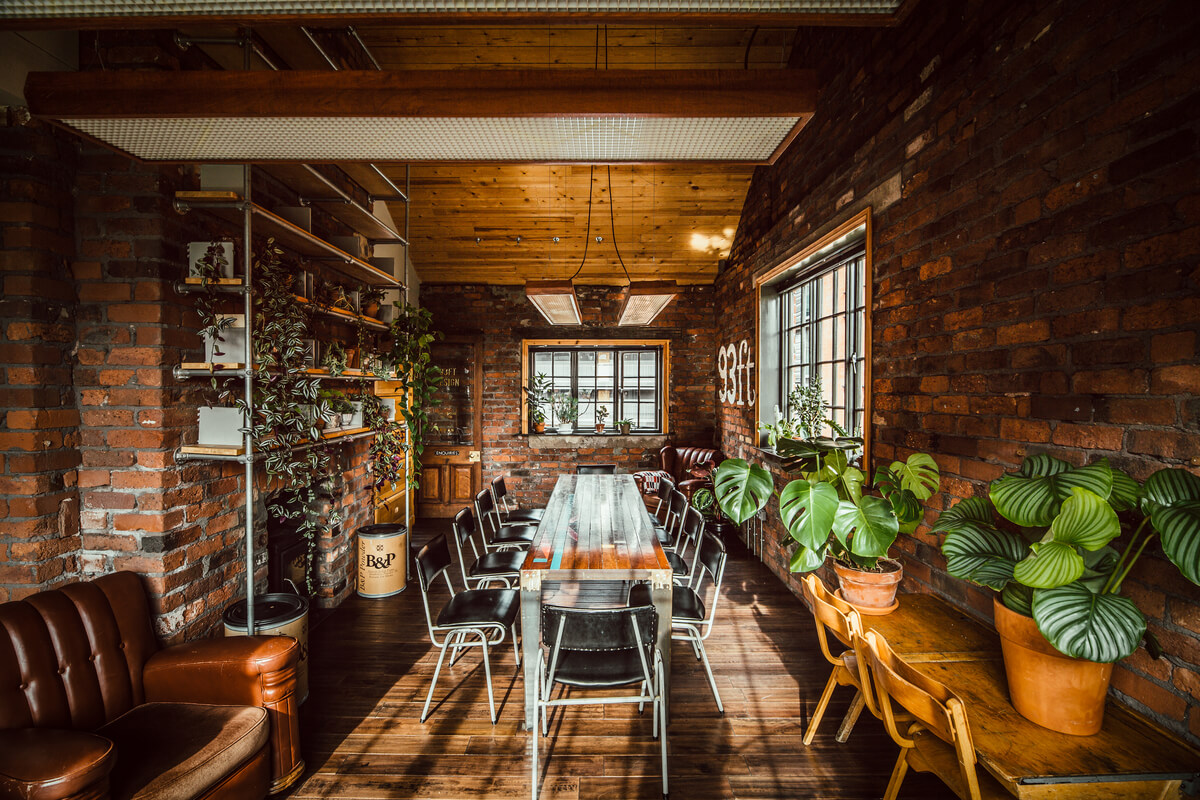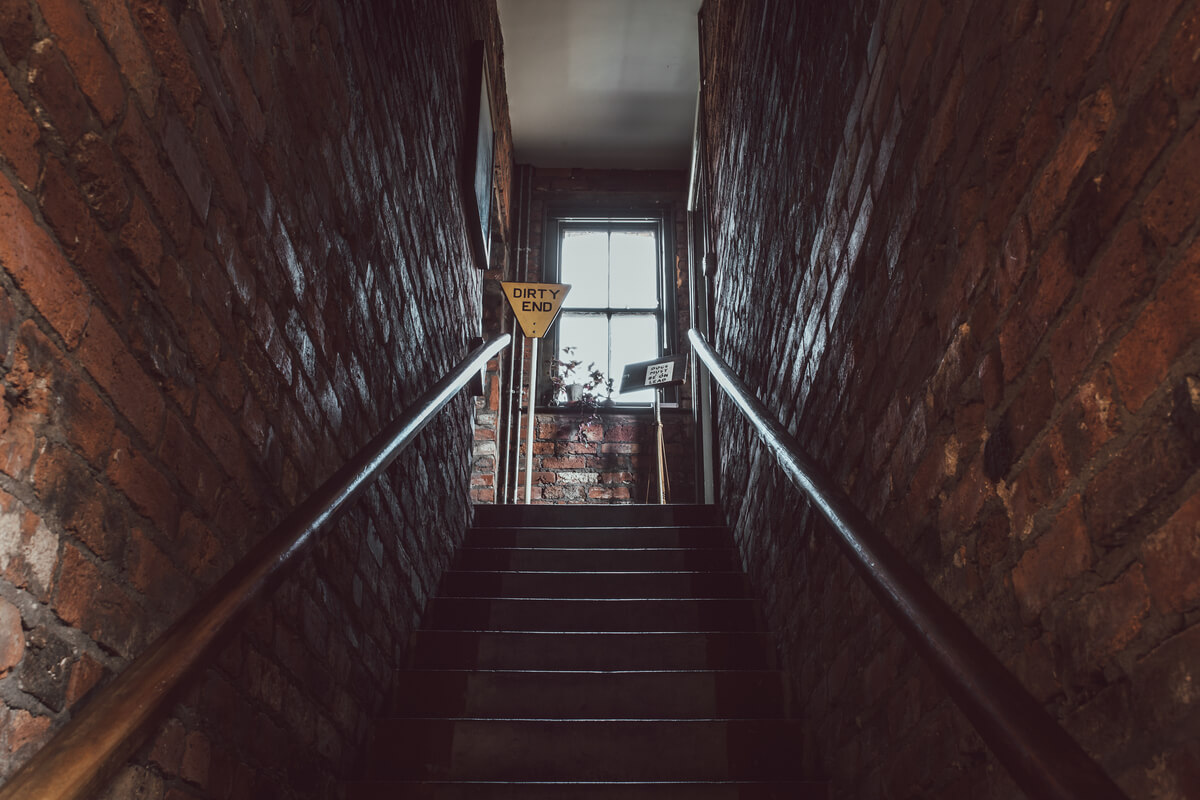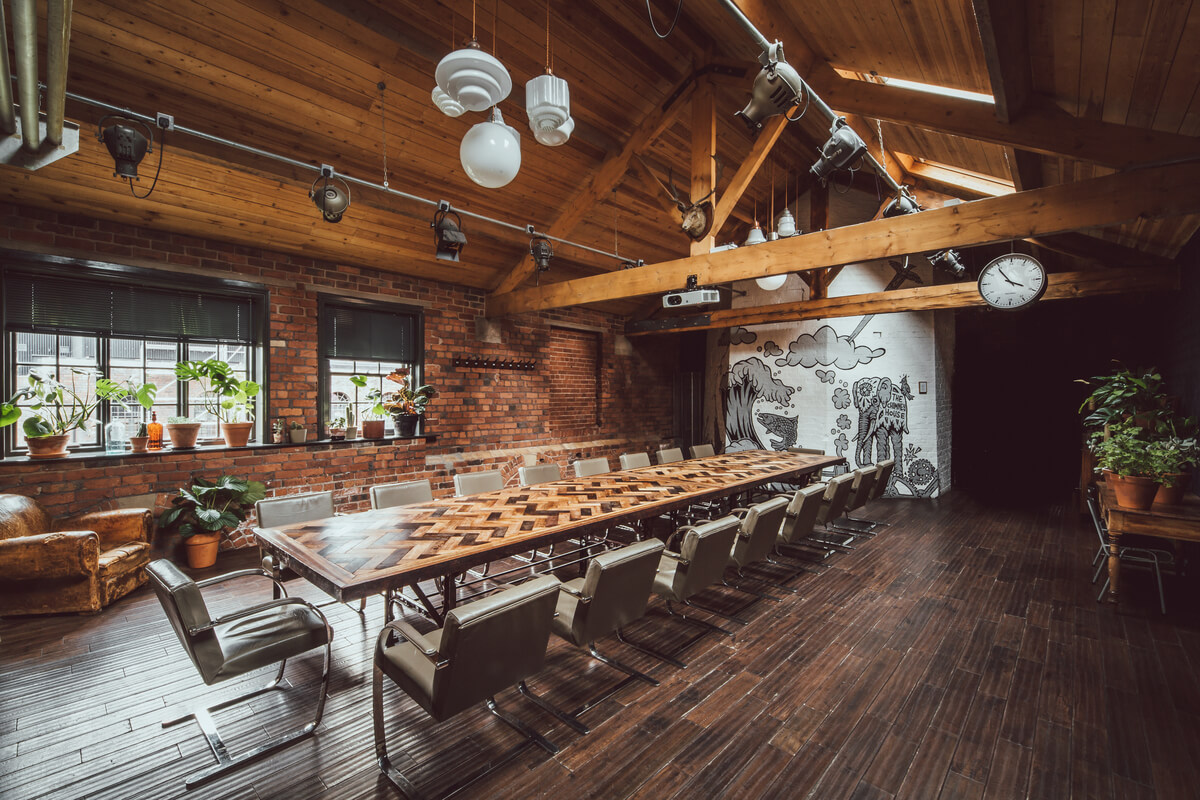 Taking care of everything

Daily Essentials
Filtered water on tap and on table. A burgeoning collection of herbal and full strength teas and freshly brewed 'proper' coffee. And biscuits... Lots of biscuits.

Audio Visual
Relax! Plug and play! Full colour projector, screen, full audio/visual services. Superfast fibre WiFi broadband in each room. Black out or natural daylight – it's up to you! All of our lighting operates on dimmers.

Breakfast With Us
Pancakes, local bacon in your sandwiches, dainty and crispy pastries? Cold pressed juices? How do you like to start your day? We love breakfasting at The Chimney House!

Afternoon Tea & Cake
Cakes on stands, cookies in jars and scones with jam and cream. Just the ticket to smooth the afternoon beautifully into submission. Want more? Just ask – your wish is our command!

Lunchtime
We're famed for our lunches that are brim full of Yorkshire fresh produce. Sourced from the 7 hills of Sheffield and supporting local and independent makers and bakers, our lunches are tip top tasty with cake to die for!

Luxury Amenities
We are one of the only venues in the North to stock the iconic Aesop amenities. We have chosen Reverence Aromatique Hand Wash and Resurrection Aromatique Hand Balm to add a super dose of luxury to your day.

Breakout Area
Need more space? Step over the threshold into The Living Room. A private room which interconnects into The Meeting Room. Perks include log burner and a multitude of green living plants boosting your O2 levels beautifully!

Stay for Supper
Meet then eat! What more can we say! Our daytime guests often spend a full day meeting and into the evening eating! Behold the transformation of The Meeting Room into our award winning Dining Room.

Parking
We can arrange parking for an unlimited number of cars in a nearby carpark. We also provide a handy 'How to Guide' to recommend the easiest way to arrive by road, rail, bicycle, foot and tram.
Last week we held our fourth corporate do at the Chimney House.
Once again, a great success with people travelling from all over the country to attend.
It is an excellent space for a relaxed client meeting, and the food is always superb - we have already booked our next event in April.
Philip Dickinson
I just wanted to say a huge thank you to you and your team, and the wonderful chefs. It is a fabulous venue and all of our guests were happy.
Sandra Manning, The Housing Forum
We had the most fantastic time at the Chimney House, the venue was perfect for a special meal - with the champagne reception downstairs followed by a plentiful meal in the spacious room upstairs.
Nothing was too much either before, during or after the event, with all dietary requirements catered for with ease. Everyone at the Chimney House made us feel so welcome and made what was already a brilliant celebration completely perfect.
Normally we're a tough bunch to please, but I've had nothing but praise from the 40 guests who attended - ranging from "amazing!" to "awesome party last night, the food was amazing" to "it was perfect, really good night" to "absolutely fantastic". Couldn't recommend (or thank) you enough.
Rosemary Kavanagh - Bank House Chambers
I just wanted to drop you a line to say thank you so much for helping with the organisation of our event yesterday. Your venue is fab and the food amazing! We will be back!
Julia Stovold - Documentation
I wanted to thank you again for use of the Chimney house which was perfect for our event. We were looking for memorable venues that gave a flavour of each city that we were running an event in. The Chimney house provided exactly the character and feeling of Sheffield's industrial heritage - and was a relaxing venue for our customers to come and visit us. Booking and organising the day was very straightforward and people are still talking about your delicious cakes! We would certainly look to use the Chimney house if we run any future events in Sheffield.
Jonathan Morgan - Petzl
I wanted to thank you again for use of the Chimney house which was perfect for our event.

We were looking for memorable venues that gave a flavour of each city that we were running an event in. The Chimney house provided exactly the character and flavour of Sheffield's industrial heritage - and was a relaxing venue for our customers to come and visit us.
Booking and organising the day was very straightforward and people are still talking about your delicious cakes!
We would certainly look to use the Chimney house if we run any future events in Sheffield.
Petzl
All was fab at The Chimney House.

Lucy was 'on call' all the time – not that we needed her that much as everything was to order and under control. Everyone loved the venue and the quirkiness and the attention to detail. The food was very good and the home made brownies were to die for...
English Institute of Sport
I just want to say thank you for all that you did. The event was a great success and we had so many compliments on the food. You took care of every intricate detail, the service was fantastic, and the place looked incredible on the night. Thank you, thank you!
Claire AMRC with Boeing
Thanks again for the hosting us yesterday. Everyone really liked the meeting space and thought it was so much nicer than our usual blank walls! We never have CPD days in Sheffield as a company and I think you have given us reason to have more CPD days in Sheffield now!
Luke Gupta, EIS 2 WIN
After using the Chimney House to host an inaugural "thought leadership" discussion and dinner earlier this year, we retuned for our second event in November to consider the issues and challenges facing pension scheme members with senior representatives of some of Europe's largest pension schemes. The combination of the venue, service and style of dining meant the evening was a great success and discussions continued the whole evening – the venue works incredibly well for this style of event and I would not hesitate to recommend it for anyone wanting to host an informal, but very professional, gathering.


Philip, Cosan Consulting
The venue is well presented, urban look and feel with interesting and quirky details. Clean with good facilities. The staff were extremely helpful and friendly, helped us to move tables to accommodate our requirements. Were attentive in relation to our needs, didn't interrupt the flow of our meeting. Tea, coffee, water kept refilled along with free chocolate biscuits! The food provided for at lunch was extremely tasty and individual food preferences accounted for. Desserts were delicious. All food was clearly labelled to ensure anyone with intolerances/allergies could easily check if they were able to eat.
Jayne Capita Travel and Events
Thank you to you and the staff for a wonderful evening on Saturday. The staff were really good and kept everyone well supplied- and they didn't rush us off. Everyone enjoyed the food and the location.
Joy Bermingham
We got some great feedback and people loved the venue. They were very accommodating and helpful so it was very enjoyable. We even had candles to give a better atmosphere on a damp, miserable April day.
Claire, Shoosmiths
I just wanted to compliment you on your superb venue, it really made our day much more interesting and inspiring, what a difference it makes not being stuck in a stuffy hotel conference room all day. Us marketing types need to be surrounded by such creativity! It was a great day all round, service, venue and food was top notch! You've raised the bar for our conferences, I'm not sure how we'll top this one. Can't wait to come back again.
Samantha Moore, Faculty of Development & Society Sheffield Hallam University
We held one of our Executive Board Meetings at The Chimney House and it was an outstanding success. The feedback from the delegates was fantastic and everyone commented on how great the venue and the food was. It was pleasure to work with Sally and her colleagues who provided an exceptional service throughout the whole event, many thanks to you all. My second event is already booked and I can't recommend this unique stylish venue highly enough!
B. Braun Medical Ltd
Thank you very much for hosting our recent conference on dysfunctional breathing in children and adults. The venue is amazing with its historic surroundings and quirky and unique decor. The conference delegates were particularly impressed by how well they were looked after by Sally and her team and the great locally sourced food. Sally's attention to detail in the planning and execution of the event played a major part in the conference's success.
Sheffield Children's Hospital
Read more...
3 rooms · 1 house
1. The Meeting Room
The Main room in the House, the jewel in the crown. Hosting daily meetings, training, away days, conferences and events we're proud to welcome up to 50 guests by day to meet, gather, innovate, debate. By night we are a Private Dining Room, seeing daytime meetings through to candlelight suppers and corporate dinners and beautiful weddings for up to 50.
2. The Living Room
A bright airy space, stacked full of green living plants, log burning stove, fireside arm chairs and views out on to Kelham's idyllic waterways. For smaller meetings of up to 10 guests, or to include as a breakout space for larger meetings. Interconnecting to The Meeting Room or completely private.
3. The Front Room
A ground floor room just a step away from the beautiful Mill Race. Great for meeting, greeting and small reception drinks. Use as an additional breakout space to the main Meeting Room or as a second breakout space to The Living Room. Only available for hire when booked with The Meeting Room or The Living Room.
The Mowbray
The Mowbray is the sister venue to The Chimney House and is a popular private events space for 15 - 200+ guests. An affordable daily conference and meeting space and a unique Sheffield wedding venue housed in an iconic building restored from 1889. Our aim is to inspire you with hospitality, great food, drink, architecture and design for all of your daily meetings, private dining and life celebrations.

A short walk alongside the waterways of the River Don connects The Mowbray in Neepsend and The Chimney House in Kelham Island.
Visit The Mowbray
Make an Enquiry
We are very happy to arrange viewings, to talk about prices and offering to suit your event. Please fill out the form below or call us on The Chimney House Hotline on 0114 276 7885.