SIGN UP FOR STORIES
We would like to invite you to sign up to receive sporadic emails from us about House events, news, special offers, products and services from The Chimney House.
x
Hello From The Chimney House
We're looking forward to welcoming you into The Chimney House this year!

Booking are open and well and truly underway for Wedding Feasts, Wedding Ceremonies, Private Dining, Celebrations and daily Meetings, Training Sessions & Away Days for 2023/24
Find Out More
x
Winter Private Dining at The Chimney House - 1st December - 28th February 2023
Posted 17th May, 8088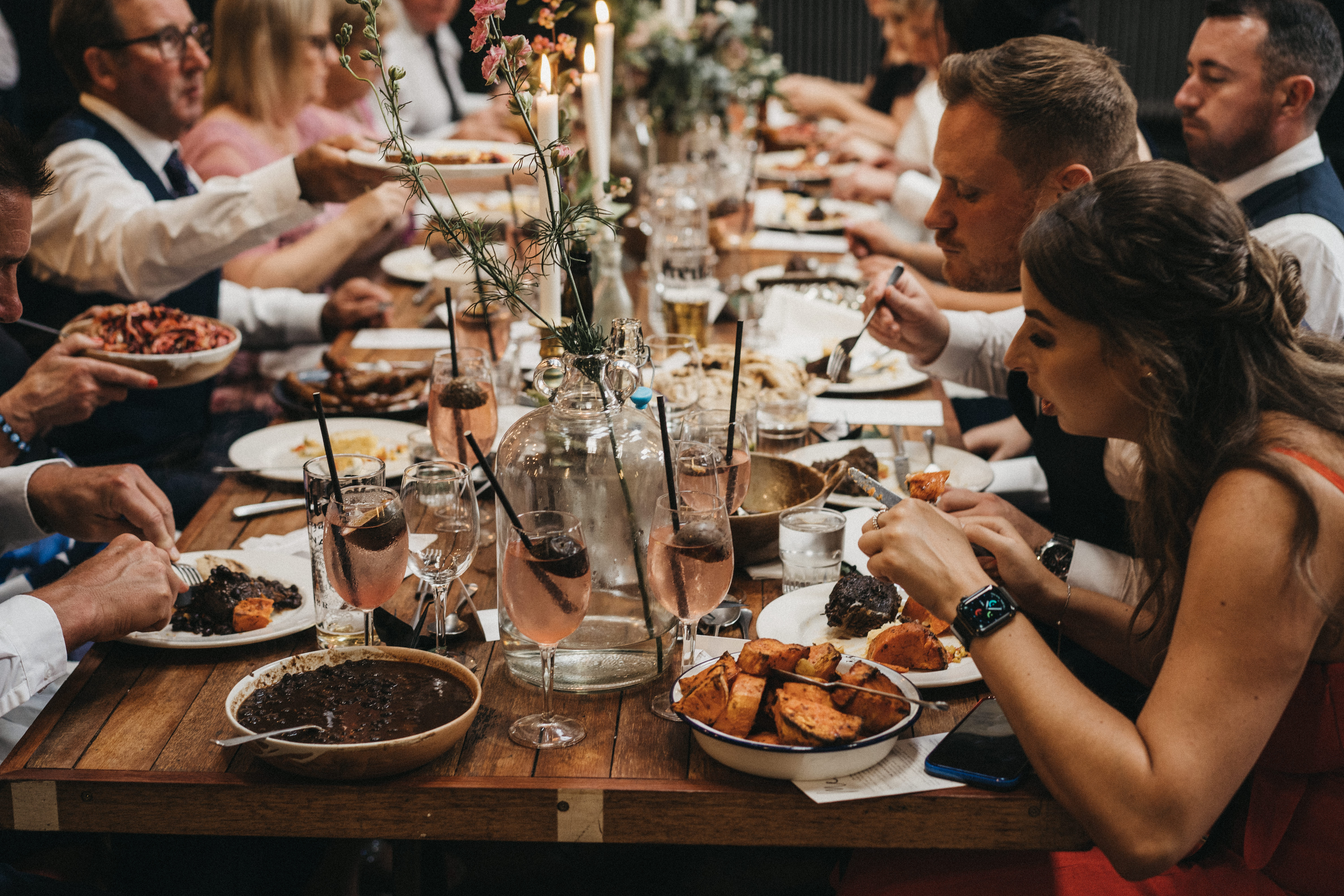 The Home of Feasting
Perched on the historic waterways of Kelham Island Sheffield, The Chimney House is the location for joyous feasting celebrations of friends and family togetherness for up to 50 guests.

Fall in love with a Chimney House celebration. The flicker of candlelight, the bubbles of champers, we plan, arrange, style and host fabulous parties with a difference; perfect dining experiences and the most glorious celebrations imaginable! We've been feasting at The Chimney House since 2008 and are worldwide famous for our love of feasting - perfectly social, exceptionally delicious and always abundant!
Get caught up in our joy and revel in the delight of having your event planned to perfection. We will host your guests in the ambiently beautiful surrounds of our historic building amongst antiquities and curiosities.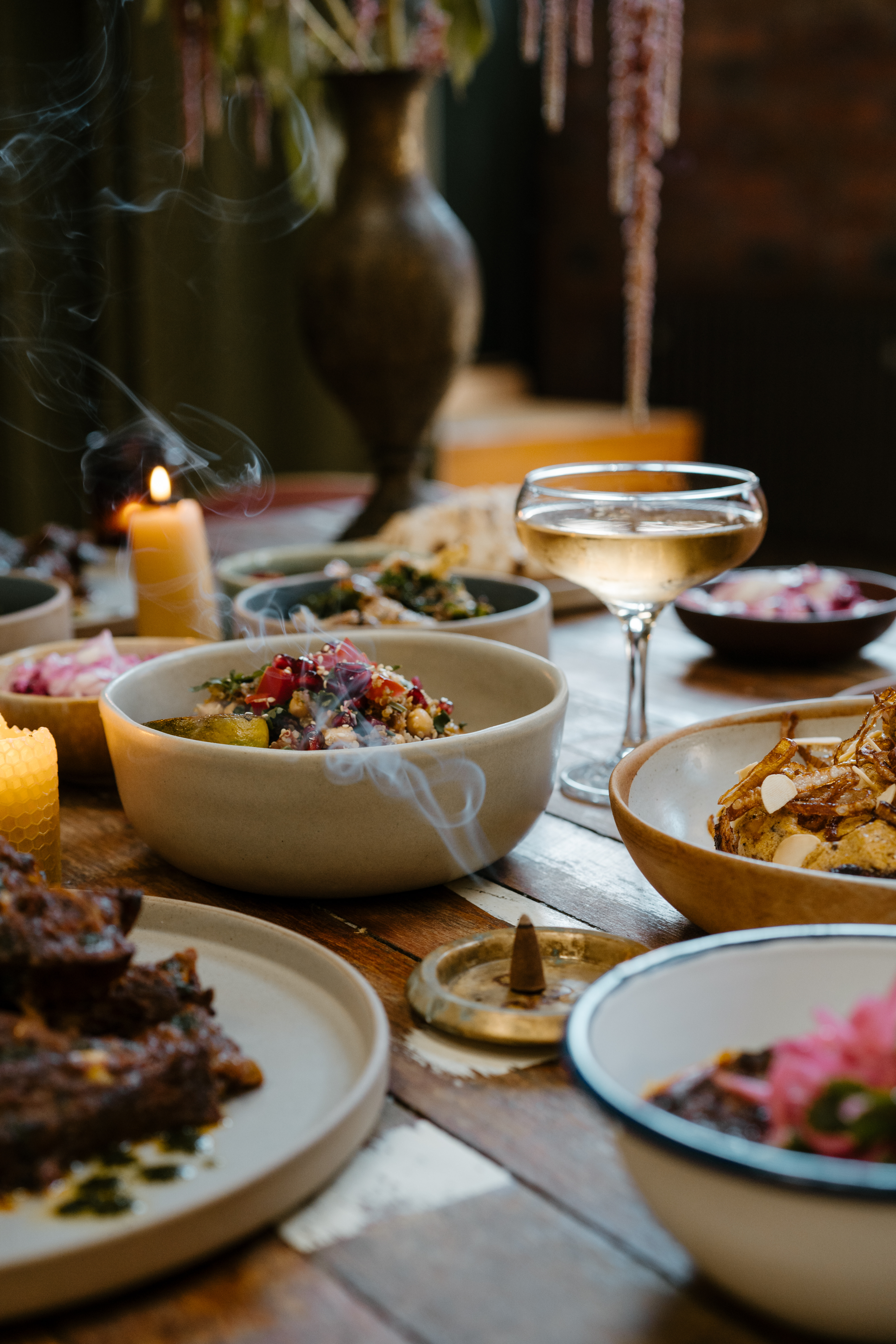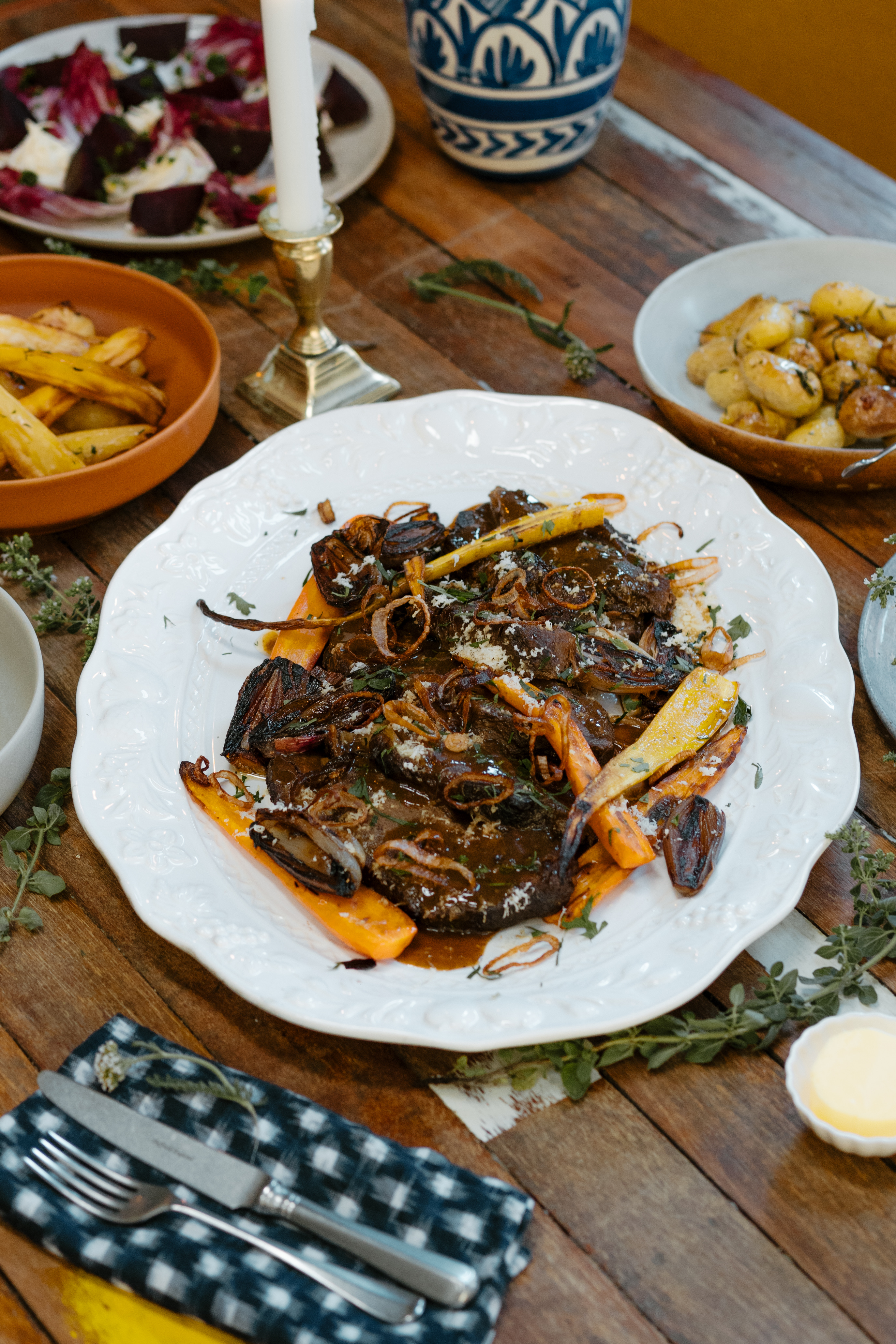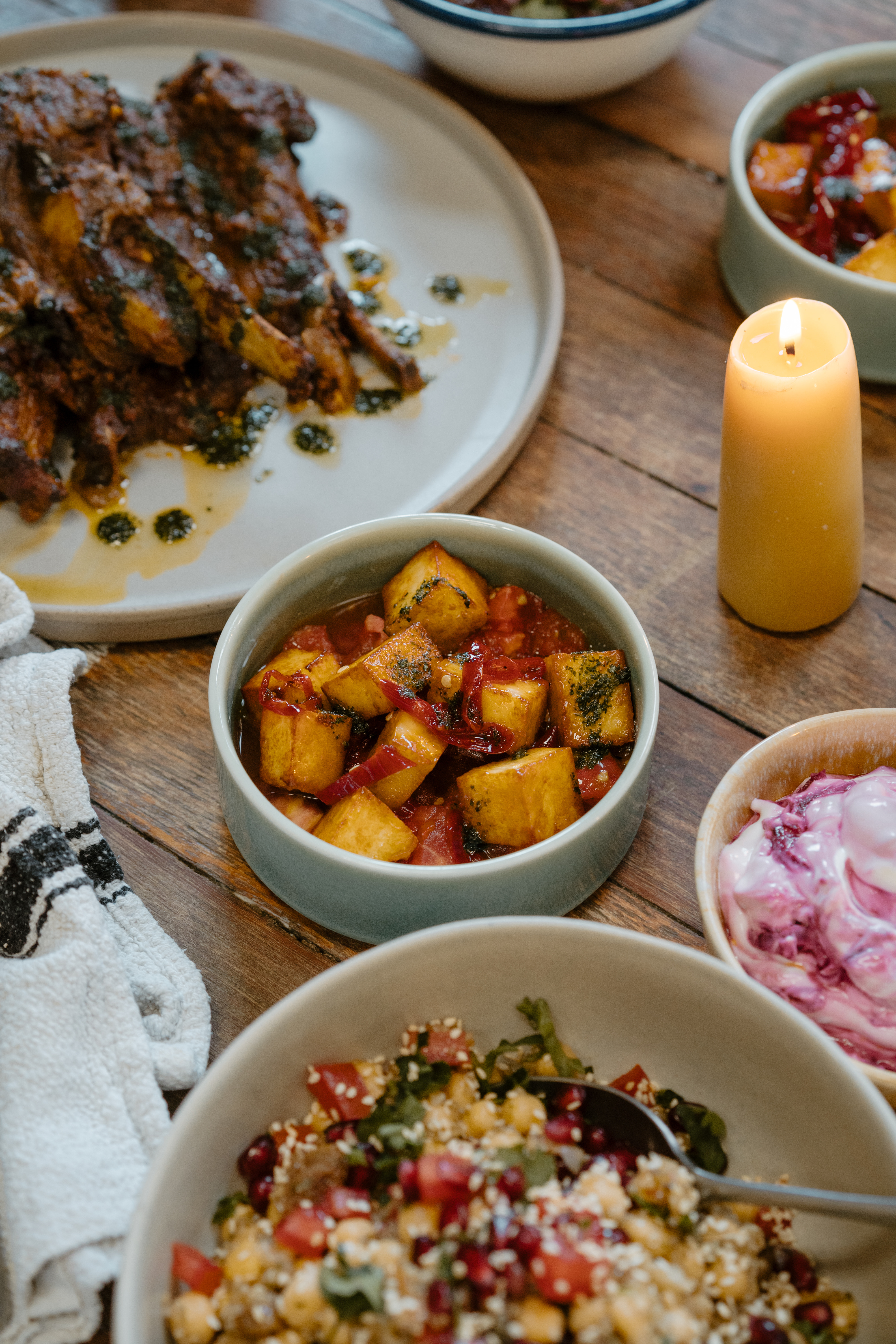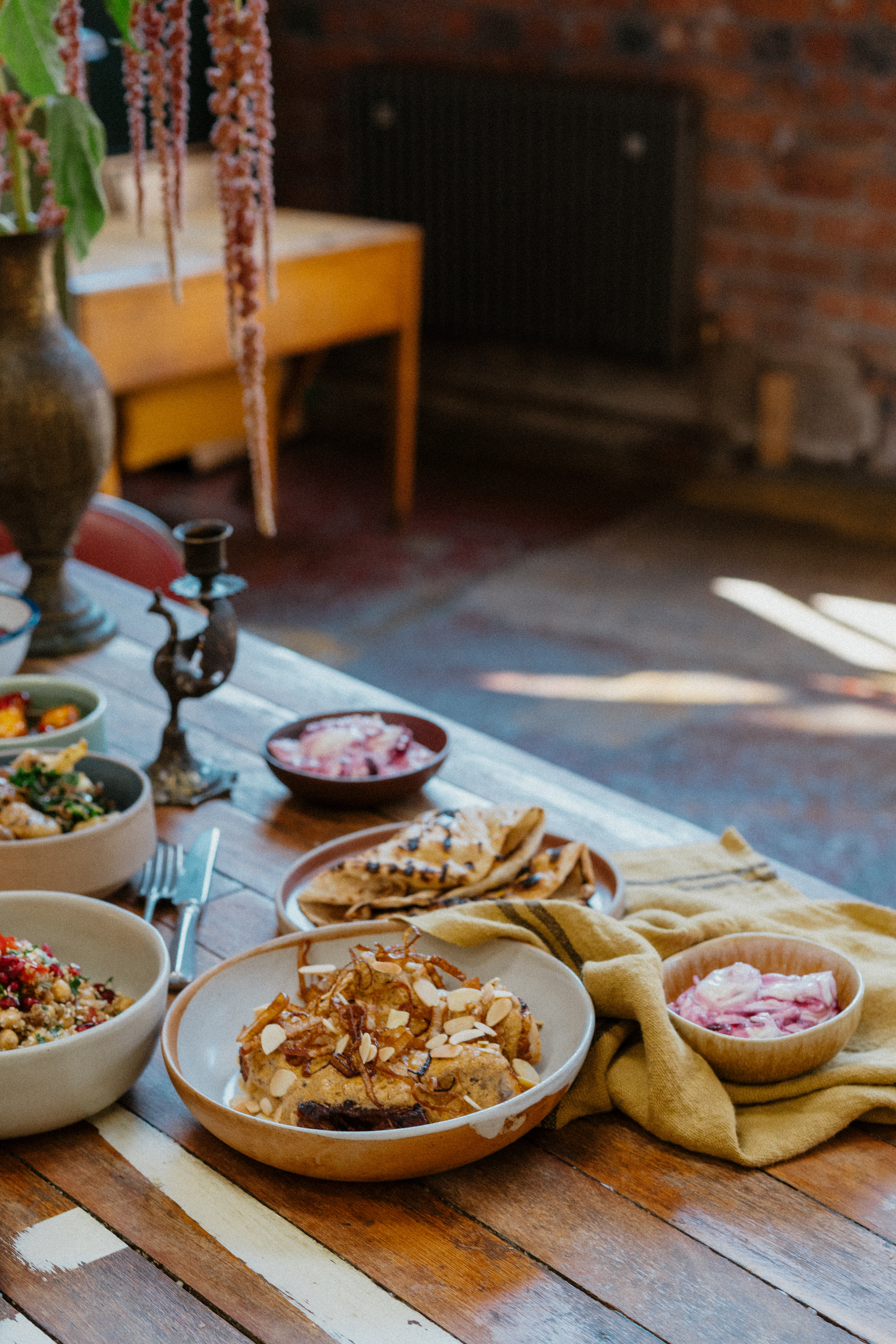 A Note on our Menus
All of our menus are prepared in-house by our in-house chef team. Everything is baked and made fresh from our bread, cakes, cookies and desserts and we pickle, cure, roast and toast the finest ingredients from Sheffield and Yorkshire.
We work 100% seasonally so sometimes we will need to change ingredients out for what is best and fresh - we'll let you know if we need to tweak your chosen menu ahead of your event.
We love to use as much inspiration from The Chimney House and our sister venue The Mowbray - so you'll often see ingredients from our garden featuring in our menus!
We've carefully curated a delicious wine and beer line up that matches our menus. Our drinks are beautifully chosen from boutique merchants and specialists doing great stuff in small batches. Plus we have the perfect cocktail selection to see you through from arrivals to nightcaps.
Simply pre-order with us when you confirm your final numbers and we'll make sure that your cocktails, wine and beer is served up perfectly for you to enjoy.
Hire of The Chimney House is included in the menu prices, which show price per head.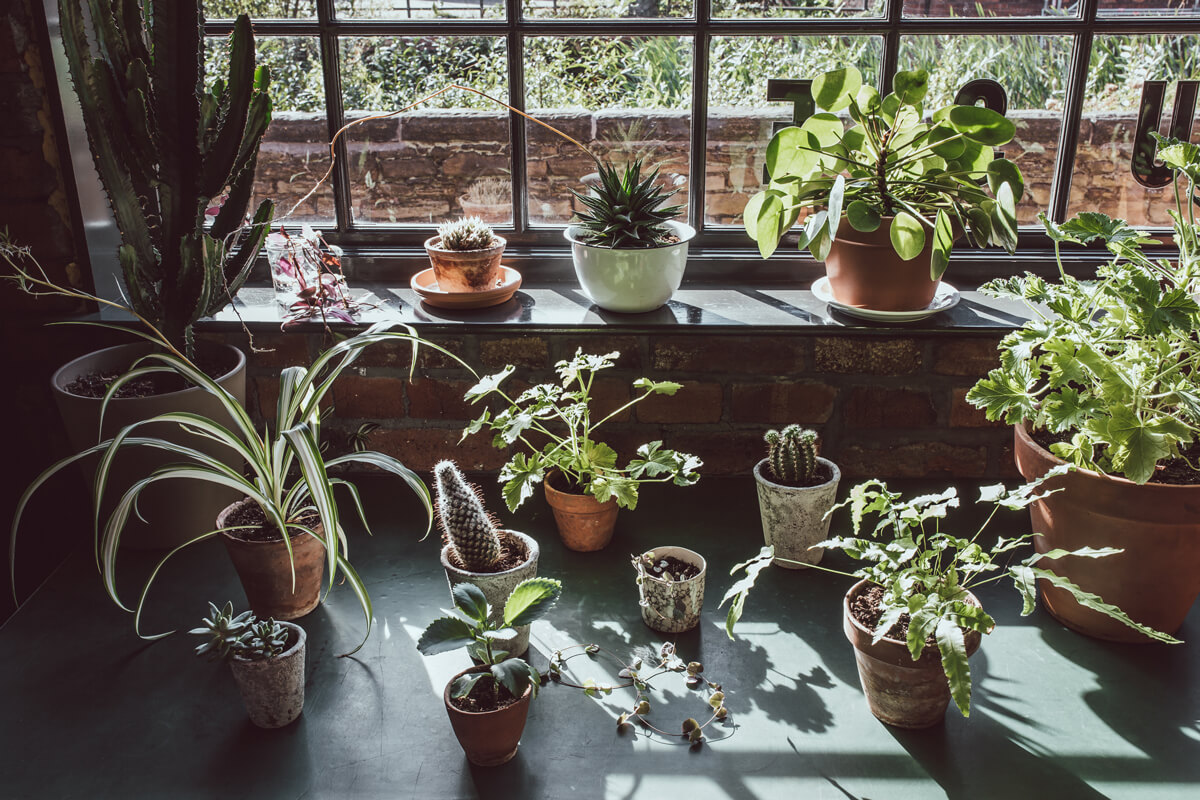 Let's Feast!
Option 1: The Sharing Table - £46 per person (excluding vat) - £55.50 (including vat)
ON THE TABLE
Mowbray-made rosemary & sea salt focaccia (v, g)
Add snacks! See below…
THE MAIN EVENT
Yorkshire Pork Belly & roasted apples - with fennel seeds & lemon
For our vegetarian & vegan guests: Grilled & roasted celeriac with roasted apples (v, ve)
SIDES TO SHARE
Lyonnaise potatoes - with braised onions & thyme (v)
Roasted british cabbage with hazelnut & parsley dressing (v, ve contains nuts)
Beetroot, pickled fennel & chicory/radicchio (dependant on availability) (v, ve)
TO FINISH
Choose one dessert for your guests to share from the list below
Option 1.2: Snacks & Sharing Table: £48 per person (excluding vat) £58 (including vat)
Add some extra treats to The Sharing Table with some extra snacks to start!
In addition to our house made Focaccia
Olives marinated with lemon & rosemary (v, ve)
Braised butter beans with white wine, garlic, rosemary & olive oil (v)
The snacks will be served first, and will remain on the table as your main course is served.
Option 2: House Feast: £49 per person (excluding vat) - £59 (including VAT)
BREAD & DIPS TO START
Mowbray-made grilled flatbreads (v, ve, g)
Fried & chilli marinated paneer with roasted tomato bharta (v)
Black daal with lime pickled onions & coriander (v)
Beetroot raita with toasted cumin (v)
These dishes will start your meal, and will remain on the table as the main is served!
THE MAIN EVENT
Pepper fry lamb ribs: Slowly cooked lamb ribs in a peppery sauce with garlic, ginger and our home made spice masala
And
Mowbray chicken chaap; British chicken cooked with yoghurt, caramelised onions, fragrant garam masala & almonds (contains nuts)
For our vegetarian & vegan guests: Potato & tofu/paneer dumplings with chaap sauce (v)
SIDES TO SHARE
Chana Chaat salad: chickpeas & grains tossed with sesame, tomato, pomegranate & raisins with a coriander & lime dressing (v, ve, g)
Spiced cauliflower & potato with greens (v, ve)
A seasonal side using the best of the season: such as British squash with curry leaves, or runner beans with mustard seeds & ginger
TO FINISH
Choose one dessert for your guests to share from the list below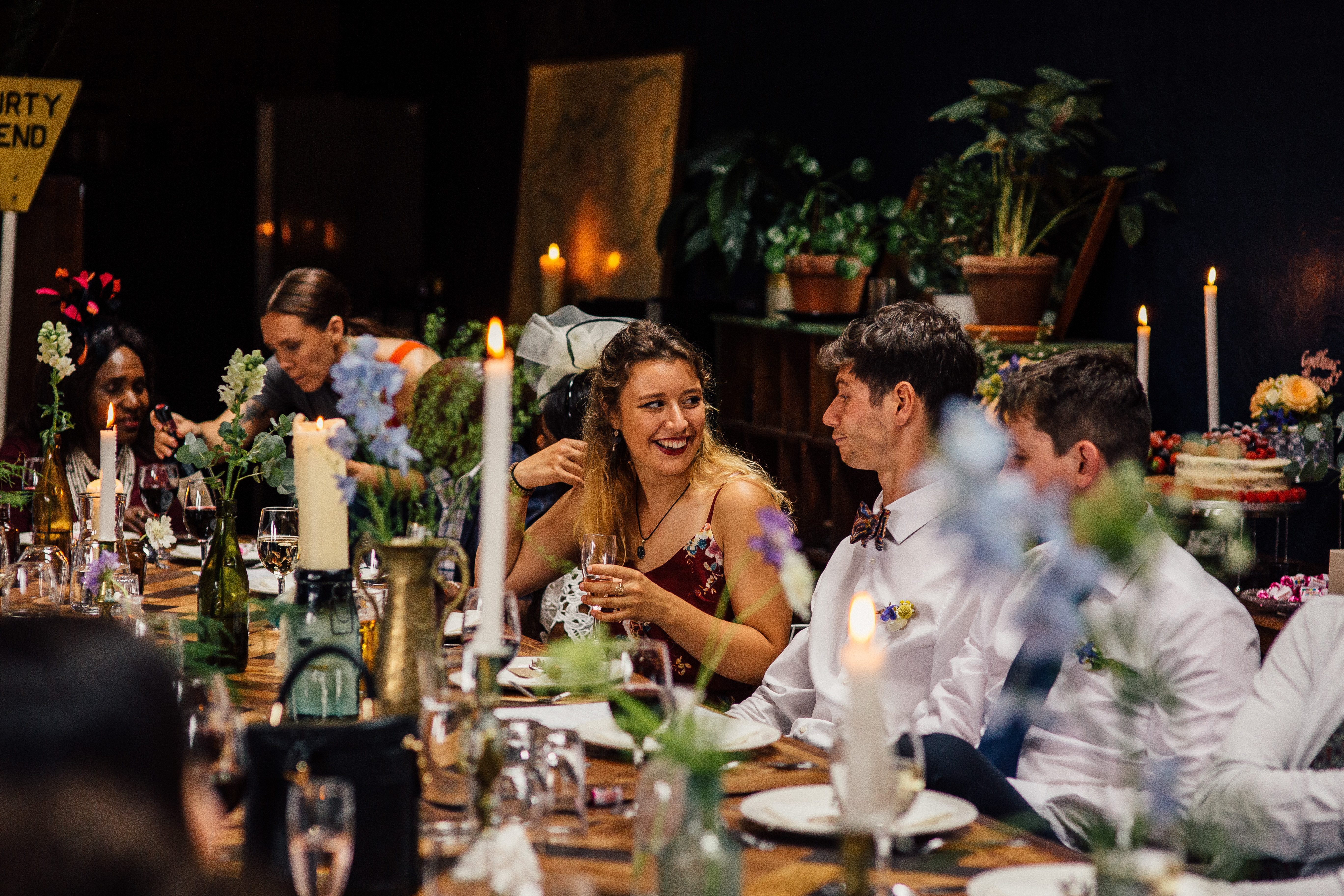 Option 3: A Winter Laden Table: £59 per person (excluding vat) £71 (including VAT)
This is our signature menu and a real 'food lovers' Feast. The Laden Table showcases Local and the best of British produce. It includes some of our house made favourites and is by far our most popular menu. It is an absolute treat for your guests - and epitomises a long lazy feast that goes so well with great guests and conversation! The Laden Table is also a complete feast for all of the senses as pretty as it is taste sensational!
This is our signature menu, showcasing British produce, and some of our house made favourites, such as the salmon which is lovingly cured, and smoked over oak. The starters are a generous spread of colour & flavour, with a wonderful piece of beef for the main course - an absolute treat for your guests!
TO START
Mowbray-made bread (v, ve, g)
Ogleshield & Keen's cheddar cream cheese with caramelised onion jam (v)
Hot smoked salmon, lemon & chive creme fraiche with pickled fennel & capers
Beetroot, confit shallot, parsley & hazelnut dressing with watercress (v, ve, contains nuts)
THE MAIN EVENT
Aged beef sirloin from the Yorkshire Dales, roasted & served medium rare.
Shallot & tarragon sauce (g)
Our vegetarian and vegan guests will be served an indulgent wild mushroom wellington (v, g)
SIDES TO SHARE
Grilled chicory or radicchio with parsnips & orange dressing (v, ve)
Roast cabbage with chestnut butter (v)
Luxurious cauliflower cheese (v, g)
Roast potatoes with thyme & garlic (v, ve)
TO FINISH
Choose two desserts for your guests to share from the list below
(v)=vegetarian (ve)=vegan (g)=contains gluten
Puddings List
We're mighty proud of our puddings...They always offer the right touch of indulgence and occasion to any style of dining event!
Extra puddings can be added for £5 per person (excluding vat) £6 inc VAT and we also have our fantastic cheese courses below!
PAVS
Our pavlovas are legendary, and for the chillier months we've come up with some gorgeous pavs. Served whole for your guests to share with their table.
The Mowbray Winter PAV: a classic meringue topped with mascarpone cream, roast winter fruits & berries (v)
Brown sugar meringue with caramelised apples, mascarpone cream & caramel sauce (v)
Favourites
Basque cheesecake; a crustless baked cheesecake with a caramelised top. With roasted plums (v)
Plum & blackberry frangipane tart with clotted cream (v, g, contains nuts)
Chocolate & almond torte with creme fraiche & boozy cherries (v, contains nuts)
Passionfruit curd tart with vanilla cream (v, g)
Spiced pumpkin pie, with yoghurt cream & poached blackberries (v, g)
(v)=vegetarian (g)= contains gluten (*) = can be made gluten free on request
Dietaries & Allergies: Some of our desserts can be made without gluten, on request - please ask. If you have vegan guests, or those who do not eat dairy or egg, the kitchen will make them their own dessert which is similar to your choice of pudding. If you have guests attending who have a nut allergy, we would advise choosing desserts which do not contain nuts, due to the sharing style of our feasts.
CHEESE COURSES
Our cheese courses are a BRILLIANT choice if you need to choose a second dessert! They can also be added to your menu for just £8pp plus VAT - £9.60 inc VAT. We'll serve your cheese course with biscuits.
Creamy Yorkshire Blue with toasted walnuts & wildflower honey
About this cheese: A mild & creamy blue cheese, made from Yorkshire Cow's Milk by the girls at Shepherd's Purse in North Yorkshire.
Tunworth & slow-roasted quince (when available)
Hampshire's answer to Camembert, and don't tell the French, but we think it's even better. This cheese is still lovingly made by hand and offers a long lasting sweet & nutty flavour. Slow roasted quince is wonderfully sweet & floral.
Artisan goat's cheese, hard sheep's & quince jelly
We'll choose a stunning creamy goat's cheese such as Dorstone, Cenarth or Golden cross and a nutty Sheep's cheese such as Berkswell or aged Manchego- paired with sweet yet sharp and floral quince jelly.
Artisan cheese plate & a glass of something special
Please get in touch about your bespoke cheese selection, paired with a fantastic bottle from Starmore Boss. Price £tbc - minimum order will apply.
*Please note the cheese course must be taken by the whole party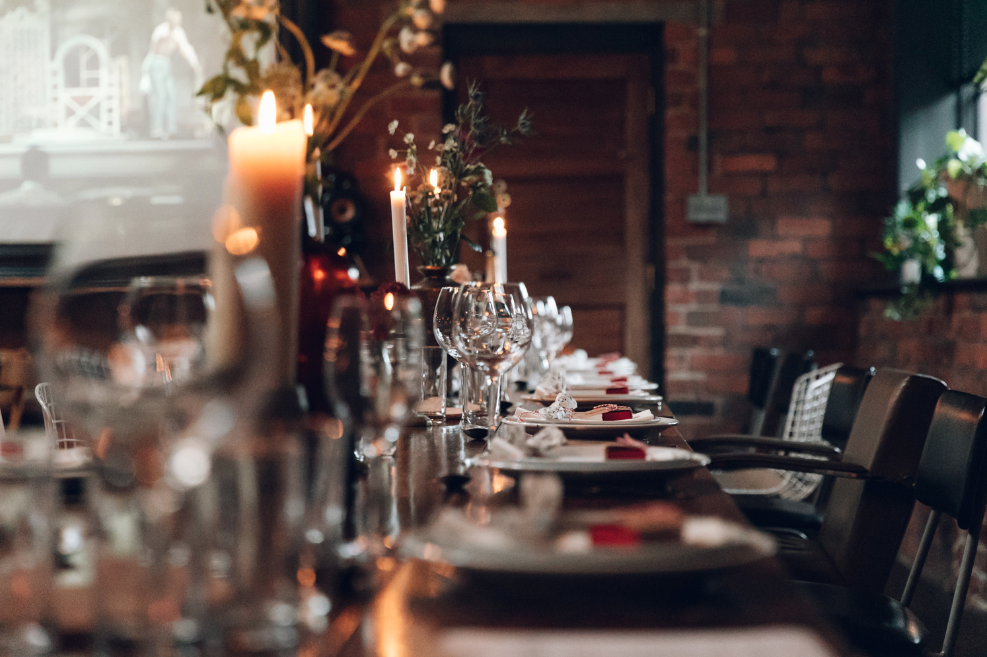 A Note On Dietary Requirements
At The Mowbray and The Chimney House we do our best to cater for any allergies or dietary requirements. In order to do this we ask that you provide full and thorough information in advance of your event.
When compiling this information please ensure your guests provide accurate information about their dietary needs. We need to know whether it is a severe allergy, a medical requirement or a preference so that we can make suitable adjustments. We may not provide a similar alternative where it is a preference, unless this can be catered for within the menu (see 'Plain Food' below). We will presume any dietary information given is correct and take it at face value.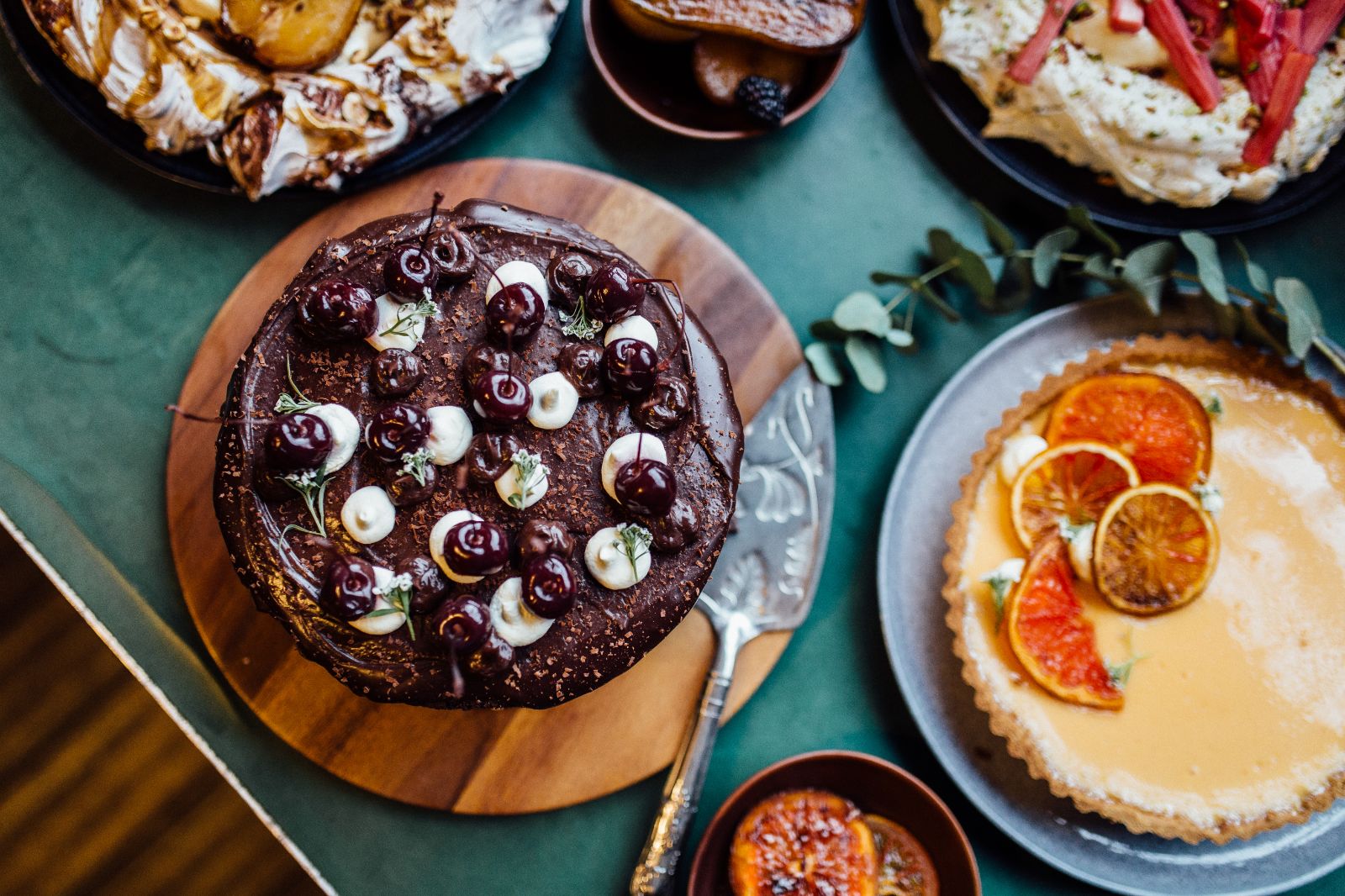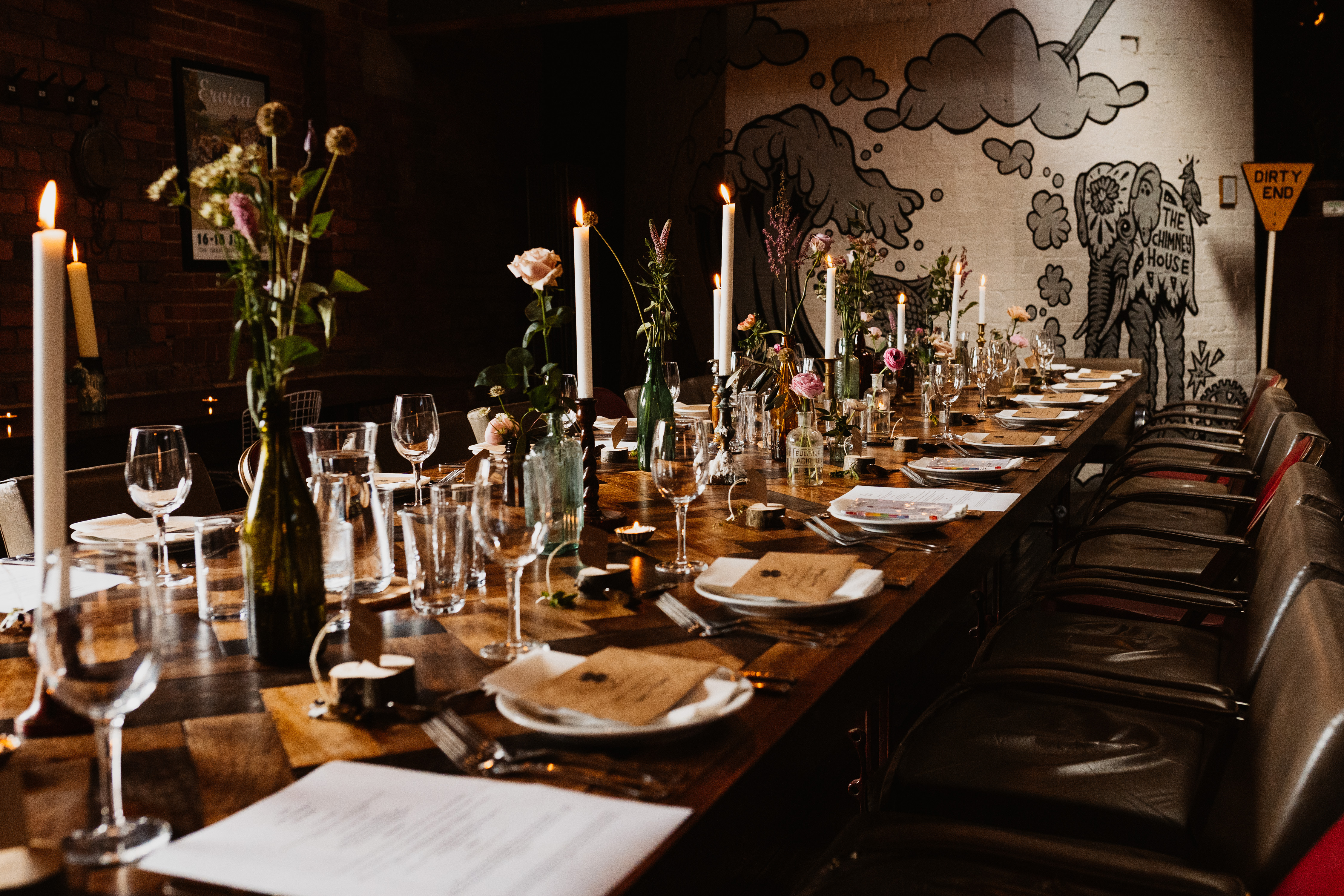 The Details
Menu prices subject to change
Prices are shown excluding VAT
VAT will be charged at the current rate
Included in the price
- Exclusive hire and bespoke styling of The Chimney House for four hours
- initial viewing and consultations
- our ever attentive, expert team for your event
- table styling and dressing with The Chimney House collection of candles and antique candlesticks
- cloakroom service
- premium paper napkins, glass and tableware (we provide glassware for any seated event. Standing events or events with numbers above 50 will need to provide glassware)
- filtered water on tables
- speaker system to play your tunes
- screen and projector to show your favourite memories
- managing of onward travel plans, we'll pre-book taxis to whizz you on to your next destination
- luxury bathroom amenities from cult brand Aesop (we're one of the only places in the North you can treat yourself to their botanically based skincare)
Optional extras
- Additional time - £150 per hour plus VAT (up to 11pm)
- Cut flowers from our preferred supplier, antique holders and arranging - £60
- Tea and coffee - £2.50 per person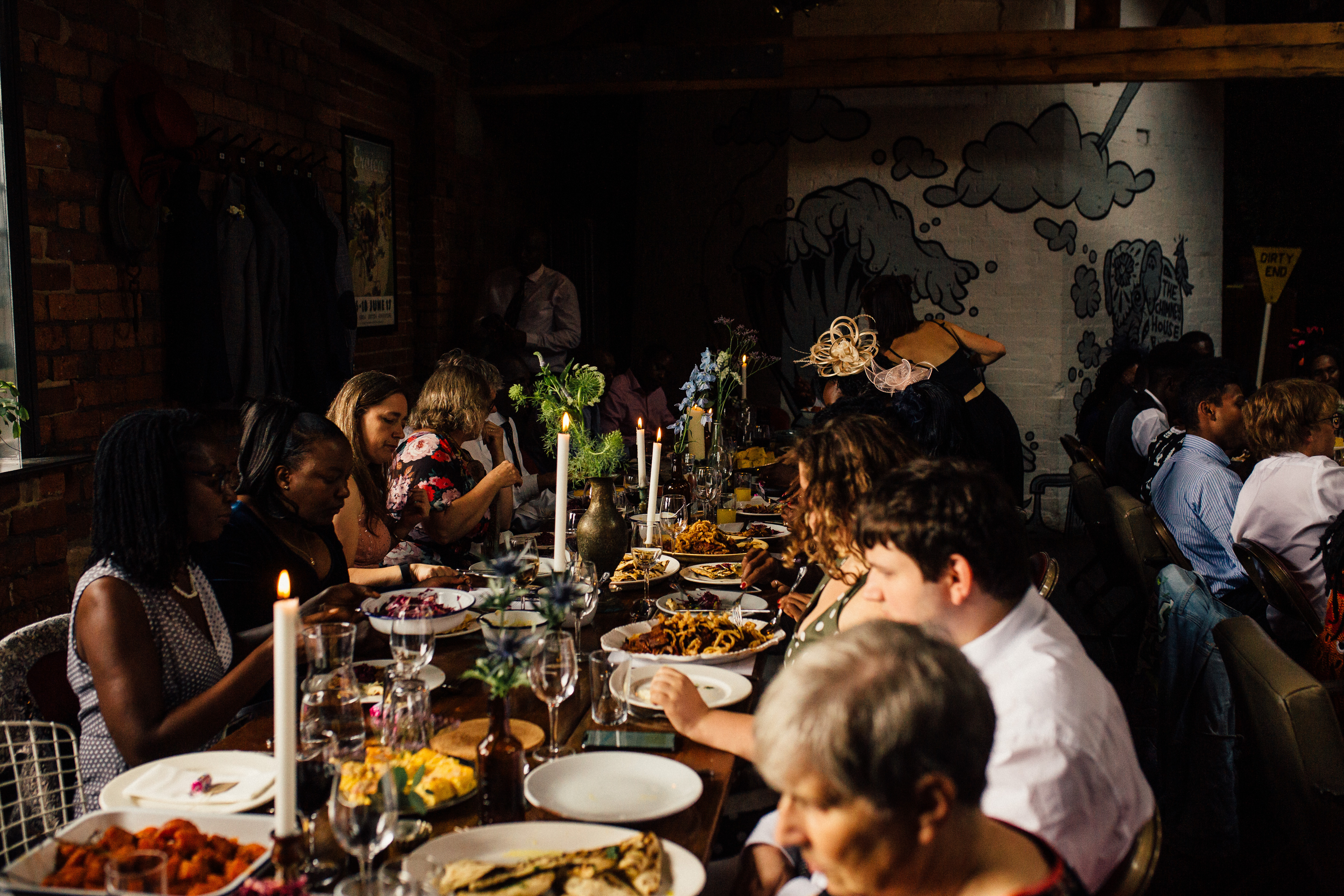 Bar Service at The Chimney House
We've carefully curated a delicious wine and beer line up that matches our menus and makes life super easy for you. Simply pre-order with us when you confirm your final numbers and we'll make sure that your wine and beer is served up perfectly for you to enjoy. We also have a selection of soft drinks that start from £2.50.
Check out our 'preorder' wine packages, punch bowls and cocktails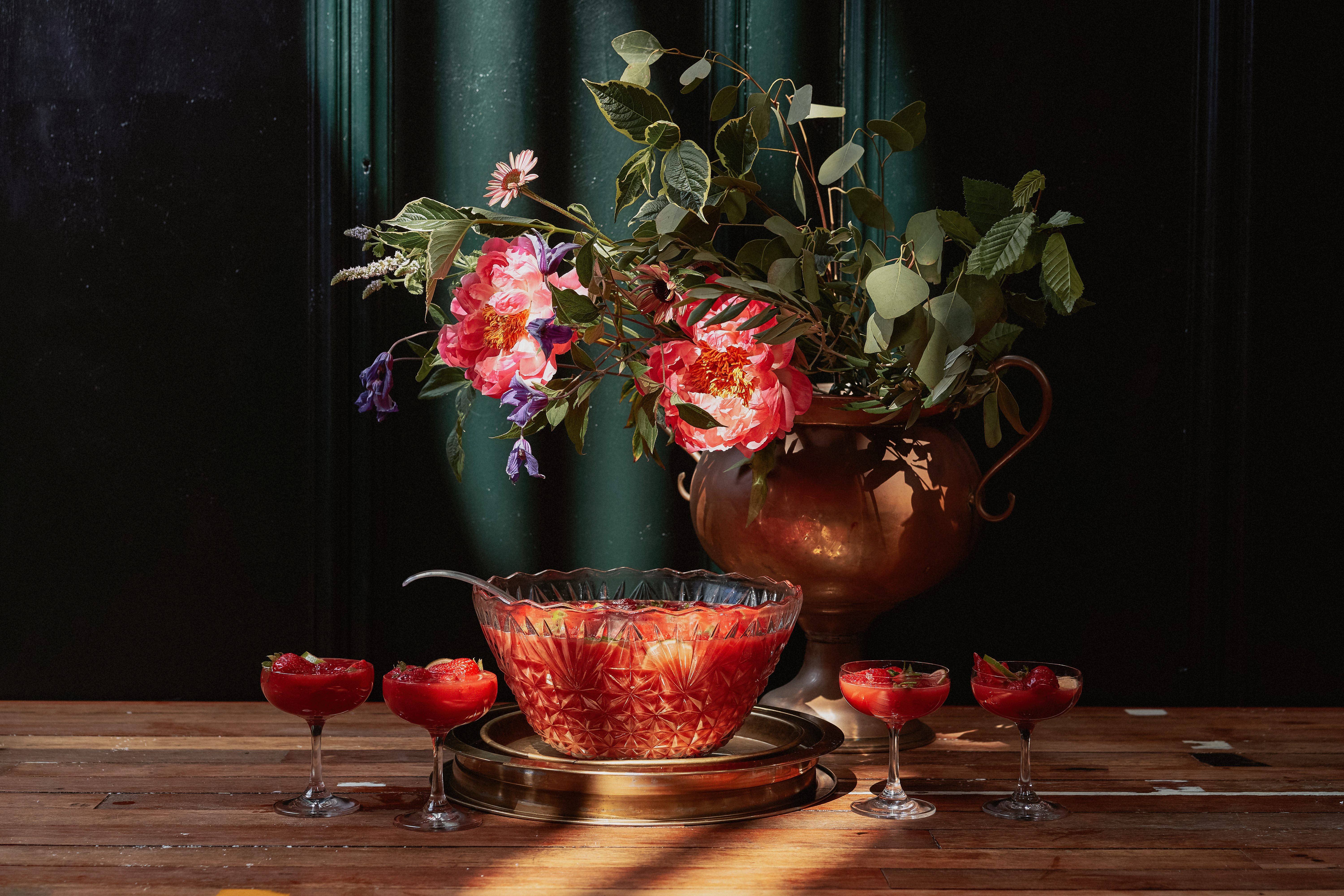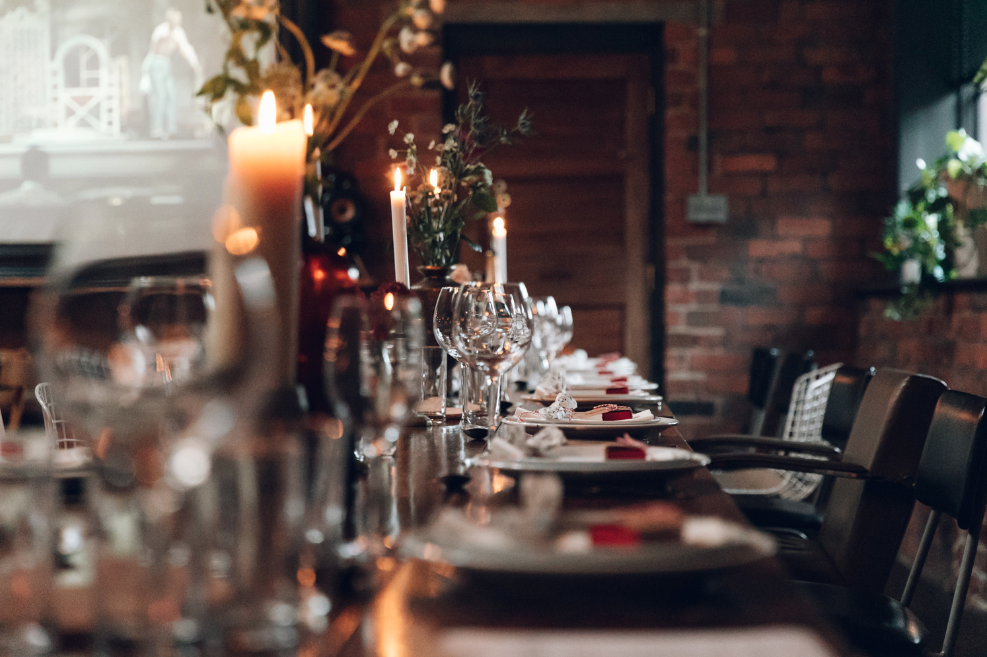 Need to Knows
- Our menus are seasonal menus - your exact menu choices will be dependent on date and also please do expect changes - our chef team works to seasonality and availability - and we source local and regional. We will let you know as soon as we do if there will be changes to your menu!
- Menus can be served seated for 50 (min of 20) or served as a grazing feast for up to 55 standing
- Any of our menus can be served at a time to suit your event
- Menus and prices will change seasonally
- Please note - in our effort to create menus to fit seasonally with local produce, some particular ingredients may be changed for more seasonal alternatives
- Use of our speaker system for your tunes, plug and play from your iPad, laptop or phone (we have a noise restriction after 10.30pm due to our residential area)
- We don't have facilities for a DJ, or space for a band
- We close at 11pm and ask that you respect our residential neighbours and leave The Chimney House quietly
- We can cater to all dietary requirements
- Guest numbers and dietary requirements are confirmed 7 days before your event
- We prefer BACS payments
We take a payment of £250 as a non-refundable deposit to secure your date, this is then subtracted from your final bill. Your deposit payment confirms your understanding and acceptance of our terms and conditions HERE
A Recent Testimonial
"My gorgeous wife was approaching a big birthday and the family decided we should celebrate in style.
My daughter thought best to relieve me of any organisational responsibilities and instead took up with the Chimney House.
Inspired.
The Chimney House itself is in a lovely part of Kelham Island - bustling, fun and slightly trendy. The room with low beams, bare bricked walls and long oak tables perfectly suited a long, gentle afternoon with gorgeous food and 30 wonderful, if loud, friends and family.
And what food.
The lamb was slow cooked in Persian spices and was adoringly complemented by crispy salads, aromatic vegetables and warm flat breads to die for. For those with any spare room, the deserts were just perfect. The Chimney House matched the food with outstanding wines. An afternoon to remember forever."
Peter Gaines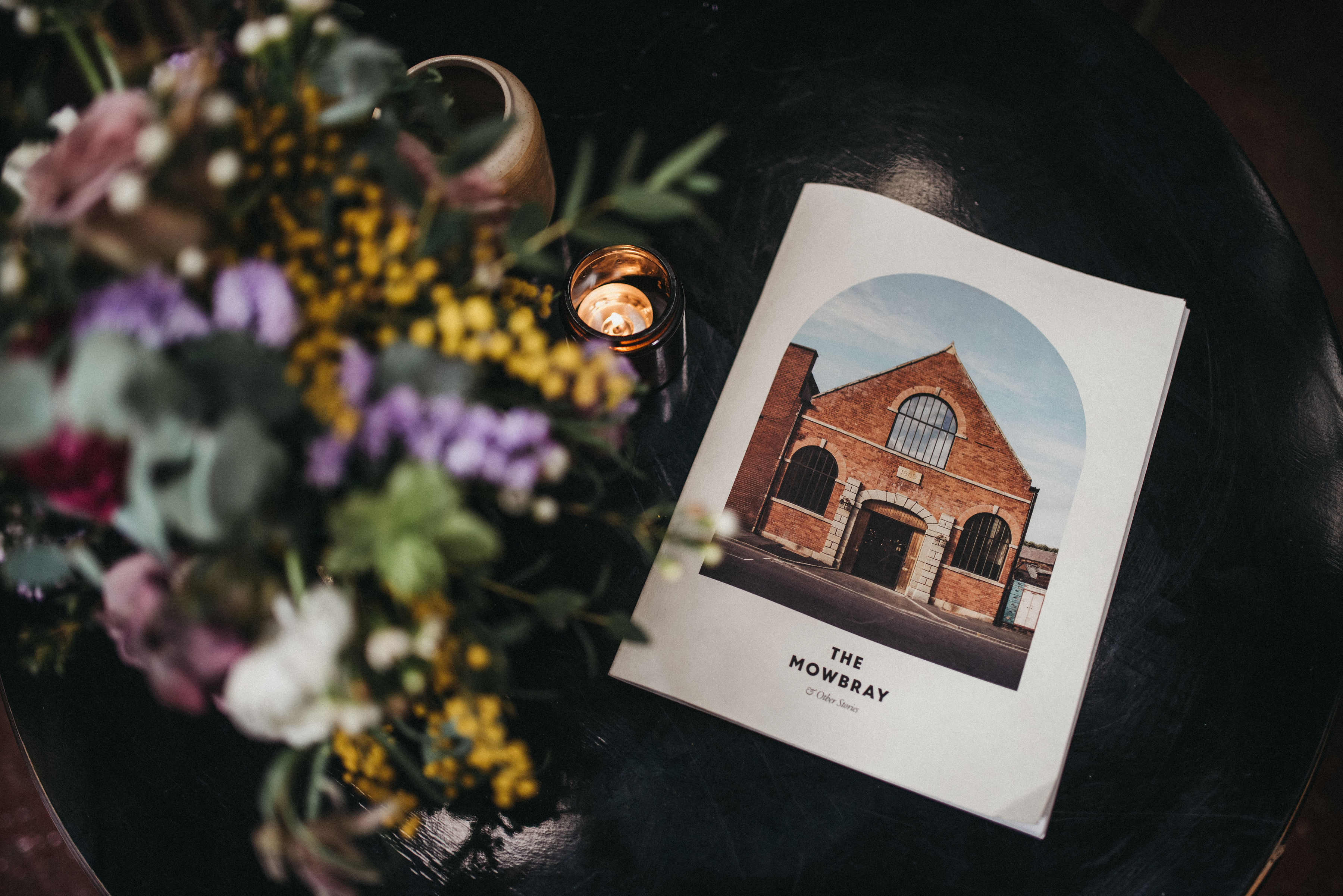 Need a Bigger Space to Feast? Try The Mowbray! Our 'Bigger Sister' Venue!
For seated numbers of 25 guests up to 180 guests, The Mowbray is Sheffield's first Feasting Hall.
The Kitchen is at the heart and soul of The Mowbray. Private dining, business dining, weddings, anniversaries, birthdays, fine, casual & feasting style from when the sun rises until the stars come out, we've got it covered.
For lovers of our Sheffield heartland and supporters of local, regional and Yorkshire food explore our seasonal menus and enjoy the luxury of one to one consultations with our head chef. Gather with friends, family, colleagues and feast around long easy tables using luxury Sheffield cutlery crafted by our friends at W. Wright. Read More HERE
We'd love to help you with the smallest of details to make your event with us amazing!
With all best wishes,
The Chimney House Team
Make an Enquiry
We are very happy to arrange viewings, to talk about prices and offering to suit your event. Please fill out the form below or call us on The Chimney House Hotline on 0114 276 7885.