SIGN UP FOR STORIES
We would like to invite you to sign up to receive sporadic emails from us about House events, news, special offers, products and services from The Chimney House.
x
Hello From The Chimney House
We're looking forward to welcoming you into The Chimney House this year!

Booking are open and well and truly underway for Wedding Feasts, Wedding Ceremonies, Private Dining, Celebrations and daily Meetings, Training Sessions & Away Days for 2023/24
Find Out More
x
The Viking Arty Party
Posted 17th May, 2018
A few short weeks ago, we hosted a truly wonderful afternoon with a guest list of indie bloggers, creative workshop pros and super stationery specialist, Viking.
We provided a the perfect setting for a super relaxed afternoon of creating, tucked away from drizzly skies, amongst beautiful blooms and flickering tea lights….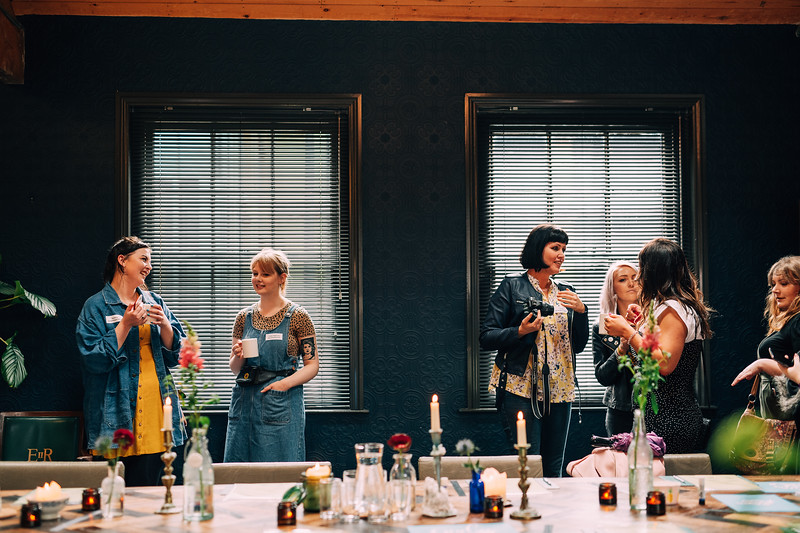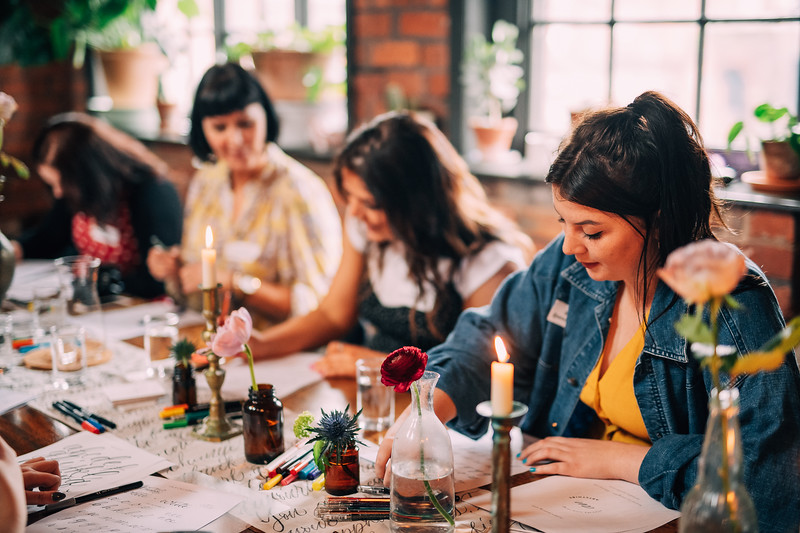 Viking brought the creative supplies, alongside a small team of pro crafters they delivered a totally wonderful #VikingArtyParty to a guest list of super creative bloggers! Viking curate a program of inspiring and innovative workshops with independent arts and designers.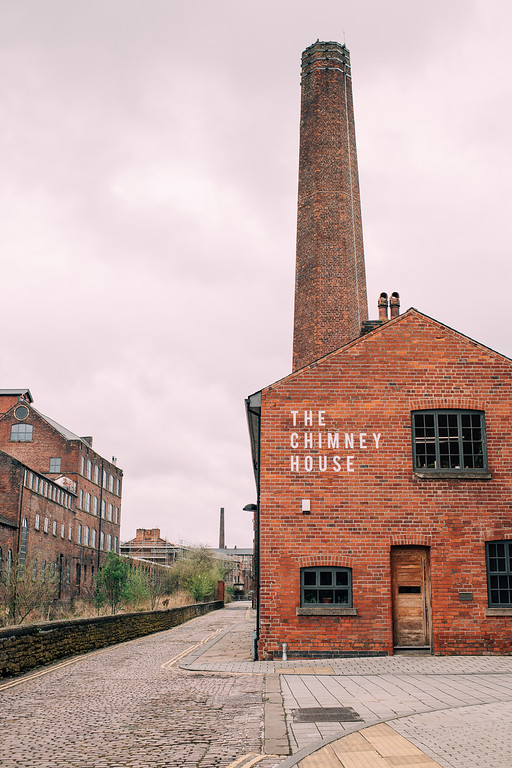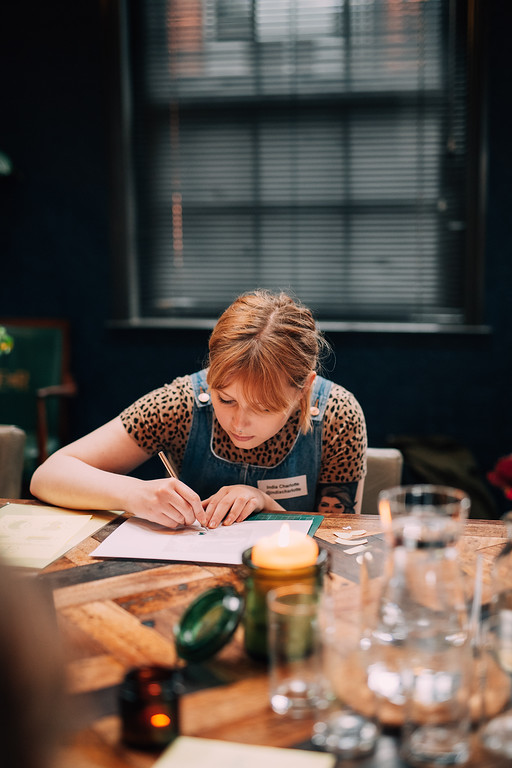 It's always a great feeling, welcoming people to The Chimney House for the very first time, and this event was no exception. Particularly ones with a creative eye and lovers of all things leafy!
Our lovely guests got to chatting their way around the room with a cup of tea. This was the meeting of many creative Sheffield minds, all of which, run success independent blogs, some old friends, some new.
The day was split over three creative workshops;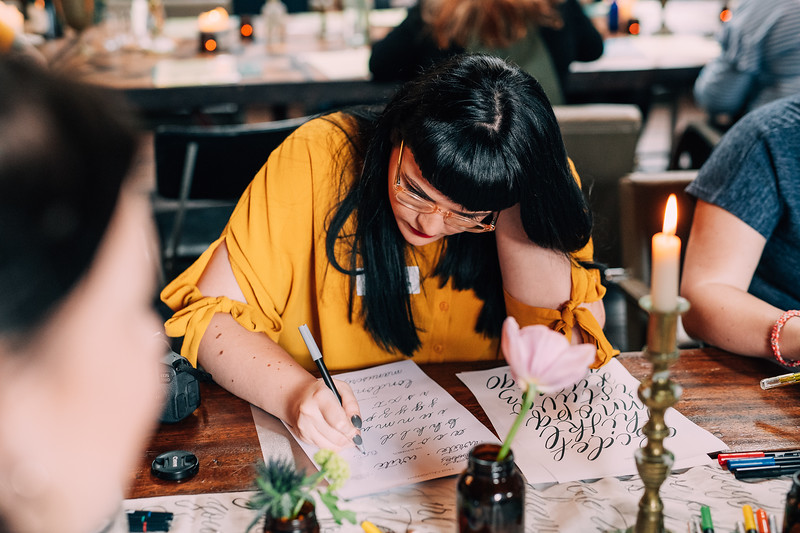 Calligraphy Workshop with Artsynibs
Inspired by a love of calligraphy and a dream of bringing back the art of beautiful writing, Artsynibs relies on traditions to navigate through the twenty-first century.
A tip of the hat to patience, clarity and accuracy, this workshop is reflective and encouraged our guests to experiment and with broad tip nibs, brushes and other traditional writing equipment.
After a couple of practise runs emerged some really beautiful work, as everyone relaxed into the sessions, not scared of making mistakes.Joyce, the artist behind Artsy Nibs encourages her students to enjoy the little things with the lost art of letter writing.
As pen and paper kind of people, that's something we can definitely get on board with.
We looked after our guest in style, with a feast of delicious sandwiches for lunch followed by delectable array of puds. It's important to keep those creative minds fulfilled and concentration levels high, cake usually does the trick. A quick catch up and exchange of crafting tips before getting back to it...
Covent Garden based crafters, Tea and Crafting deliver super friendly, creative workshops.
The art of paper cutting has evolved all over the world, seeing a recent revival in contemporary design and craft.Intricate illustrative designs combined with typography have soared in popularity due to artist such as Rob Ryan and Yuko Yamamoto.
After a little practise, some really amazing work was produced as guests were encouraged to combine calligraphy and paper cutting, again concentration and patience are key, especially when using a scalpel. It feels good to revert to non digital methods of creativity, using you hands and being totally screen free is good for the soul.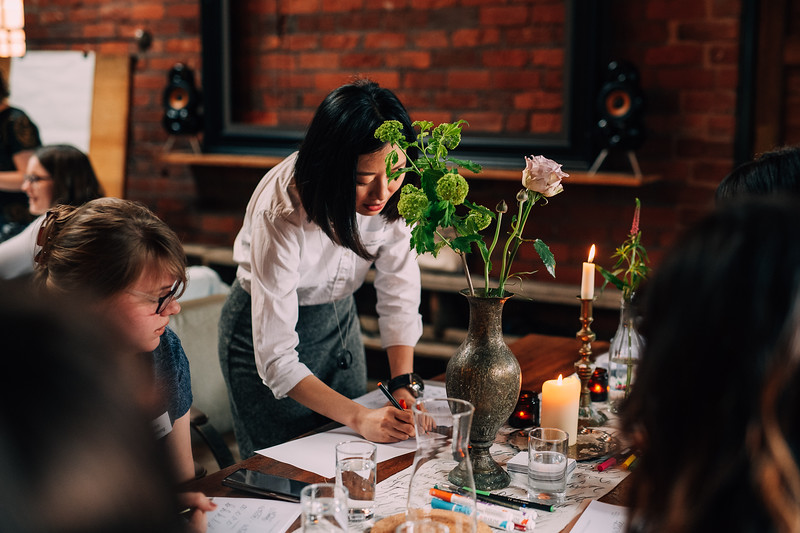 Covent Garden based crafters, Tea and Crafting deliver super friendly, creative workshops.
Origami is the ancient Japanese tradition of paper folding. In Japan's golden Age, many creative and cultural advances were made and paper - a precious commodity, i was folded into intricate designs and preserved as sacred objects for traditional ceremonies.
Tea and Crafting were again on hand to lead to way in creating beautiful flowers from just a few simple folds of paper - paying homage to the botanicals of local waterway and the arrival of spring in the most therapeutic way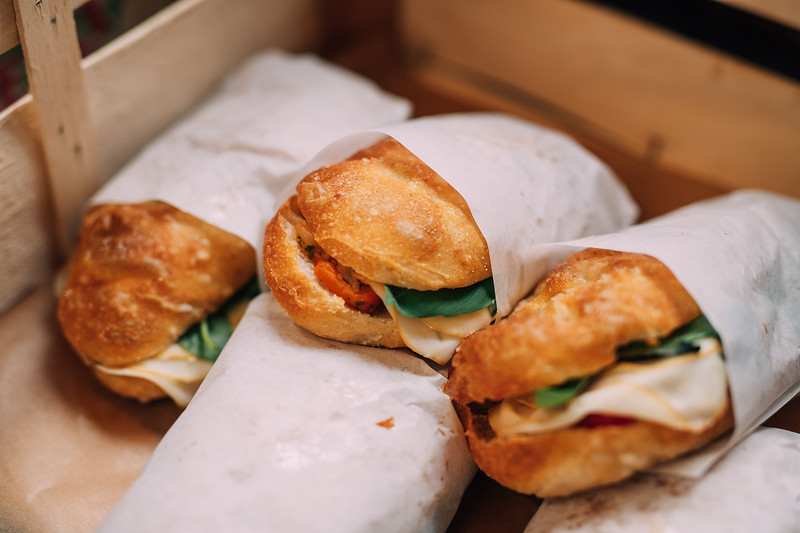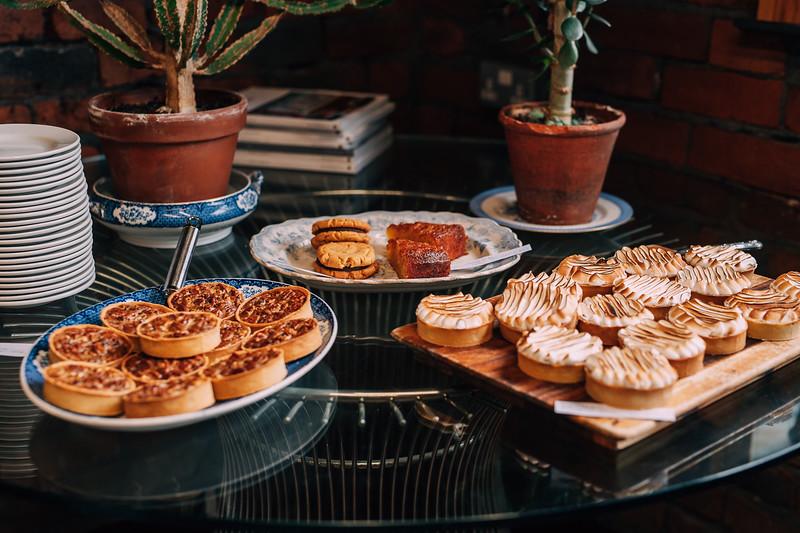 On a final reflection of the day and one last cup of tea, The Viking Artsy Party drew to a close. After saying our farewells, the bloggers headed off with their fantastic goody bags, filled with creative supplies to help them practice their new skills at home, courtesy of Viking.
Thanks for joining us, it was a total pleasure.
Make an Enquiry
We are very happy to arrange viewings, to talk about prices and offering to suit your event. Please fill out the form below or call us on The Chimney House Hotline on 0114 276 7885.