SIGN UP FOR STORIES
We would like to invite you to sign up to receive sporadic emails from us about House events, news, special offers, products and services from The Chimney House.
x
Hello From The Chimney House
We're looking forward to welcoming you into The Chimney House this year!

Booking are open and well and truly underway for Wedding Feasts, Wedding Ceremonies, Private Dining, Celebrations and daily Meetings, Training Sessions & Away Days for 2023/24
Find Out More
x
The Meeting Room at The Chimney House 2023
Posted 27th August, 4507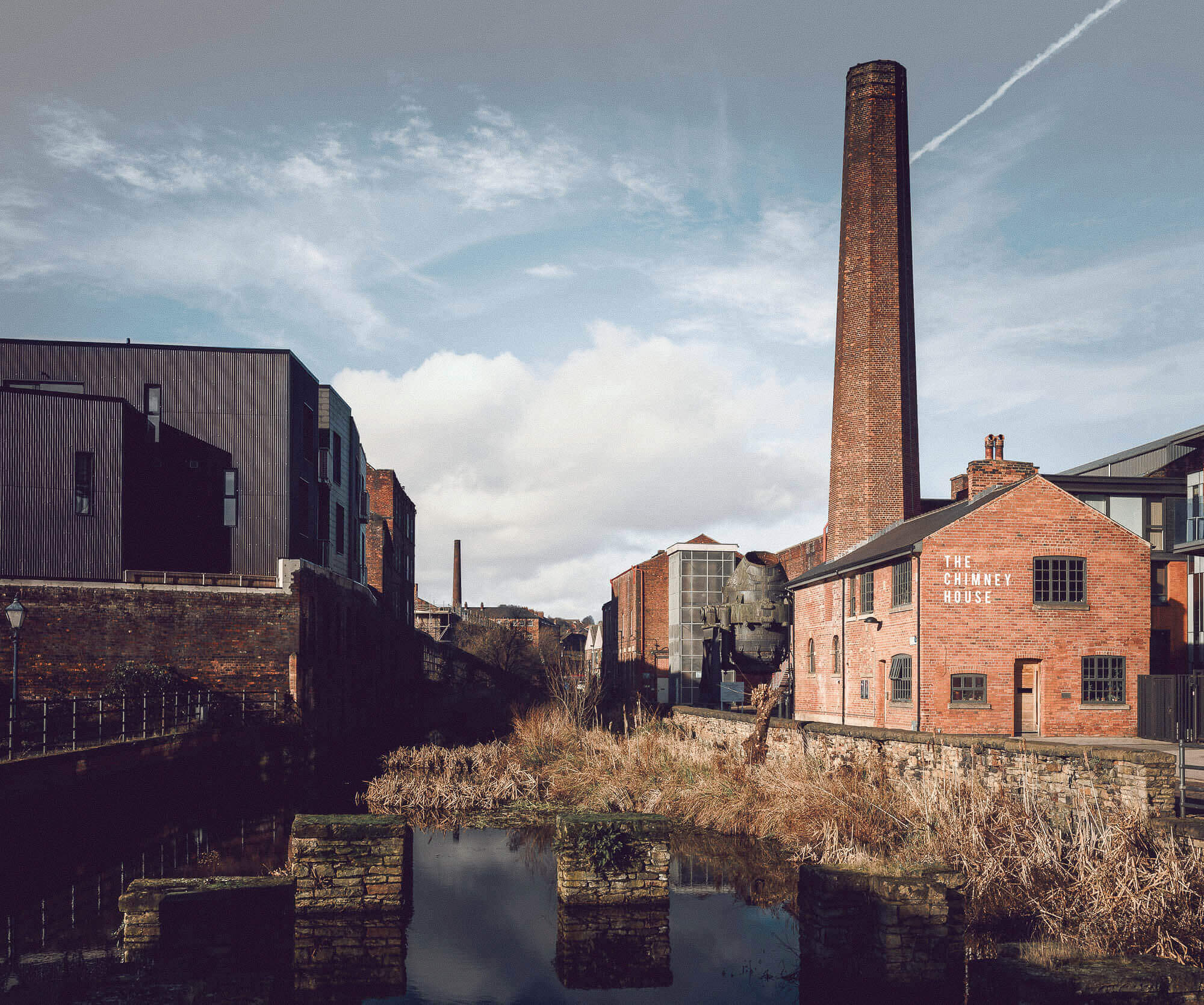 Welcome to The Chimney House! The Professionals Meeting Room in Sheffield
We offer 2 premium Meeting Rooms at The Chimney House.
We have been hosting events and professional meetings at The Chimney House for 14 years - since we restored the building in 2008.
The Meeting Room is an iconic space, made famous by numerous television appearances, acres of press coverage and Global fame, as it sprang up on radars far and wide when American events company eVenue crowned it 'the second most creatively designed Meeting Room in the World'.
Known for its responsible design ethos, the 20ft reclaimed custom made boardroom table and antiquities and curiosities; the perfect accessories for a modern meeting room by award winning design studio 93ft. The Meeting Room has welcomed leading names and famous faces, both local and international.
Join us to build empires and talk business under the ancient beams, and by the companionable 93ft chimney soaring through the floor and out of the roof.
The Meeting Room has a capacity of 50 seated guests available on a full day hire basis.
The Living Room is a second space available for hire at The Chimney House. A bright airy space, stacked full of green living plants, a log burning stove, fireside armchairs and views out onto Kelham's idyllic waterways. It is a room for chatting business, brainstorming, hatching plans and setting plans into action. Great for a quick get-together. Enter through the original mahogany door and choose your seat!
The Living Room has a capacity of 10 seated guests is available for full day or half day hire.
Tracked back to 1886, The Chimney House is perched on the historic waterways of Kelham Island. Guests can roam the waterways and the cobbled streets of the island in break times and for a leg stretch! Ask us about previous residents, you might get a surprise!
We look forward to welcoming you and your guests to The Chimney House!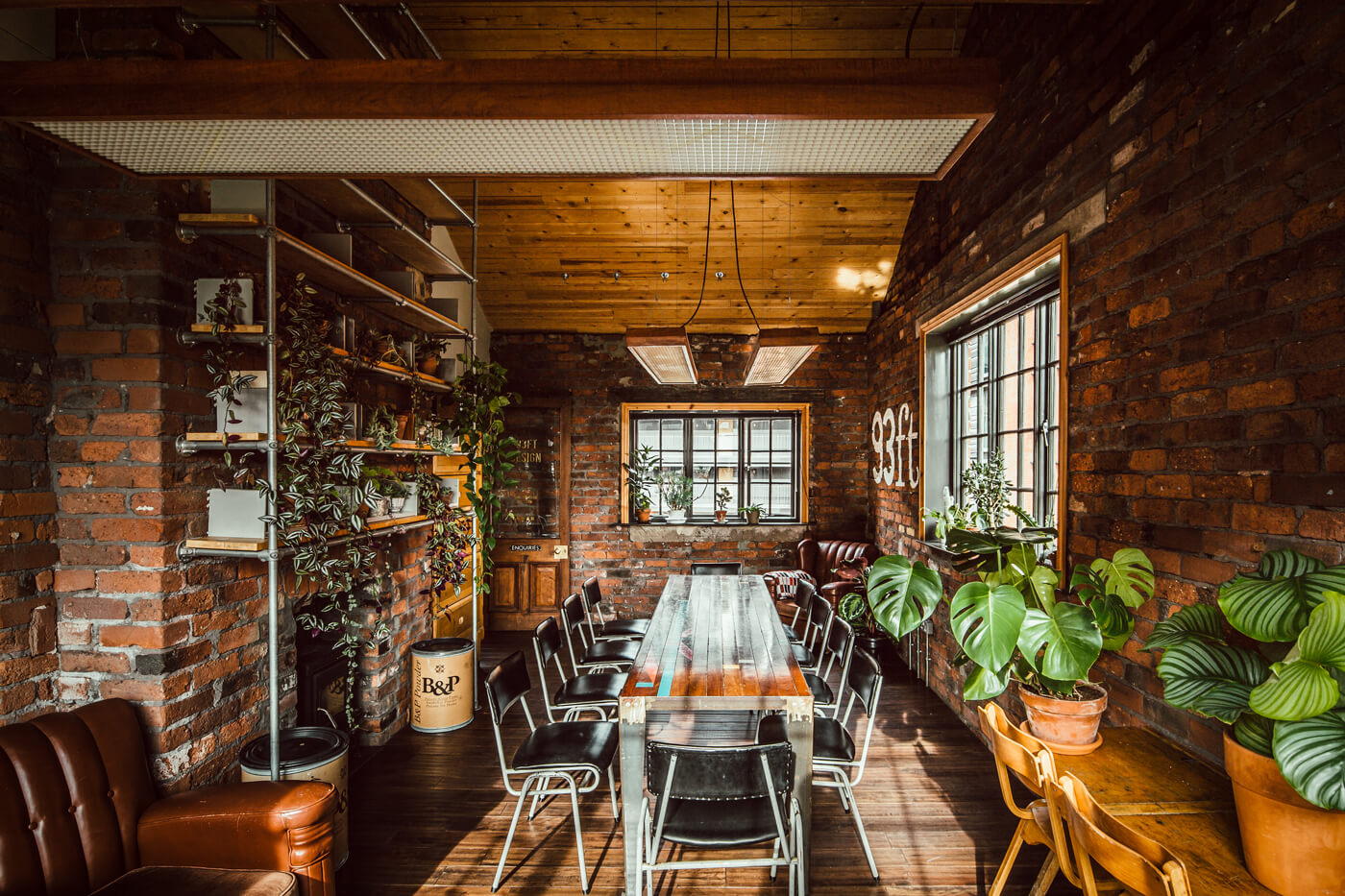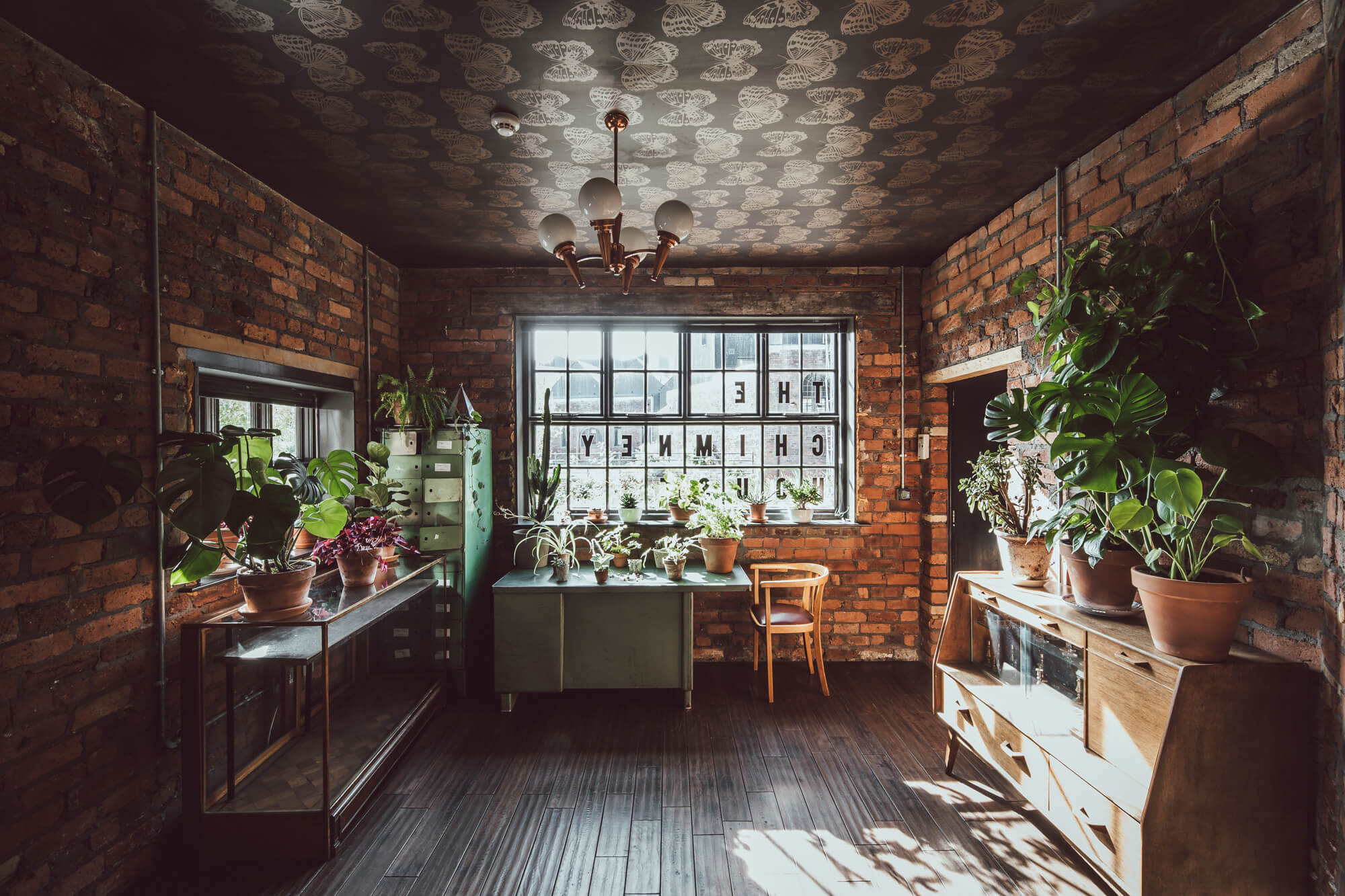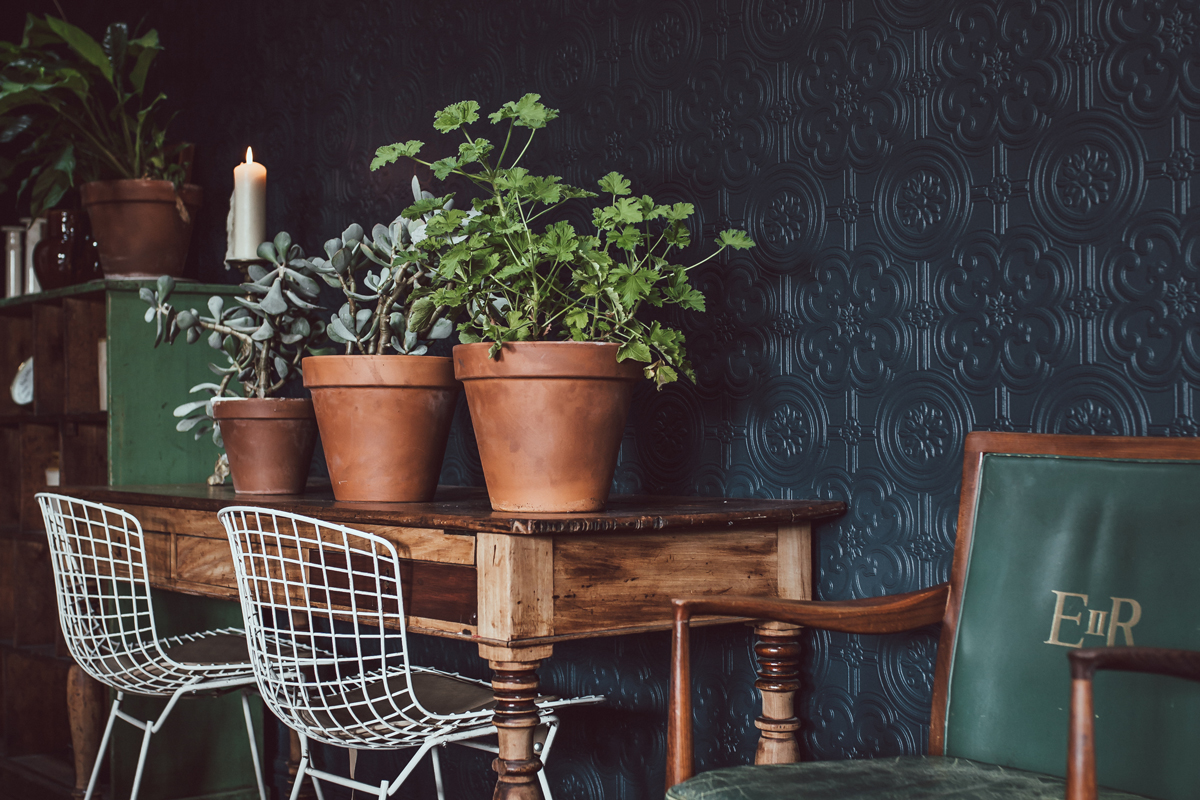 We are perfectly positioned for arrivals from all over the country - please check out our Arrivals instructions via our website for recommendations on parking and more HERE
Hire of the Meeting Room at The Chimney House is £295 + VAT. This price includes:
Hire of the Meeting Room for up to 8 hours, for up to 20 guests
Use of our AV; screen, projector and speakers
Our super fast fibre Wi-Fi
Use of flipchart, paper and pens
Unlimited fairtrade tea, Mow's coffee and selection of herbal teas available throughout your meeting
Snacks from the biscuit jar
Extras
Any guest numbers above 20, up to 50, are charged at £10 + VAT per person
Any additional hours are charged at £50 + VAT per hour (between 8am-6pm)
Our fridge is stocked with soft drinks starting at £2.50, or we can provide orange juice for £3.80 + VAT per jug
Breakout Spaces For The Meeting Room
The Living Room is an interconnecting space to the Meeting Room with a capacity of 8-10 seated or 25 standing
The Living Room is an excellent space for breakouts, group seminars, breakfast and lunch, and when hired in addition to the Meeting Room is £120 + VAT per day
The Front Room is downstairs, with a standing capacity of 20
The Front Room can be used as a reception and registration room, or to serve breakfast and lunch, or as an excellent second break-out room. The Front Room, when hired in addition to the Meeting Room and Living Room, is £100 + VAT per day
Hire of the Living Room at The Chimney House is £180 +VAT for a full day, or £100 + VAT for a half day. This price includes:
Hire of the Living Room for up to 8 hours, or half day for up to 4 hours, for up to 10 seated guests
Please note, there is no screen or projector in the Living Room
Our super fast fibre Wi-Fi
Use of flipchart, paper and pens
Unlimited fairtrade tea, coffee and a huge selection of herbal teas available throughout your meeting
Snacks from the biscuit jar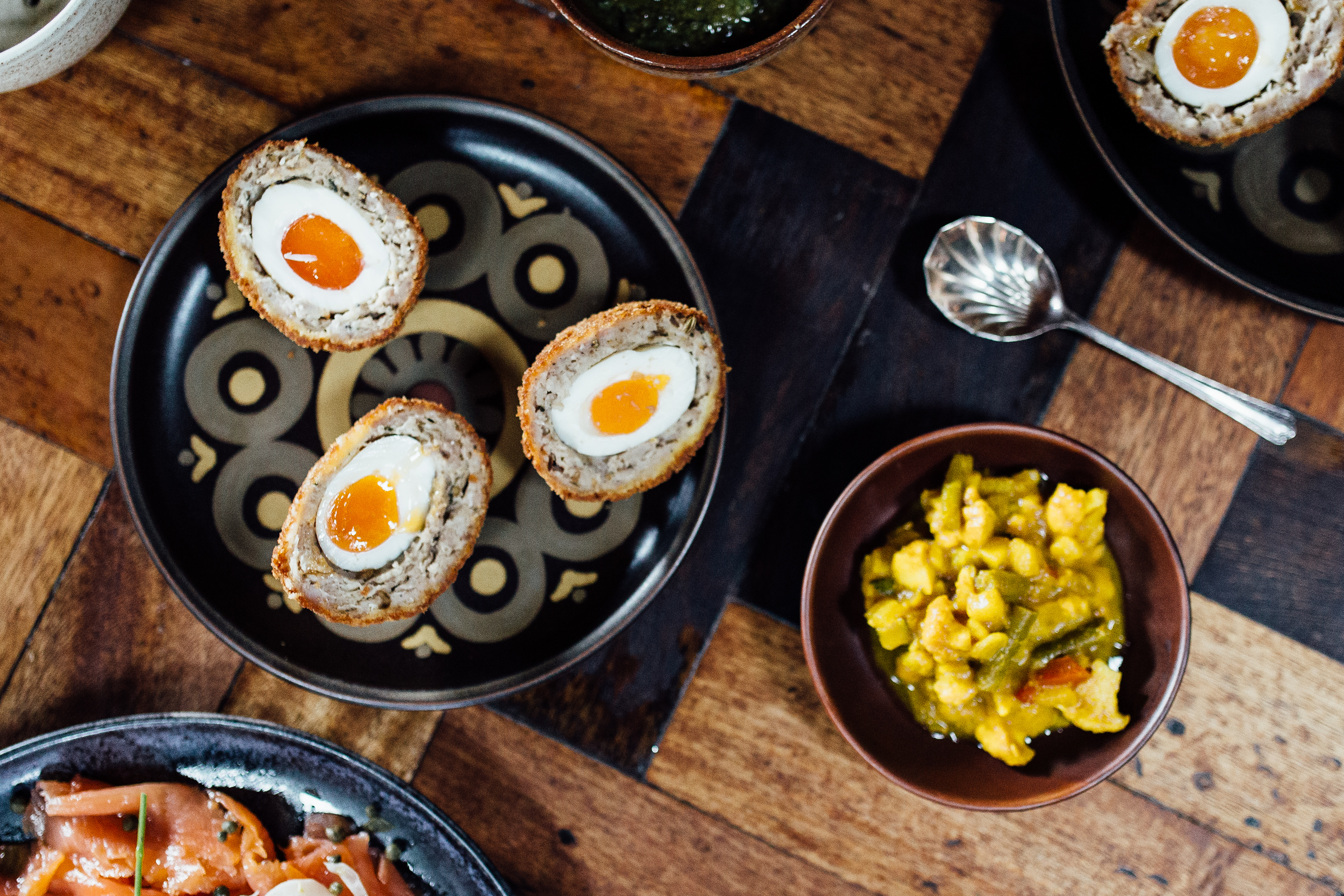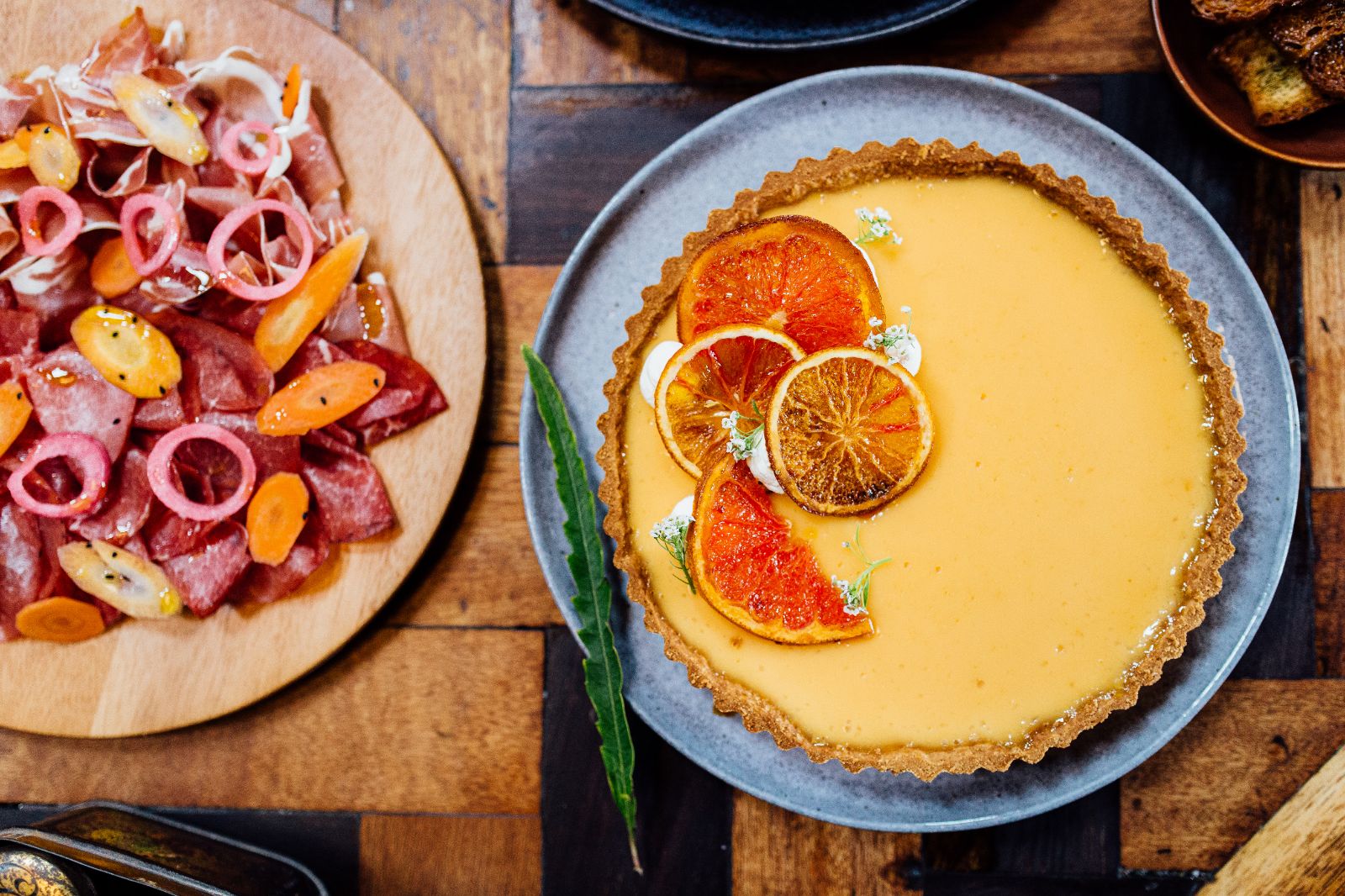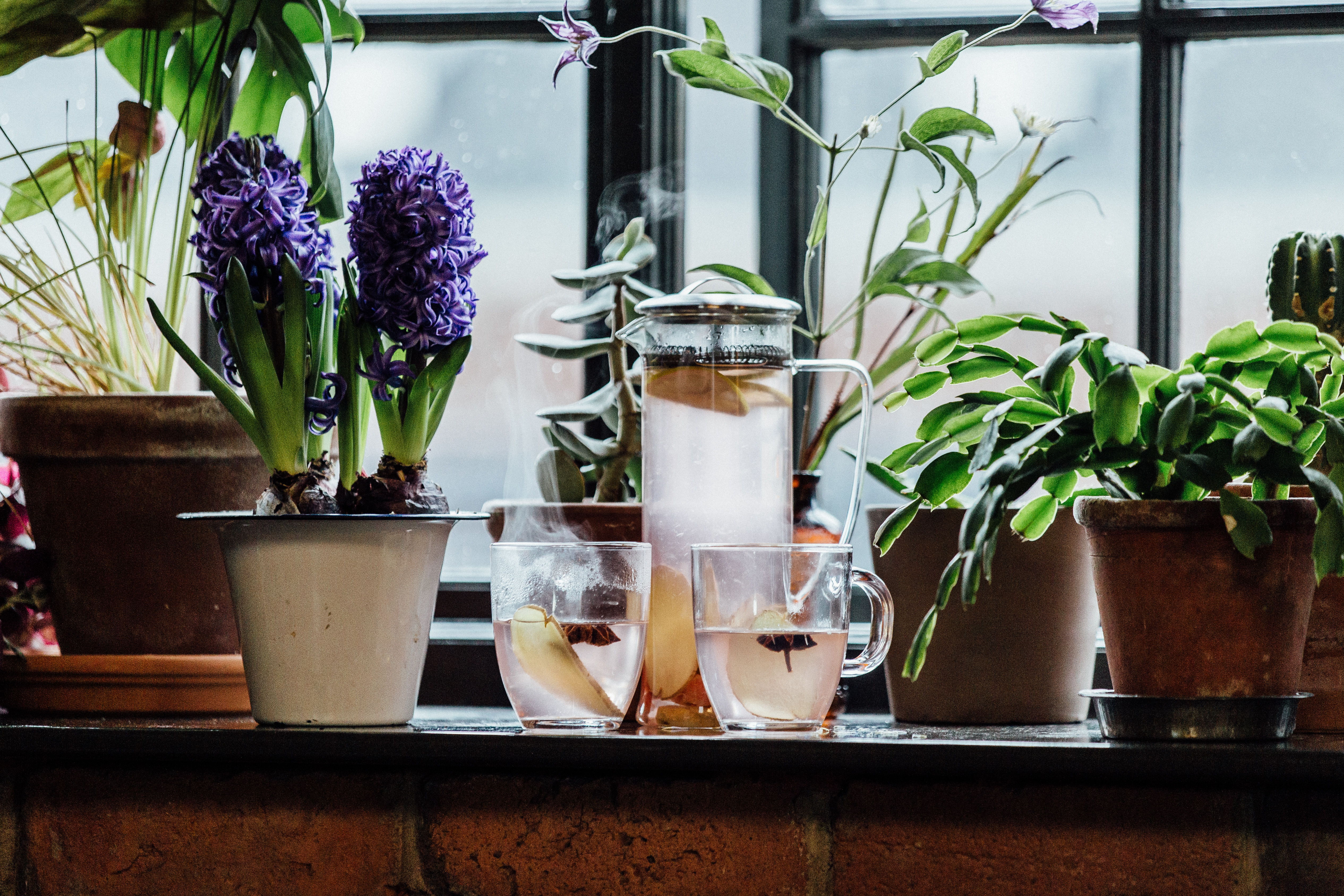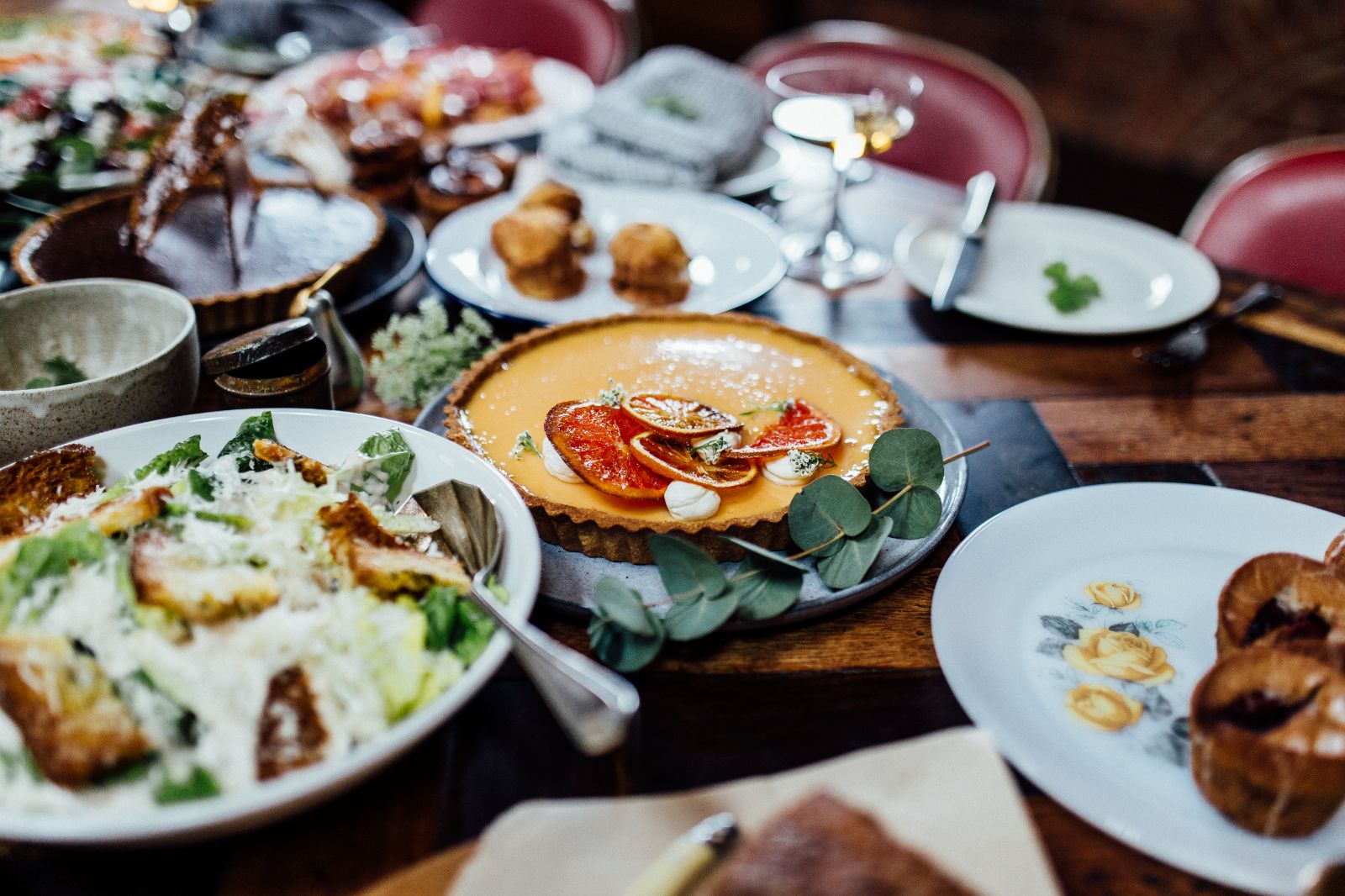 The Kitchen
Everything we serve is all baked, cooked and prepared fresh daily from our in-house Kitchens around the corner at The Mowbray. We can cater for all dietary requirements with advance notice. We're proud to bake our own bread and fresh cakes and we're always up for creating a bespoke menu for your day with us! Many of our guests will finish their meeting and stay with us for dinner - we have some beautiful seasonal menus - so just let us know if we can tempt you!
Breakfast
Pastries on arrival for £3 per person + VAT
Yorkshire bacon sandwiches on fresh rolls for £4.50 per person + VAT (minimum order of 8)
Pots of Homemade Granola with Fruit & Yogurt £4 + VAT
Lunch
House Lunch - £12 ex VAT per person
The epitome of a quick 'working lunch'! Delicious seasonal, freshly made sandwiches*, a fresh leaf salad and a tasty cake for pudding. This is the perfect lunch for a quick but satisfying lunch break and back to it!
*Typically one sandwich per person
Lunch Upgrade! Add a selection of seasonal deluxe salads for an extra £3 per person (minimum of 10 guests for our lunch upgrade)
Quiche & 3 salads £15pp ex vat (minimum number 10)
A handsome slice of house-made seasonal quiche (such as roast shallot & blue cheese or asparagus & ricotta) with a selection of 3 salads using the best of the produce available (for example roast squash & feta, rocket with shaved radishes & pickled fennel, new potatoes in herby creme fraiche). Followed by cake!
Hot Pork Sandwich £15pp ex vat (minimum order 20 guests)
Roast pork shoulder with apple sauce & stuffing on a freshly made roll with roast new potatoes. A cake to finish of course! Any vegetarian guests will be served a freshly made veggie sandwich instead.
Lunchtime picnic £17pp ex vat (minimum number 10)
A freshly made sandwich, a savoury bake such as quiche or sausage rolls & 2 salads with a cake to finish
An Italian Lunch £18pp ex vat (minimum number 10)
Our favourite Italian staples laid out on sharing platters for beautifully relaxed lunch
Rosemary & Sea Salt Focaccia (v, ve, g)
Marinated olives (v, ve)
Grilled aubergine, peppers & artichokes (v, ve)
Prosciutto with capers & pickles (v)
Mozzarella with marinated tomatoes & basil (v)
A freshly leafy salad (v, ve)
A hearty side dish such as orecchiette pasta with house-made pesto or new potatoes with rosemary & garlic (v)
Plus a dessert to finish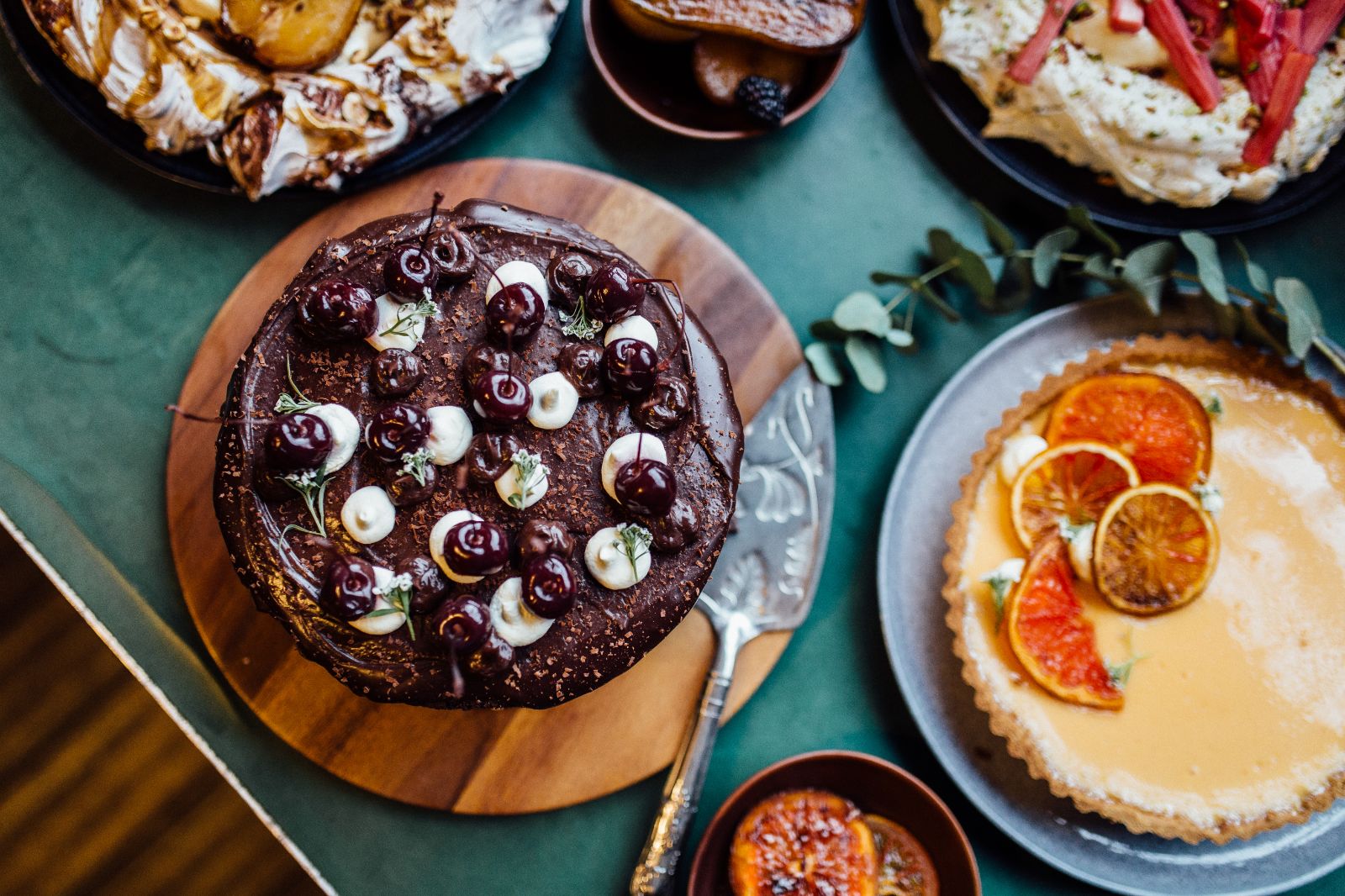 Afternoon Cakes & Cookies - Go on! Treat yourself! Prices exclude VAT
Made by our chefs - our Cakes & Cookies are created fresh to order and made from the finest ingredients! Only the best eggs and butter are allowed! Perfect for a birthday or simply a bespoke way to pep up the afternoon!
Our cakes are freshly made on the day by The Mowbray Kitchen and we are able to cater for some dietary requirements on request as detailed below. If you have any vegan guests we can prepare a delicious alternative at an additional £3pp plus vat, in addition to your choice of cake.
Cookies. Dip into a selection of our homemade cookies perfect with that afternoon cup of Yorkshire Tea! £2pp - (can be made without gluten or vegan)
The Buns. A beautiful batch of 12 Spiced Brown Butter Cakes with Cassis Icing £18 - (can be made without gluten)
The Classic. Victoria Sandwich with jam & buttercream - (can be without gluten and/or dairy free)
(8 inch cake serves approx 10-12 people) £20
The Indulgent. Carrot & Walnut Cake with Cream Cheese Icing - (can be made without gluten)
(8 inch serves approx 12-16 people) £25
The Ultra Treat. Rich Chocolate & Ale Cake with Chocolate Ganache
(10 inch serves approx 18-20 people) £35
"Last week we held our fourth corporate do at the Chimney House. Once again, a great success with people travelling from all over the country to attend. It is an excellent space for a relaxed client meeting, and the food is always superb - we have already booked our next event in April."
Philip Dickinson, Cosan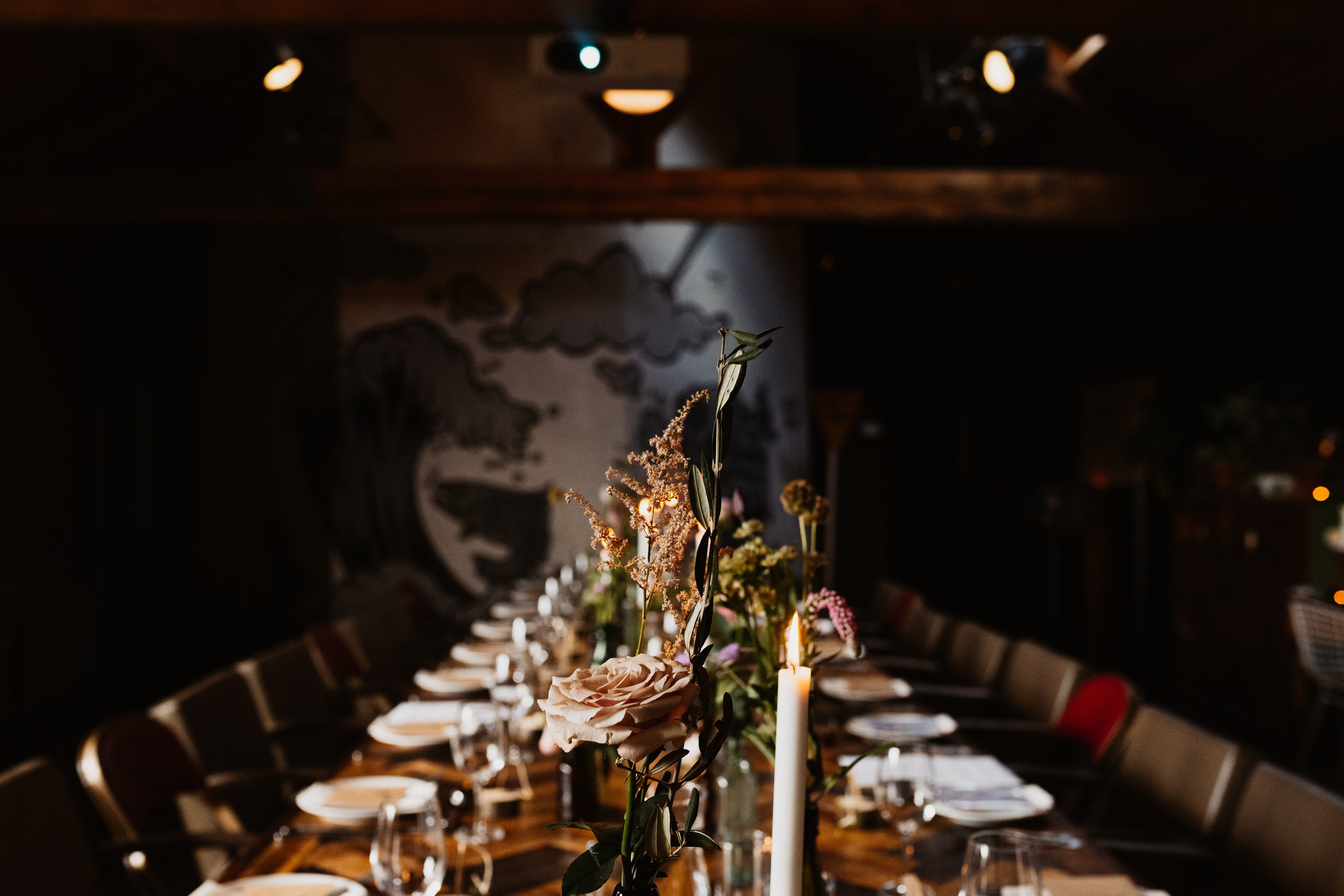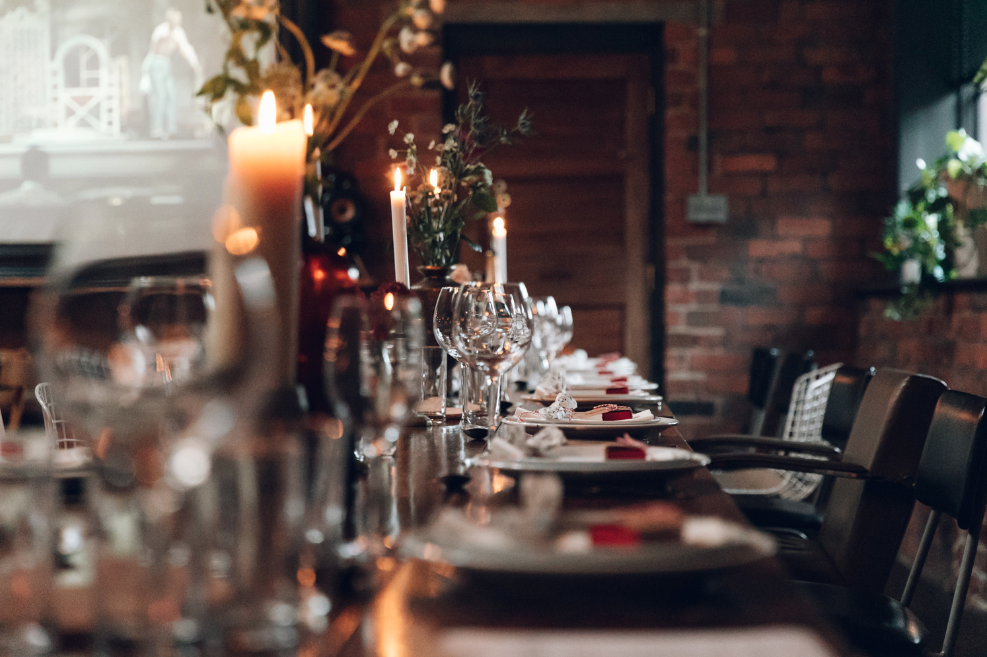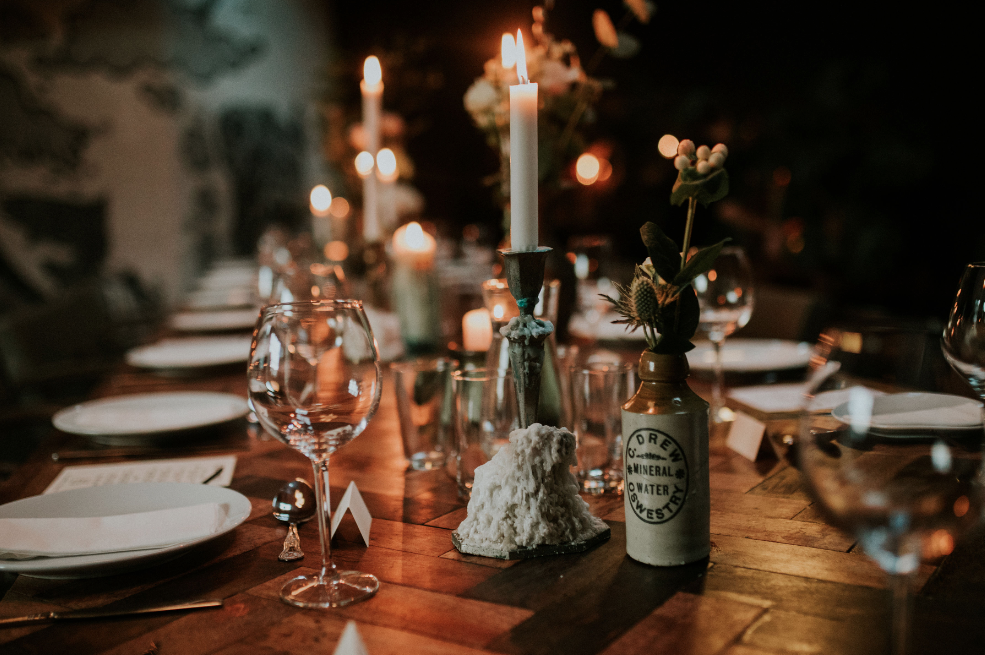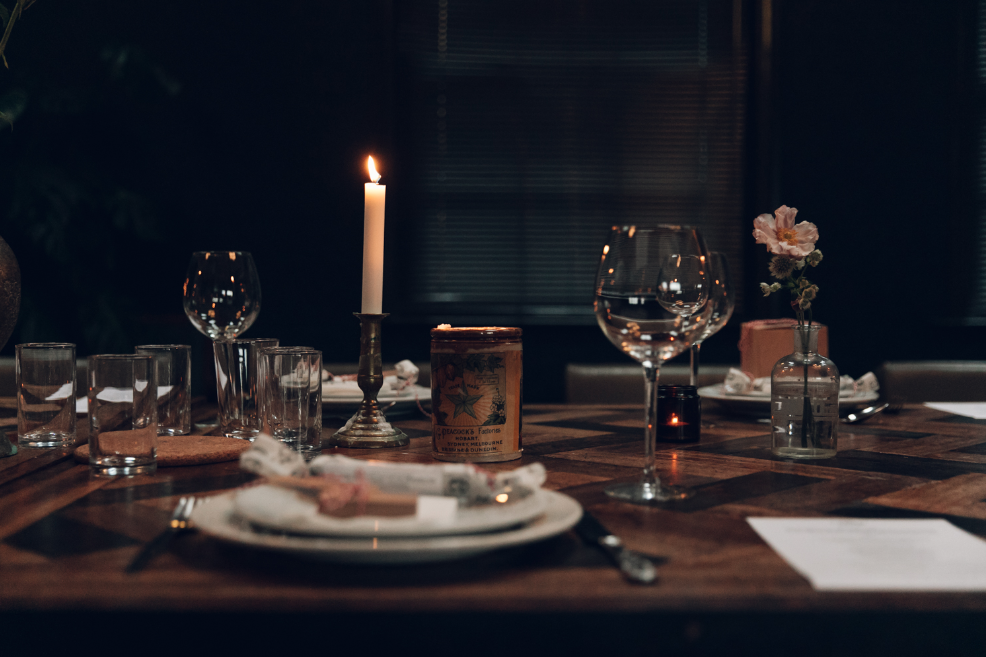 Supper & Dinner
We can also arrange a light Supper or even Dinner in the evening after your meeting - just let us know and we can send you our menus or arrange an appointment with The Kitchen to create a bespoke menu for you.
"We found The Chimney House to be an excellent event venue – very different to your 'run of the mill' meeting rooms. The lunch was superb in both presentation and quality – everyone commented on how good the food was and the layout worked really well. The staff were great, always attentive and accommodating. A great venue with a twist and one we would use again."
Pamela Allan, Nissan
Please check HERE for the latest testimonials.
Need to knows
We take the venue hire fee as a non-refundable deposit to secure your date, your deposit payment confirms your understanding and acceptance of our terms and conditions HERE
We can seat up to 24 guests in boardroom style around our beautiful antique table, or up to 50 guests in a loose theatre style in the Meeting Room
We can seat up to 10 guests in boardroom style in the Living Room
We are on 2 levels – there is a short connecting original staircase up to the Meeting Room and the Living Room. Please note, we don't have any disabled access
The Chimney House is equipped to allow your presentations to be easily played over our audio/video suite. Bring your laptop to connect to our system. To connect, your laptop needs a working VGA/HDMI video output and a 3.5 mm plug for audio
Guests will be able to help themselves to tea and coffee throughout your meeting. The Chimney House has a servery unit – which guests can use through the day to top up drinks if they wish to. There is no extra charge for drinks or biscuits which are replenished throughout the duration of your time with us
Please note, all catering must be confirmed at the latest 7 days before your event, including guest numbers and dietary requirements - they cannot be changed after this time
Arrivals
We do not have car parking on site, however there are multiple parking options within approximately a 4 minute walk. Please check out all of our recommendations for parking and ways to arrive to The Chimney House via our website HERE.
Need a Bigger Space To Meet?
Try The Mowbray - The New Big Sister to The Chimney House!
A state of the art environment for an inspirational space for business. Use The Mowbray for your larger daily meetings, away days, training sessions, workshops and conferencing for a minimum of 25 up to 180. Completely tailored to supporting your team get the very best out of their day 'out of office' we've got every last detail covered. From luxury touches including the comfiest of chairs for day into evening to freedom of space in an extraordinary triple height rafters retreat. Let us take care of breakfast, mid morning snacks, lunch, afternoon teas, supper, dinner and everything in-between from The Mowbray Kitchen and if you fancy a cold glass of champagne to toast the day or a pint from the bar to seal the deal then we can help with that as well! View The Mowbray HERE
Breakout Space
Looking to host a larger meeting event but with private breakout space? Use The Mowbray and The Chimney House together over one day or several to host your event. A short walk alongside the waterways of the River Don connects The Mowbray in Neepsend and The Chimney House on Kelham Island.
Corporate Wellness Workshops at The Mowbray & The Chimney House
Investing in wellbeing for your company is a win win. Not only does it fulfil corporate responsibility, it is proven to improve your bottom line by reducing sick days and increasing productivity. The Mowbray and The Chimney House offer curated wellness workshops ideal for company away days and team building. Ask us for our latest packages. Find out more HERE
The Mowbray Outside Catering
Not able to come to us? Then we'll come to you! We are often asked to deliver The Mowbray lunches, our Mowbray made freshly baked bread and fresh cakes and treats straight into your workplace! Always with a focus on seasonality and local produce, The Mowbray lunch boxes and cake boxes are always delicious and guaranteed to delight groups of all sizes. Find out more HERE
We'd love to chat further so let me know if we can help with the smallest of details! Please let me know if you would like to arrange a time to view The Chimney House and The Mowbray and discuss your event in person.

T H E C H I M N E Y H O U S E
4 Kelham Island. Sheffield. England. S3 8RY
Make an Enquiry
We are very happy to arrange viewings, to talk about prices and offering to suit your event. Please fill out the form below or call us on The Chimney House Hotline on 0114 276 7885.