SIGN UP FOR STORIES
We would like to invite you to sign up to receive sporadic emails from us about House events, news, special offers, products and services from The Chimney House.
x
Hello From The Chimney House
We're looking forward to welcoming you into The Chimney House this year!

Booking are open and well and truly underway for Wedding Feasts, Wedding Ceremonies, Private Dining, Celebrations and daily Meetings, Training Sessions & Away Days for 2023/24
Find Out More
x
Supper Society - Great House
Posted 4th March, 2013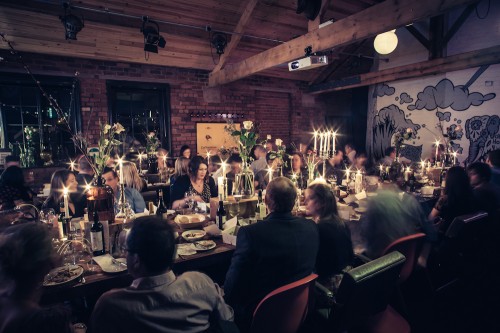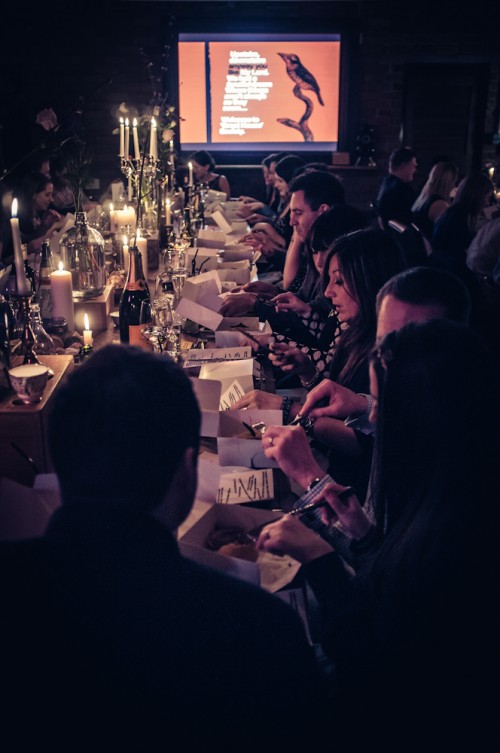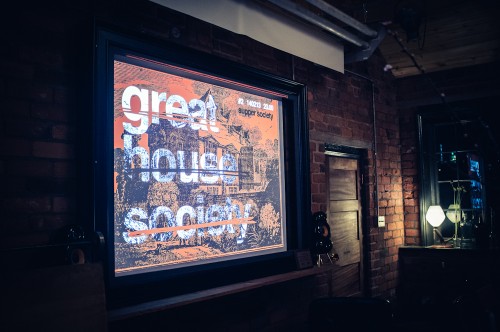 We've been anticipating Supper Society since the end of our last Society meeting in October 12…
Blackout Society was hailed as an disputable success kicking off our foray into our own brand of 'Supper Club' into our fair Sheffield City…So how do you follow that?
So Great House Society…Who are you?
So we teamed up with the mighty minds and highly creative kitchen of master foodie Peter Moulam to rustle up our second Society…
We had 49 fine Societiers convene for the toll of the dinner bell at 8pm sharp – for mystery and intrigue in the form of peculiar happenings and as one guest so elegantly put it 'bonkers' food…
The Society Hall was literally bursting with anticipation and guests, as sealed white boxes floated down to them with the instruction of don't dare open your box till you hear the dinner bell ring again… Guests sat obedient and still… WHAT'S IN THE GODDAMN BOX!! WE ARE HUNGRY resounding round the Hall in hungry silent volume…
The trick to this Society is remember those Great Housers liked to play tricks and out-tricksy each other with wily fun and random games – so into Great House mode we plunged with our tricky white boxes and random instruction…
When presented with a wine glass – one assumes that wine will be poured… Gold leaf in the bottom of one's glass? Why – that is to be expected surely? This is The Great House after all….
Think again my wine loving friends – don't be tricked by the wine bottles containing your next course!!
Meanwhile…
Roasting magnificently in the Kelham air was the STAR of our Meat Parade!
Make an Enquiry
We are very happy to arrange viewings, to talk about prices and offering to suit your event. Please fill out the form below or call us on The Chimney House Hotline on 0114 276 7885.