SIGN UP FOR STORIES
We would like to invite you to sign up to receive sporadic emails from us about House events, news, special offers, products and services from The Chimney House.
x
Hello From The Chimney House
We're looking forward to welcoming you into The Chimney House this year!

Booking are open and well and truly underway for Wedding Feasts, Wedding Ceremonies, Private Dining, Celebrations and daily Meetings, Training Sessions & Away Days for 2023/24
Find Out More
x
Super Society is Back - 28th July!
Posted 23rd May, 2016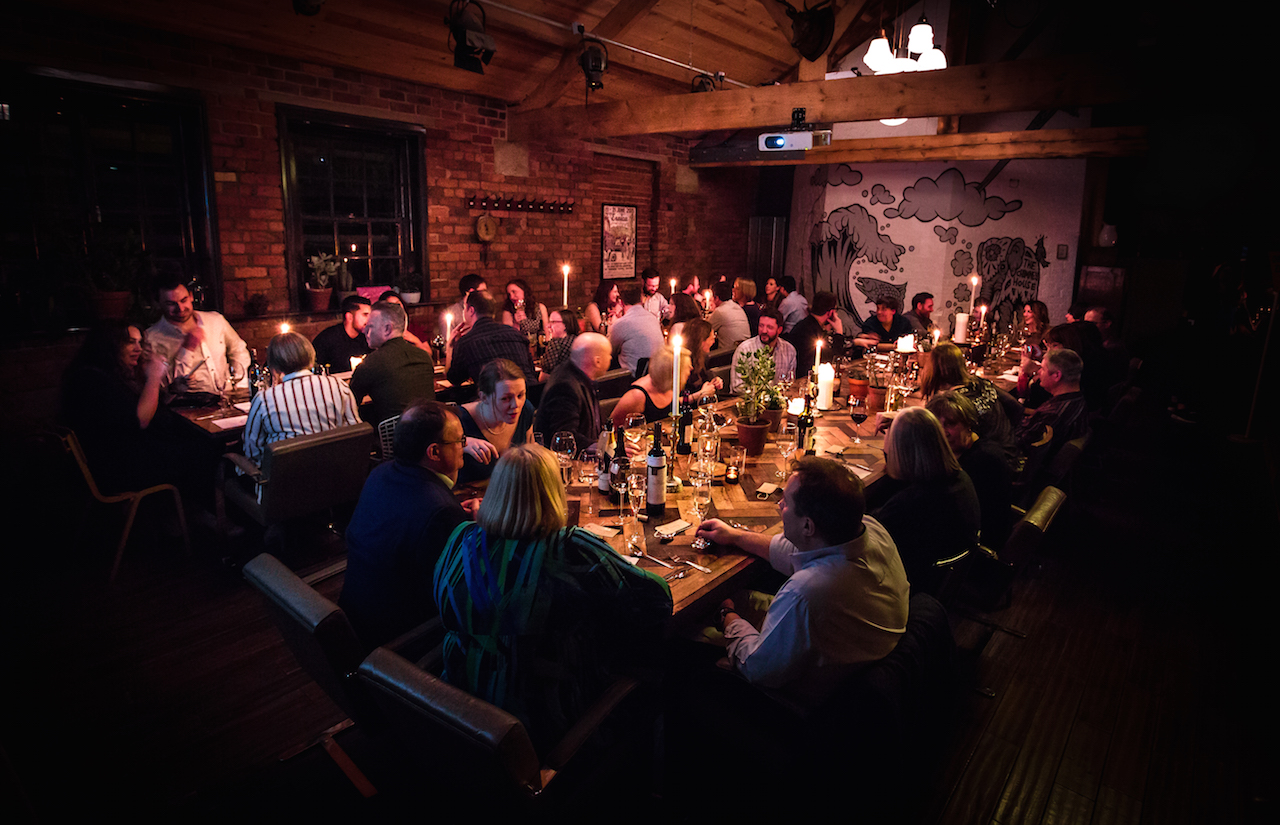 We are delighted to inform the Society, Chris Harrison, our super chef will return in July! As you know, Chris has years of experience working in award winning and Michelin starred restaurants, under some of the world's top chefs; including The Fat Duck under Heston Blumenthal, and The Hand & Flowers under Tom Kerridge.
His culinary talents and exciting flavour combinations will, again, offer our guests an open minded dining experience!
The feedback from our last Society was so fabulous, we just had to book Chris for another date as soon as we had a spare moment!
One of our Societiers, Karen, sent us her thoughts after our last event; "every time I get notification of a new Supper Society event at The Chimney House I'm thrilled! These events are some of the most exciting and innovative food experiences to be found in Sheffield. With excellent food, good service and delightful surroundings. I recommend anyone to try and see for themselves... but not before I've secured a seat for myself. Keep up the great work Chimney House, you've brought capital city style eating to Sheffield!"
To Book
The next Supper Society will convene on Thursday 28th July 2016 at The Chimney House, 4 Kelham Island at 7.30pm.
Seats are £55 each
Societiers will indulge in an adventurous dining experience.
The Society will dine at 8pm.
Taxis will be outside The Chimney House at 11pm.
To book purchase online HERE (advance card payments only), or call 0114 2767885.
Payments taken online will be subject to a booking fee which is donated to charity (see Party For The People for more details)
Tickets are non-refundable and non-transferrable.
Prices are inclusive of VAT.
All dietary requirments must be sent to kirstin@thechimneyhouse.com before Thursday 21st July.
About Supper Society
'A mysterious society dedicated to the curious consumption of food within the walls of The Chimney House'.
Hung loosely on a 'Supper Club' principle, Supper Society is the only time individual seats can be booked to attend a dining event in The Chimney House which usually hosts private dining events in the Pop Up Dining Hall for private parties and celebrations.
Supper Society is described as a 'mysterious society dedicated to the curious consumption of food' and entertains 'Societiers' for the course of an evening and a secret theme which changes for each event. Societiers have no idea of their experience until they arrive on Kelham Island when they are passed a secret note on the approach to The Chimney House as preparation for the theme they will find themselves immersed in on arrival.
Sally Clark, Owner of The Chimney House explains 'Supper Society takes The Chimney House to the next level of bespoke event presentation, we are avid pursuers of creative styling to enhance experiences and bolster imaginations to transport minds and souls away from the daily and mundane. To enter a Society based entirely on that ethos – just for the course of an evening is escapism worth experiencing.'
Societiers will experience an unknown menu which has been crafted to reflect the imagination and genius from guest creative kitchen teams who place their emphasis on presentation and the 'reveal' of items as well as incredible ingredients combined to create inspiring tasty courses in keeping with chosen themes.
Sally continues 'we have been asked hundreds of times if guests of The Chimney House can book places for dinner with us…Dinner almost seems a little humdrum – so we've created a Society that is open to everyone and gives us a chance to combine creative alliances with chefs who are willing to pick up our challenge of the creation of 'a mysterious society dedicated to the curious consumption of food…'
Etiquette
Societiers must be prepared to put themselves in our hands and be guided through an evening which is as much about experience and ambiance as it is about food and its presentation.
Societiers attending Supper Society will be not told what Society to expect until they arrive on Kelham Island. They will be handed a note on the approach to The Chimney House which will contain one word which will be the Supper Society theme.
Guests can book however many seats they wish to.
Societiers will not be given menus beforehand, but will be told details of various parts of the evening.
Societiers must inform us of dietary requirements 7 days before the event for which we will cater bespoke.
The Chimney House encourages the bringing of ones own wine and ales. We do not provide wines/ales/beers. We will advise on wine types which will compliment each course.
Everyone who attends Supper Society will eat the same unless they inform us of specific dietary requirements in the weeks leading up to Supper Society.
Society Wine
We've teamed up with the boutique and bespoke Sheffield wine specialist – Starmore Boss to give you a hand-picked wine guide for the next Society.
Our wine list has been tailored by the inimitable Barry Starmore, a former Savoy Group sommelier, with over 25 years of wine experience. The focus is on wines sourced and selected for their quality, heritage and provenance.
Barry has picked wines to perfect compliment our super secret Supper Society menu. Drop in at 257 Sharrow Vale Road to grab a bottle of two!
Past Societies include: Casual Society, Black Out Society and Great House Society
Make an Enquiry
We are very happy to arrange viewings, to talk about prices and offering to suit your event. Please fill out the form below or call us on The Chimney House Hotline on 0114 276 7885.