SIGN UP FOR STORIES
We would like to invite you to sign up to receive sporadic emails from us about House events, news, special offers, products and services from The Chimney House.
x
Hello From The Chimney House
We're looking forward to welcoming you into The Chimney House this year!

Booking are open and well and truly underway for Wedding Feasts, Wedding Ceremonies, Private Dining, Celebrations and daily Meetings, Training Sessions & Away Days for 2023/24
Find Out More
x
Shortlisted! Best Historic Venue - The UK Wedding Awards
Posted 29th November, 2019
We're absolutely over the moon to be shortlisted for the 2020 UK Wedding Awards - for Best Historic Wedding Venue in the UK.
Even more great news is that The Mowbray is also shortlisted - for Best City Wedding Venue in the UK.
Below is our entry that's got us this far - then it's over to a public vote that starts on Monday 2nd December!
It's Time to Vote!
If you have a second to vote for us - it would be hugely appreciated to get us through to the next stage! It's really simple - you just need to enter your details - and you also get put through in a draw to win a holiday in Mauritius worth £3,000!
We adore this gorgeous shots from Ellie Grace Photography of Cynthia & Tom's magical day with us! They seemed like the perfect shots to joyously celebrate!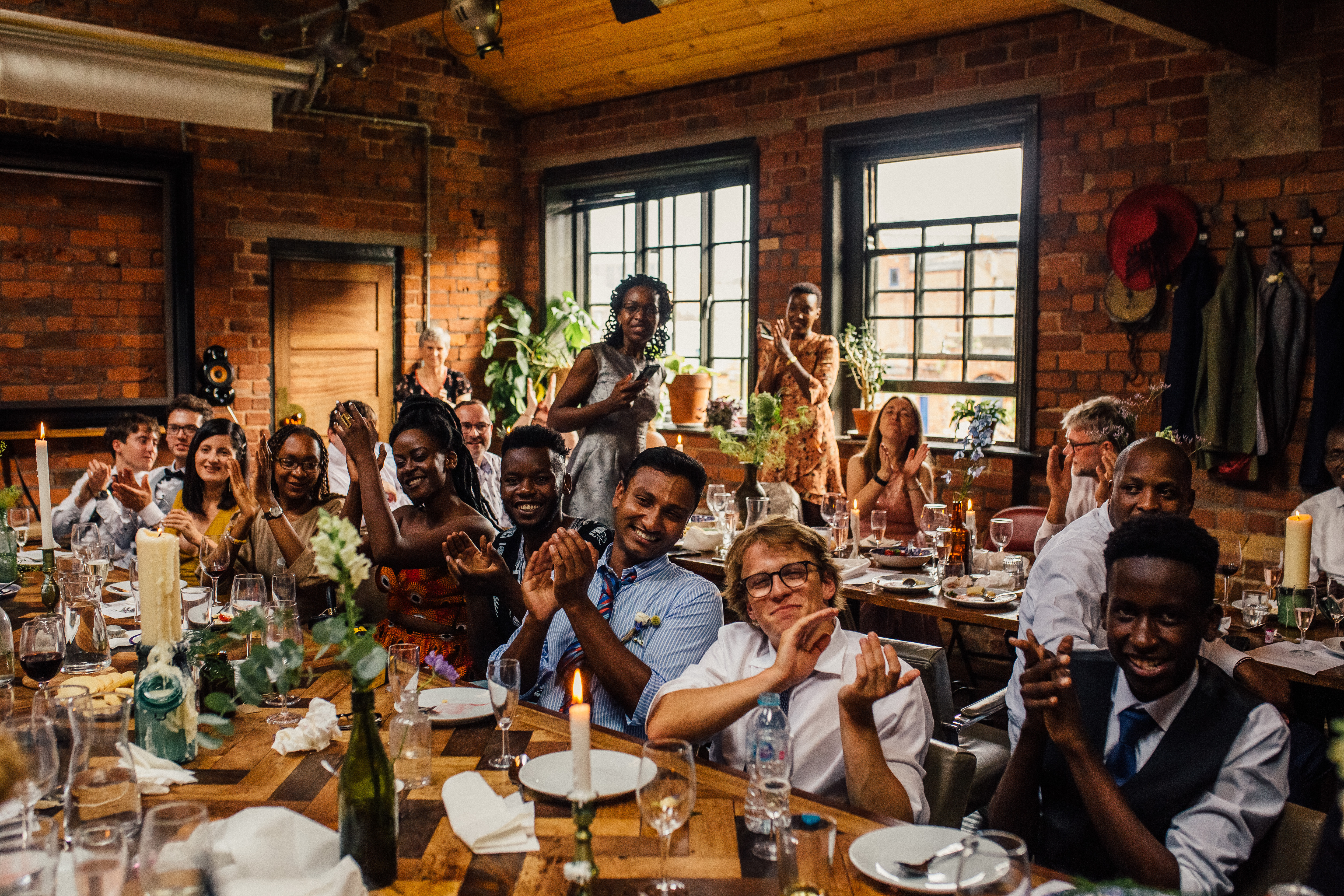 The 2020 Entry
Perched on the historic waterways of Sheffield's Kelham Island - The Chimney House is traced back to 1886 and is part of Sheffield's important historic industrial heritage with the enormous wonder of having housed an elephant named Sarah during World War One. The Chimney House stands on the banks of the Mill Race as a reminder of the time when the Steel Rolling Mills ruled the City and elephants answered the call of a City in need and lifted and shifted their way to victory.
In 2008 we took owner and custodianship of the near derelict building in the ex industrial heartland of Sheffield and have restored and brought back to life the magnificent red brick building with the iconic chimney soaring through the floor and out of the roof.
We're pretty small in terms of a Wedding venue, up to 50 seated for a ceremony and then seated for a wedding feast. The very essence of the building is pure luxe and we have built our reputation on being known for looking after the tiny details that together make up the most amazing day. Our weddings take place around a 20ft parquet table made from eight types of antique flooring, our wedding feasts are abundant and plentiful from Sheffield and Yorkshire ingredients.
It is a proper feel great place - with red brick walls, log burners, antiques and curiosity in every corner and an original stone staircase connecting The Front Room with the upstairs Living Room and The Feasting Hall. Our trademark is as many candles as we can manage to get in the room! We're also known for our love of green plants and our styling of beautiful stems and blooms.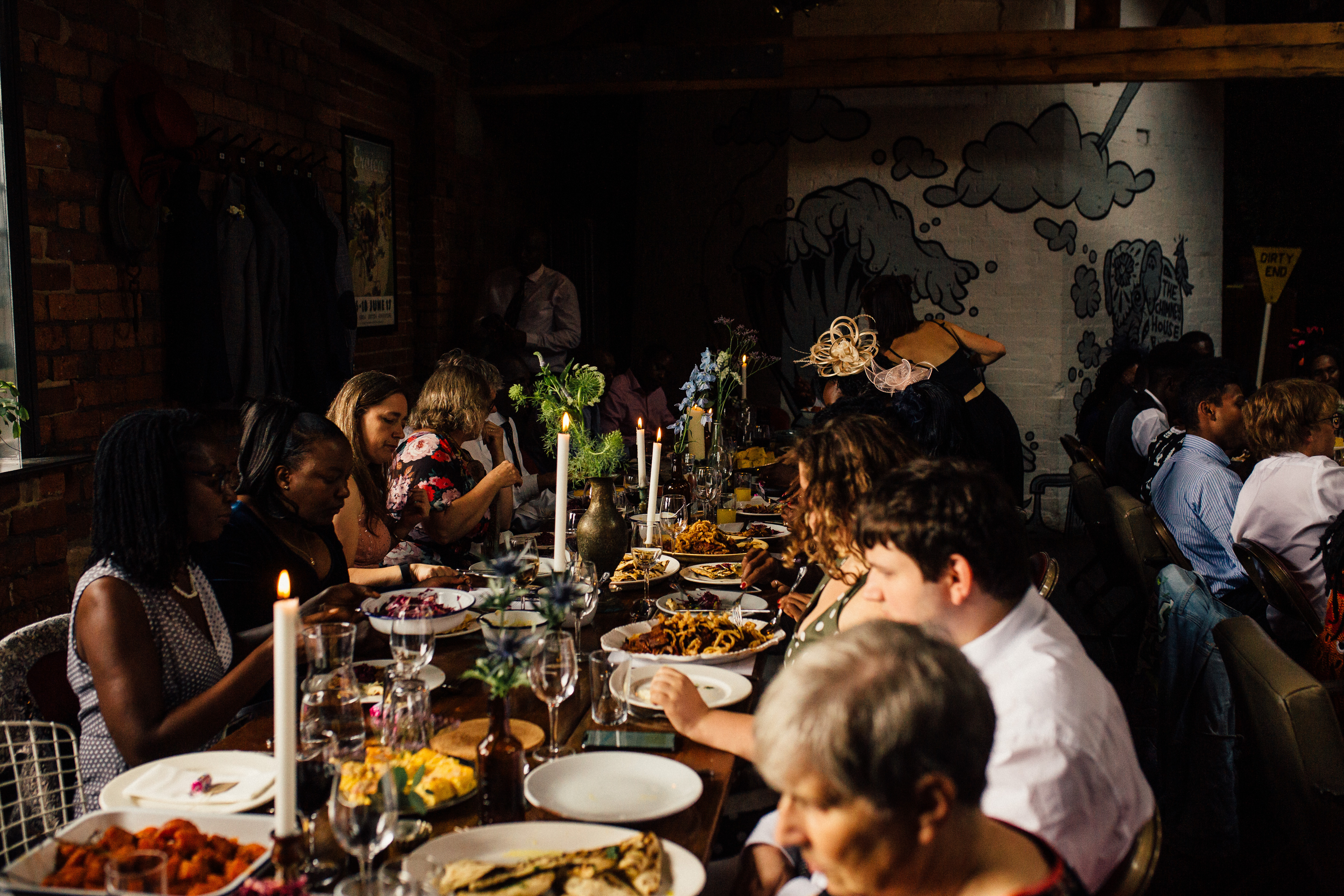 Tell us why you deserve to be a UK Wedding Awards winner
A historic building needs careful treatment to turn it into a historic wedding venue.
For us it's all about heritage with the values of attention to detail, wholeheartedness and beauty. We present weddings that are beautifully in-tune with the very heartbeat of the building - soulful, one off, intuitive and really real!
We know where every piece of furniture, architectural lighting and antique curiosity has come from, we know the whispery voices from the past and the tales they tell. We fill our building with beautiful furniture, with Sheffield and English provenance and are proud to welcome the thousands through the door who take note and give their seal of approval for their marvellous day with us.
Wedding guests fall in love with the story of Sarah the elephant who was the former resident of the building during the war years - all generations love the stories from the steel rolling mills - a building which helped shape a nation.
We've hosted hundreds of weddings, always on a custom made basis from the menu to the styling - creating a unique moment in time each time for up to 50 guests surrounding them with thriving green plants and our styling of beautiful stems and blooms which we source locally.
The Kitchen
The Mowbray Kitchen are Wedding Feast specialists! We are work holistically and sustainably and are heavily influenced by a month by month account of the year. Our menus take into account the weather, harvests, tides, foraging, optimal growth times and peak picking times! We are champions of ultra fresh produce, pickling, preserving, fresh bread and cake baking and of course working with the best ingredients and suppliers that we can find.
Our style has been tailored to how well guests respond to excellent food and drink served up feasting style. It's all about being super social, sharing, ice-breaking and absolutely plentiful and of course delicious! From when the sun rises until the stars come out, we've got it covered.
For lovers of our Sheffield heartland and supporters of local, regional and Yorkshire food we endorse purely seasonal menus which give wedding couples the comfort of knowing the exact provenance of their menus as well as fitting comfortably into budgets.
We also enjoy the indulgence of one to one consultations with wedding guests and their families for bespoke menus for all of the important moments during the day and we also create three or five tiered wedding cakes.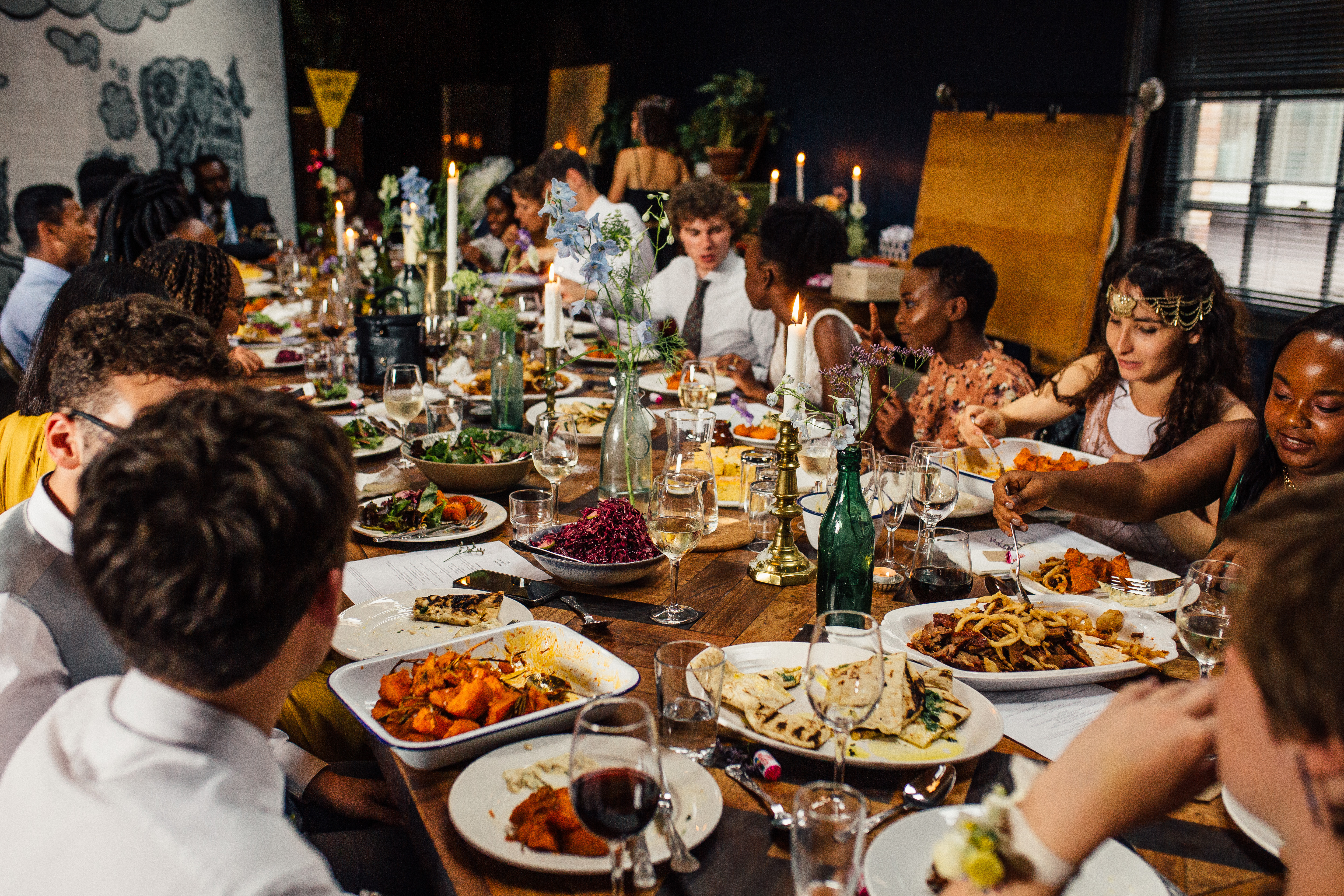 Let's Feast!
We're changing perceptions of wedding food - one feast at a time! We champion our own coined phrase - 'Grand dining' which for us is about perfecting the art of feasting by putting the emphasis of luxury onto an abundant table of food which revolves around seasonal simplicity and allowing carefully curated ingredients lead.
"The feasting style of our menus allows us to think just about what is delicious, rather than what will look good on a plate together to be analysed and explained. The meal is totally about the ingredients and doing the best with them individually, then presenting them as a whole for our guests to enjoy at their leisure." The Mowbray Kitchen
Presentation for us is key - and we use beautiful handcrafted salt glaze ceramics to compliment our food, creating a beautiful feel for guests passing bowls and plates around the table. Our serveware has been carefully curated to include antique cutlery to keep the continued narrative of provenance and care. Our dinner service however is traditionally and quintessentially English with an honest translation of classic. Our cutlery has been made bespoke for us in Sheffield and has a gorgeous custom finish.
Our thinking behind our menus, food and our service is that exceptional quality has to lead - always with an eye on great value, exceptional aesthetics and 100% satisfaction for our couples on their rehearsal dinner, their pre-dinner snacks, their wedding feast, evening snacks and of course their cake!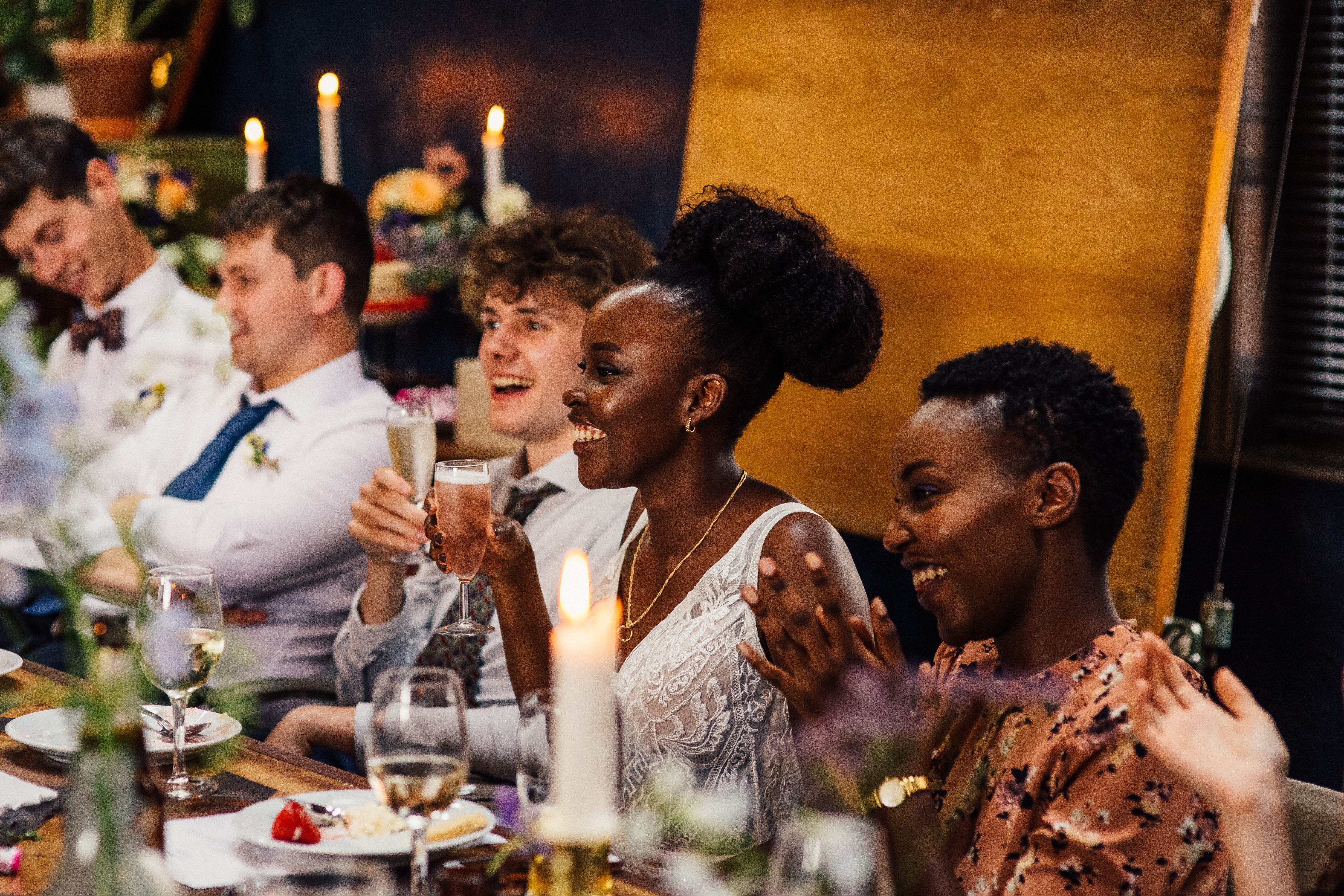 The Reviews
"The Mowbray Kitchen are superb world-class chefs and all our guests including the fussiest - complimented the food on the wedding day. We are both into our good food and drink so this was a top priority for us, we chose The Laden table for our day and everything was delicious and cooked perfectly. We have been told by many guests that the apple crumble was the best they had ever tasted, and the meat and fish got lots of praises too! Our wedding cake was also baked by The Mowbray kitchen; it was just beautiful and also very tasty."
Sam & Christina
"One of the things our guests couldn't stop talking about was the food! We didn't have one complaint, and I have some fussy eaters but everyone loved it. There was so much of it and it tasted amazing. We had an informal feasting style, with long tables and food in the middle so everyone could help themselves. People commented about how nice it was, and how it got everyone interacting and talking to one another. Plus there was none of that waiting for tables to be served, everyone was eating at the same time."
Kelly & David
"Our family friends got to sit round the most stunning tables sharing the most wonderful food. The food served was out of this world we received so many fantastic reviews from our guests. We had several dietary requirements all which were met with the most amazing taste and textures.
To the chefs who worked so hard, you made our day perfect! The food was such an important part of our wedding and it was more than we could have imagined. Guest have even tried recreating the flavours of sharing table back at home. The quality of food and being sourced locally satisfied our need to support local businesses and showcase what Sheffield has to offer."
Lucy & Christopher
Make an Enquiry
We are very happy to arrange viewings, to talk about prices and offering to suit your event. Please fill out the form below or call us on The Chimney House Hotline on 0114 276 7885.