SIGN UP FOR STORIES
We would like to invite you to sign up to receive sporadic emails from us about House events, news, special offers, products and services from The Chimney House.
x
Hello From The Chimney House
We're looking forward to welcoming you into The Chimney House this year!

Booking are open and well and truly underway for Wedding Feasts, Wedding Ceremonies, Private Dining, Celebrations and daily Meetings, Training Sessions & Away Days for 2023/24
Find Out More
x
Duncan and Sally's Wedding :: The Chicest Of The Chic
Posted 22nd November, 2018
We welcomed Duncan and Sally to The Chimney House for a gorgeous Autumn wedding day filled with luxury touches, an eye on style (a custom made gown and Vivienne Westwood tailoring) and a magnificent feast!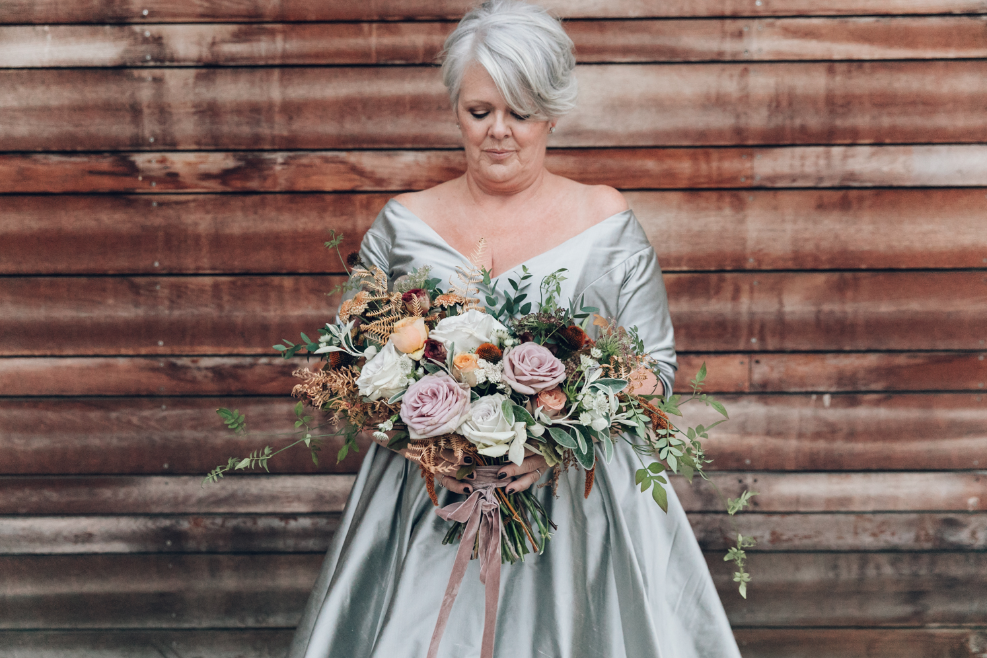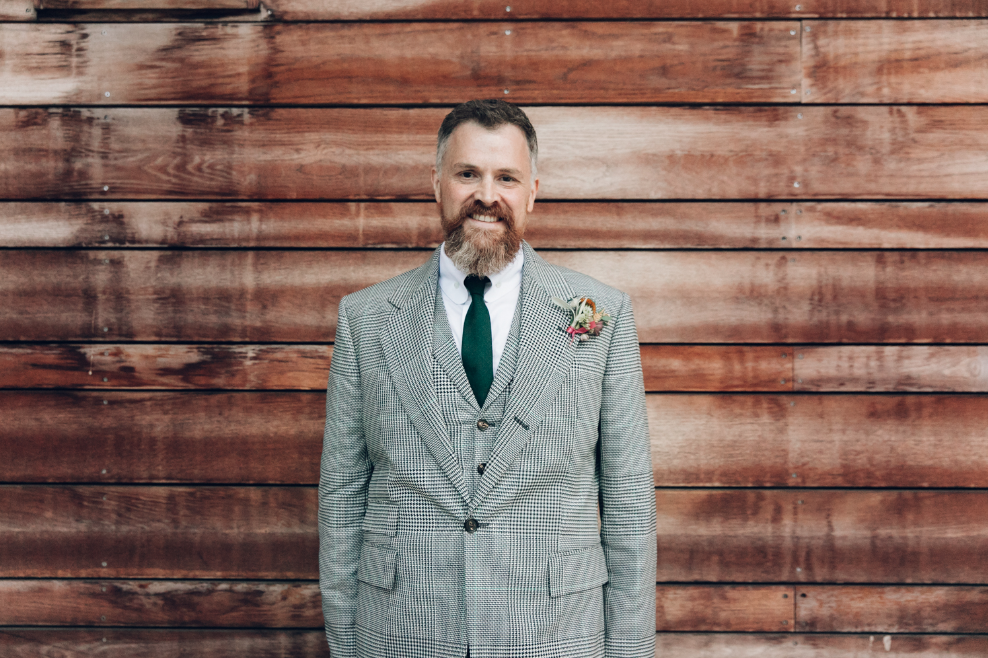 Amazing food is always at the heart of The Chimney House weddings and we served up our signature foodie lovers feast - The Laden Table, crammed with Sheffield and Yorkshire delights across two long feasting tables which we styled with the most romantic stems from Swallows & Damsons and accessorised with our favourite local artisan chocolatier - Coco Mester whose chocolates where served up as edible place settings and were a mixture of delicious fillings, amaretto and apricot, coconut & cardamom, sticky toffee pudding and chocolate nut bars with salted caramel. Large chocolate hearts were gifted to the teenagers and triple disc lollipops for the kids.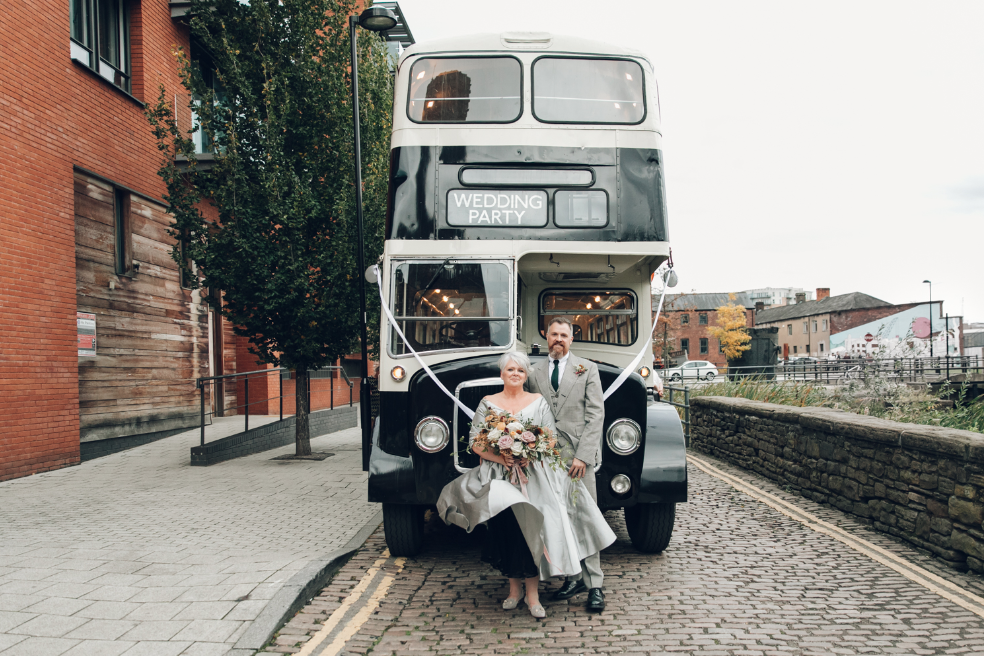 Guests arrived all aboard a beautiful vintage bus just as dusk was drawing in at 5pm. Champagne corks popped, ensuring the most excellent start to married life for the newlyweds!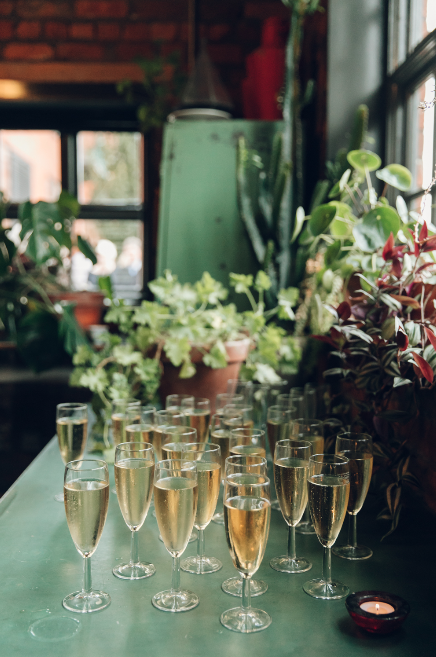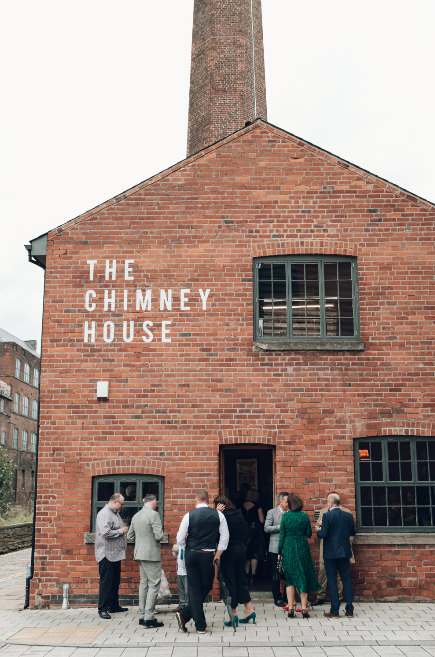 We loved chatting to Sally about all beautiful details of the day, of which there were many!
"Choosing venues, photographers, cakes, flowers etc can be, in my opinion, quite a stressful part of any wedding planning. Not so much for us! Once we had seen the Chimney House our decision was made and Lucy helped us with all the other arrangements. Easy!
My dress was made by Jo and her fabulous team at The Couture Company in Birmingham. They specialise in custom made, quirky dresses and worked with me to design something that suited me. I was so delighted with the dress and the lessons Jo gave me in how to "be a big girl and stop whining" whilst wearing the corset, paid off. It did take 25 minutes to actually get out of the thing by the end of the evening...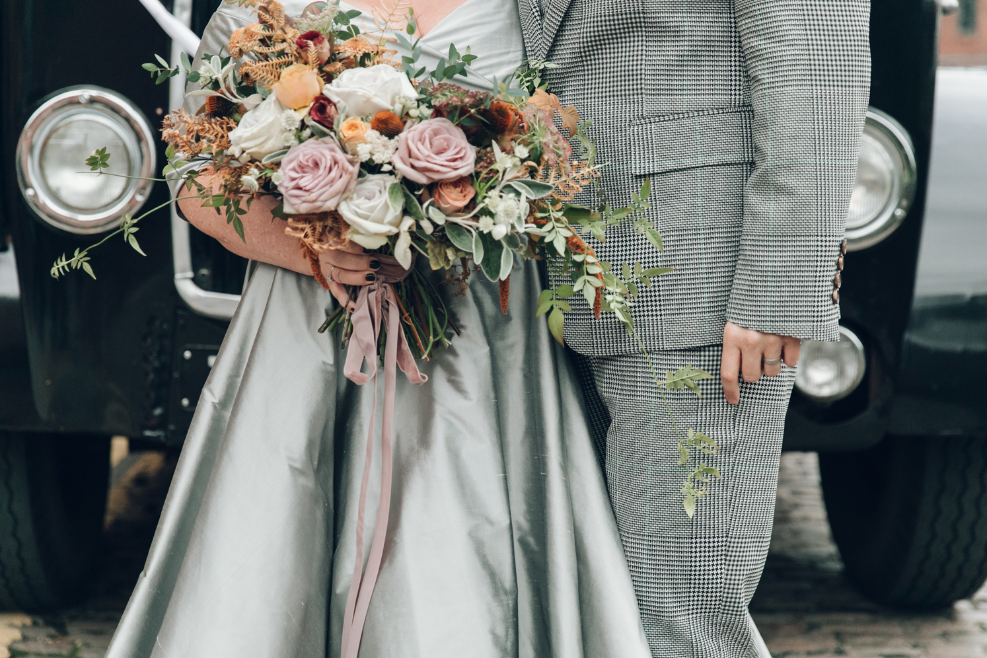 Duncan's suit was from Vivienne Westwood and his green brogues from Joseph Cheaney. Having never seen him in a suit before I realise say I think he looked propper dapper.
Flowers, oh the flowers, were from Swallows and Damsons. I have loved Swallows and Damsons since moving to Sheffield 5 years ago. Anna is a genius and her creations are a thing of beauty. We are preserving the flowers so we can have them as a constant reminder of the lovely day.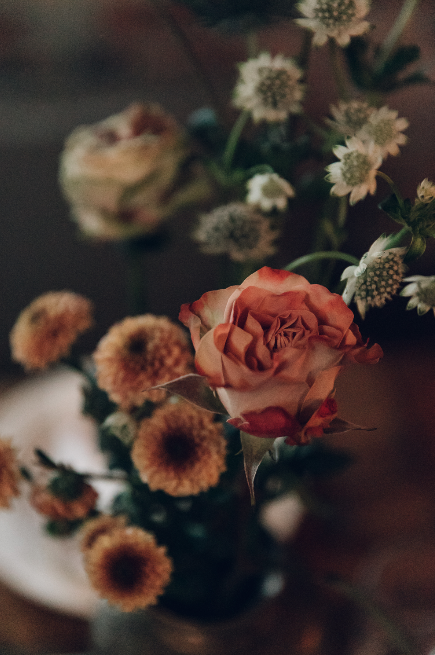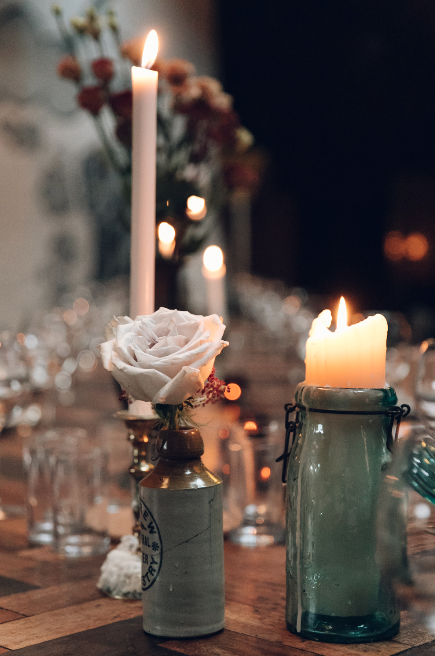 The cake was made by Rachel Edwards at Oh Sugar. We spent a long time debating the finer details of cake. I mean who wouldn't. We finally landed on a 3 tier, fine balance of both victoria and chocolate sponge. A naked cake. No marzipan or icing in sight.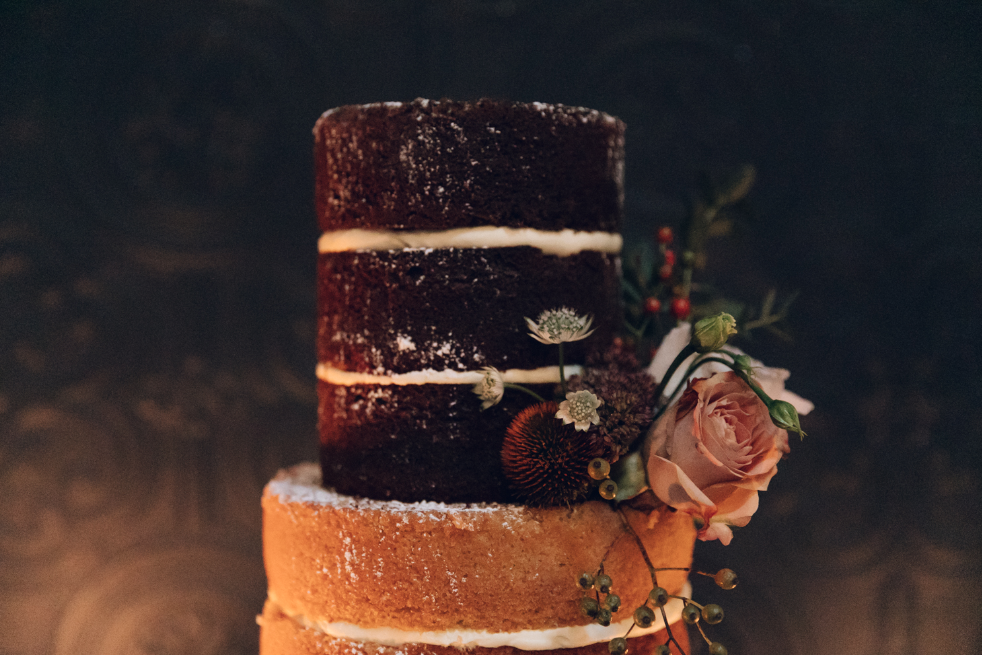 Our favours for the day were made by Anna Sterling at Cocoa Mester. These were used as place settings and were a mixture of delicious fillings such as amaretto and apricot, coconut & cardamon, sticky toffee pudding and chocolate nut bars with salted caramel. We had large chocolate hearts for the teenagers and triple disc lollipops for the kids.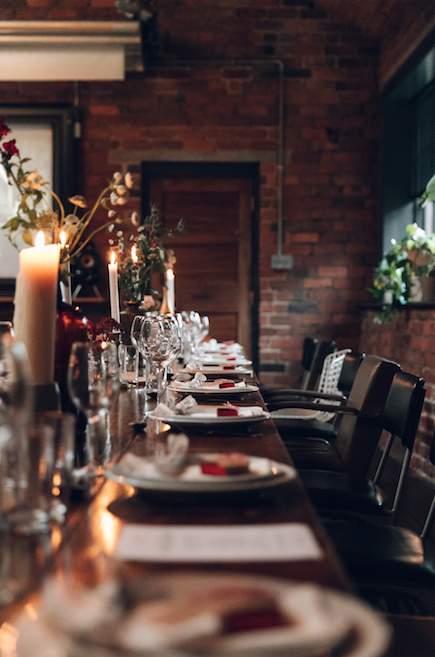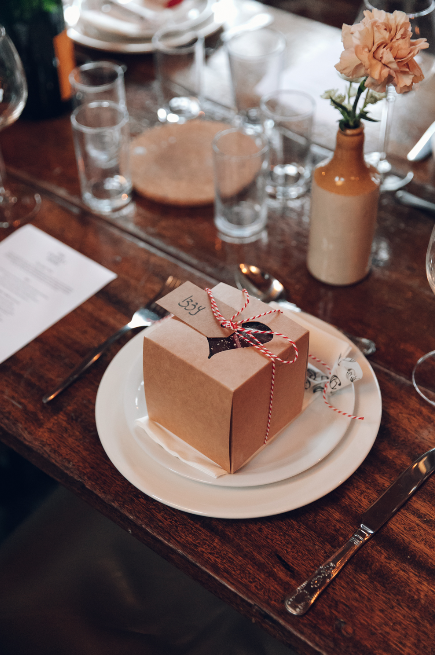 The Chimney House is a perfect venue and the decoration and attention to detail is sublime. Lucy was fabulous throughout the who planning and made everything so easy. The two Hannahs looked after us so beautifully in the evening and the food was simply awesome. I know there were a team of people working hard that we didn't see that evening and we are very grateful to them all.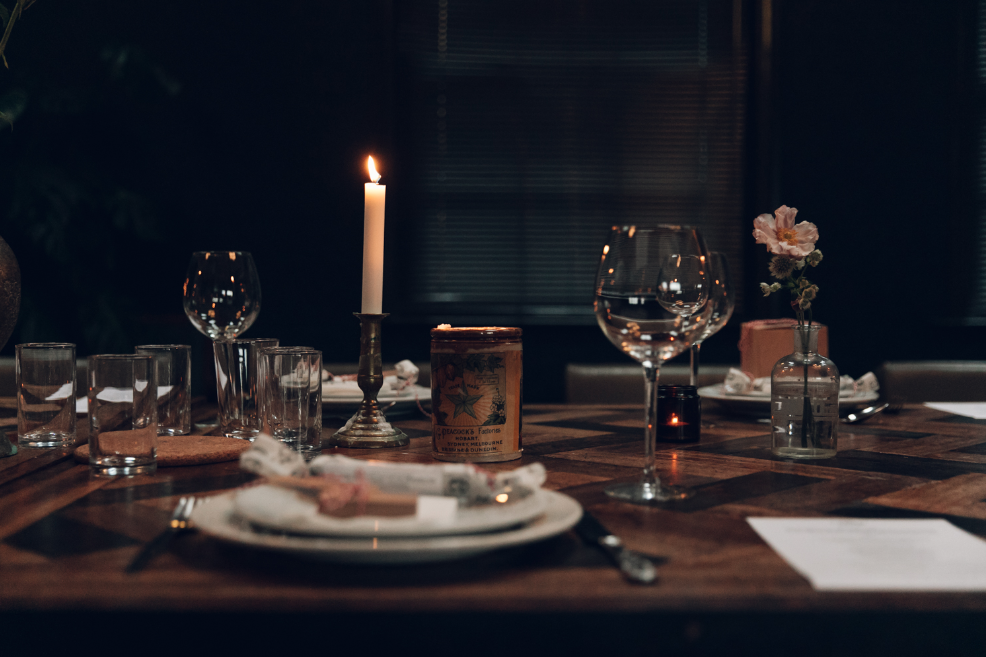 Everyone of our family and friends said it was the best food they had had in a long long time. I still crave the yorkshire blue, honey and walnuts….
The food was tasteful, plentiful and beautifully presented. I loved the help yourself, family style laden table. Excellent idea.
Our entire day was photographed by India Hobson. India's photographs are exceptional and I was a bit nervous about having her at our humble wedding. I mean I'm a middle aged floozy who has a history of looking awful in photographs.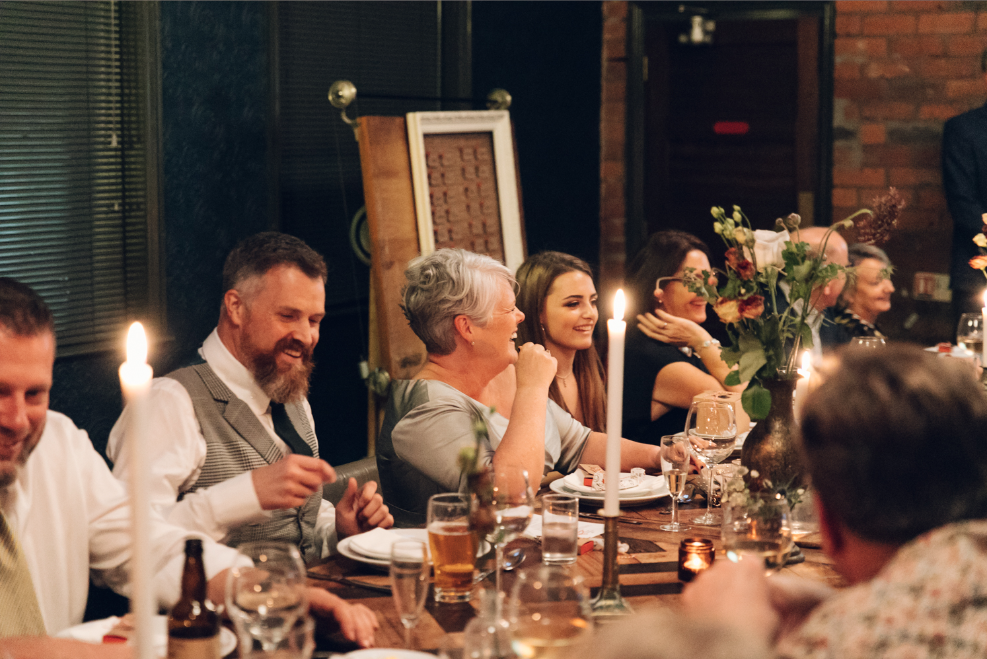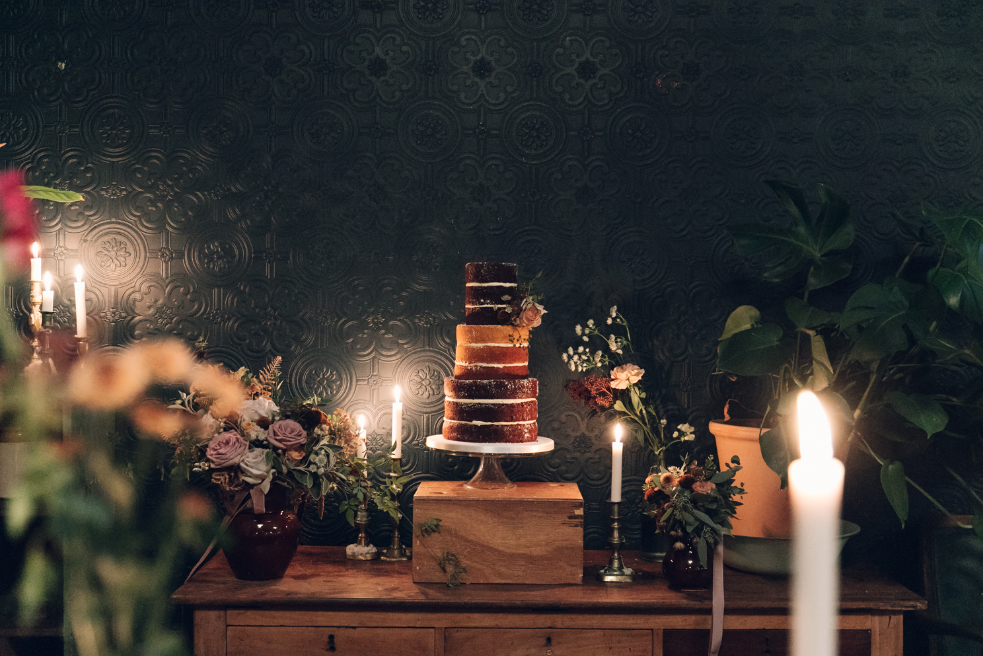 I realised very quickly that India was the perfect choice for us. She took the time to meet with us both and get to know us and what we wanted. Calm and collected by nature, India was perfect to have around all day. Unobtrusive when taking photos she managed to capture the day in such a personal way. It was more like having an additional friend at the wedding."
Beautifully photographed by India Hobson
Make an Enquiry
We are very happy to arrange viewings, to talk about prices and offering to suit your event. Please fill out the form below or call us on The Chimney House Hotline on 0114 276 7885.