SIGN UP FOR STORIES
We would like to invite you to sign up to receive sporadic emails from us about House events, news, special offers, products and services from The Chimney House.
x
Autumn at The Chimney House
Join us for daily meetings, conferences, private dining and the most beautiful weddings, ceremonies & parties...

We are booking for the remaining dates in 2022 and for 2023/24

Don't miss Christmas at The Chimney House - we're open for bookings for our last remaining dates!
Find Out More
x
An Interesting Evening With…
Posted 7th October, 2015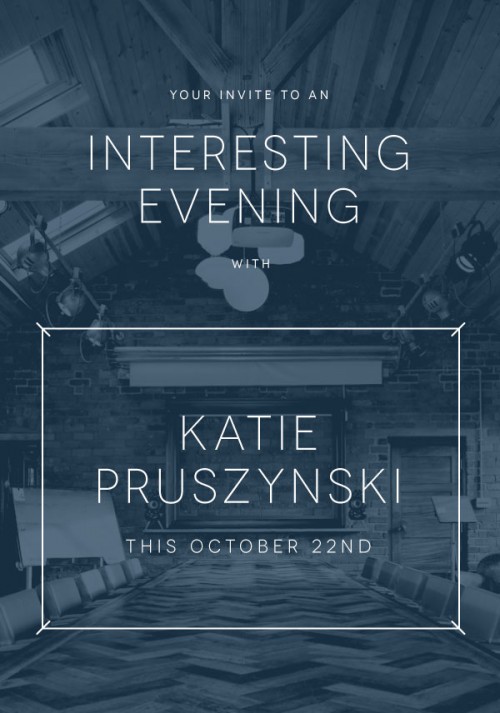 Now the leaves are turning yellow and the nights are drawing in, our thoughts turn towards hunkering down and making the most of one of our favourite seasons.
This Autumn/Winter we are going to be hosting a series of 'Interesting Evenings' at The Chimney House.
Each 'Interesting Evening' will be different – and hosted by a whole host of interesting and inspiring people. Some evenings will be free, others will have a fee but all have been curated to broaden horizons and to give a fun peek into another point of view.
We invite you to The Chimney House to fill up your Autumn evenings with fun, creativity, learning, interest and to join us under our ancient beams for a series of inspiring evenings on The Island.
We'd love to invite you to… An Interesting Evening With Katie Pruszynski – Thursday 22nd October 2015.
Katie Pruszynski, a former theatre director, parliamentary speechwriter and political adviser, will be talking to us about confidence, building self-esteem to defy stereotyping and enabling people to reach their full potential.
Between 2011 and 2015 Katie was the Senior Parliamentary Assistant to an MP and former Government Minister, responsible for press liaison, speech writing and external communications.
Katie has recently moved to Sheffield, training people in confident communications. She will be chatting to us about techniques that help people to believe in their abilities and giving us some top tips on how to build self-esteem, prepare for public speaking or presentations and have the confidence to defy the expectation to conform.
Katie will also be chatting to us about the pressure that is placed on people, especially young people, women and those from minority backgrounds to conform, and the damage that can do to their progress, whilst also losing vital diversity in business, politics and the media.
This is going to be a super fun evening with an inspirational host! Come join us! Thursday 22nd October 2015 – arrival from 6pm for a welcome tipple and a chat, Katie will talk from 6.30pm, we expect to finish up around 7.30pm.
Catch Katie on Twitter @LadyPolitic
Read more HERE
Places are FREE but limited, email kirstin@thechimneyhouse.com to book your spot.
#InterestingEvening
Our next 'Interesting Evening' is on the 4th November…Stay tuned for the details!
Host the next Interesting Evening!
If you are passionate in what you do – and the sky really is the limit here – and would like to host 'An Interesting Evening' – please get in touch kirstin@thechimneyhouse.com
Make an Enquiry
We are very happy to arrange viewings, to talk about prices and offering to suit your event. Please fill out the form below or call us on The Chimney House Hotline on 0114 276 7885.