SIGN UP FOR STORIES
We would like to invite you to sign up to receive sporadic emails from us about House events, news, special offers, products and services from The Chimney House.
x
Autumn at The Chimney House
Join us for daily meetings, conferences, private dining and the most beautiful weddings, ceremonies & parties...

We are booking for the remaining dates in 2022 and for 2023/24

Don't miss Christmas at The Chimney House - we're open for bookings for our last remaining dates!
Find Out More
x
Afternoons at The Chimney House
Posted 21st April, 2054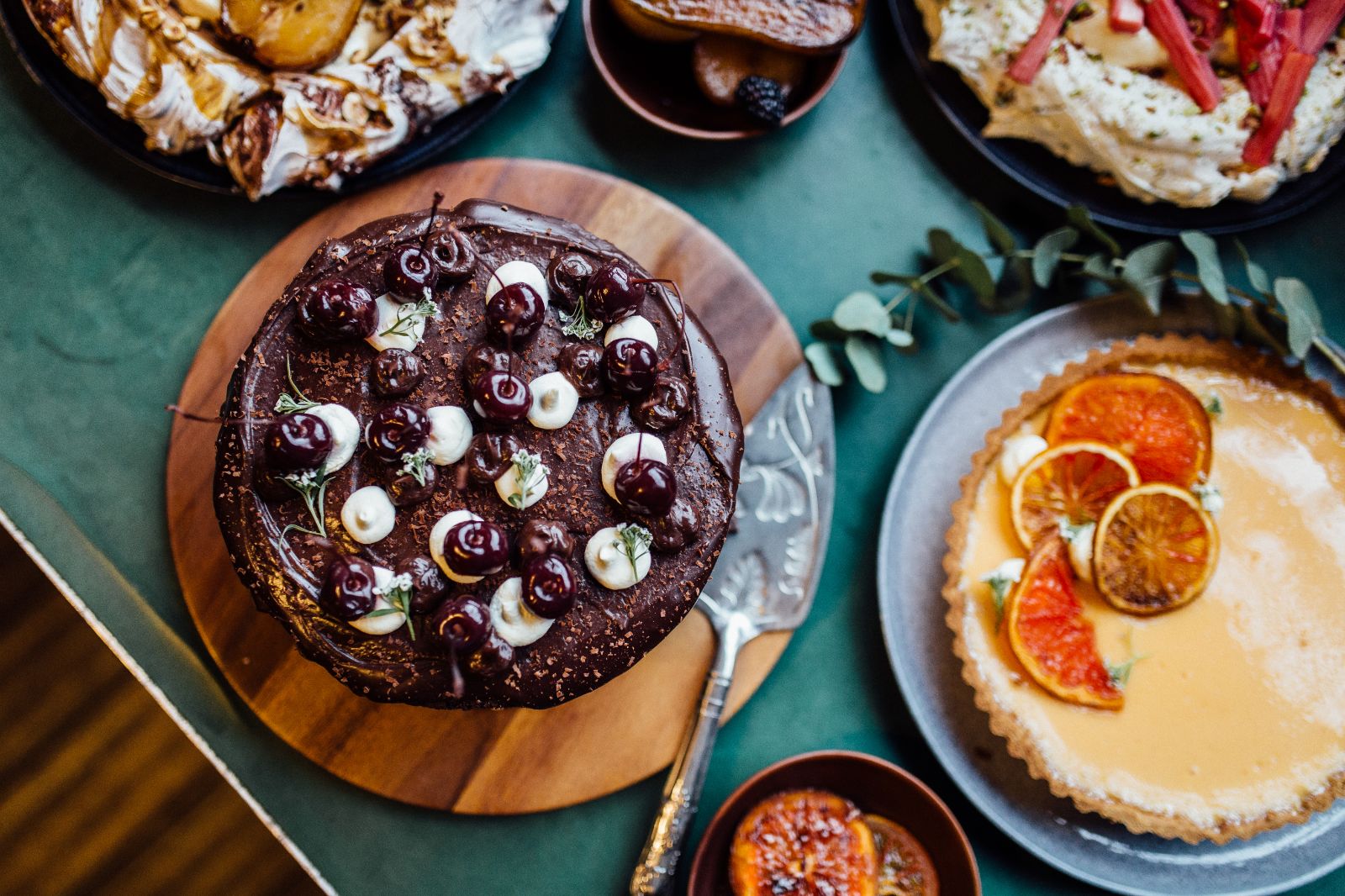 Afternoons at The Chimney House
Perched on the historic waterways of Kelham Island Sheffield, The Chimney House is the location for joyous celebrations for friends and family togetherness. We love hosting baby showers, hen parties and all of life's great times!
Fall in love with a Chimney House celebration. The flicker of candlelight, the bubbles of champers, we plan, arrange, style and host most fabulous parties with a difference, perfect dining experiences and the most glorious celebrations imaginable!
Get caught up in our joy and revel in the delight of having your event planned to perfection. We will host your guests in the ambiently beautiful surrounds of our historic building, with stacks and stacks of candles. Celebrate under our beams and amongst antiquities and curiosities...
We can also help you organise fun things to do for your afternoon … Get creative with flower crown workshops or even life drawing classes! Workshops or classes will be a separate charge on top of The Chimney House menu - and will be hosted by an expert - something to consider to help your afternoon go beautifully!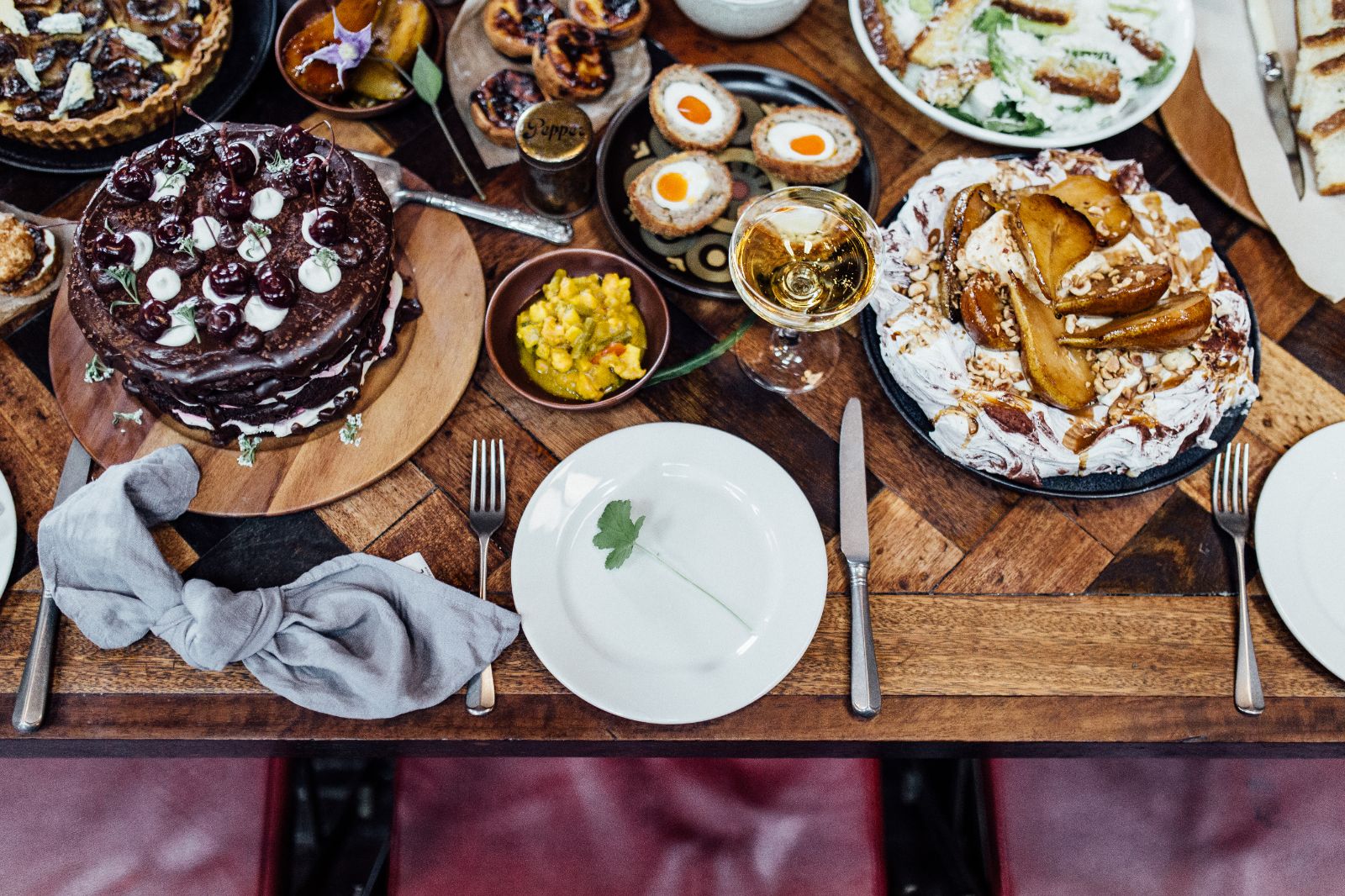 Taking The Twee Out Of Afternoon Tea
We have been hosting gorgeous afternoons at The Chimney House for over a decade and along the way we've moved on from quavering tea stands, fine china and teeny, tiny sandwiches to find and perfect our perfect afternoon food. We've always embraced the idea of social feasting - which in our book is the best way to eat - especially when everyone around the table might not know each other - it's the best way to get chatting over a good slice of cake!
We are famed for our grand feasts with a focus on good ingredients, where flavour is key. We use local where possible, and seasonal when it's best.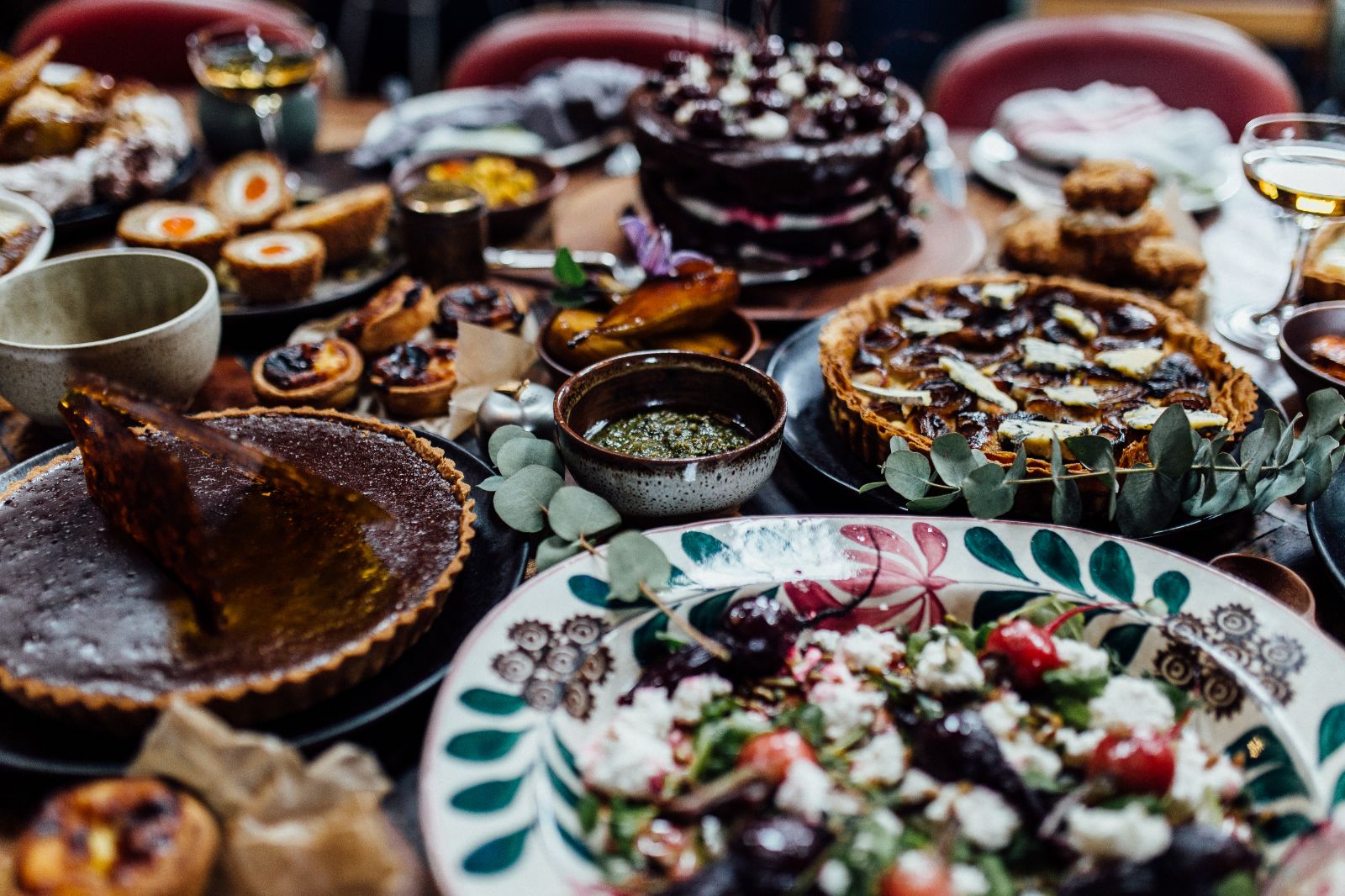 Hello High Tea
High Tea is a substantial and somewhat more casual affair. We're all about plates, platters and bowls brimming with fresh ingredients and great bakes. Our whole ethos of eating is sharing and passing, building your own perfect plate of food, and going back for seconds. Our new High Tea menu is quintessentially us, all handmade made by us.
Made by The Mowbray Kitchen
Handmade doughnuts, pastel de nata with our own orange blossom custard and all butter pastry. Our guests will always share a side of our home cured & hot smoked salmon, house pickled dill cucumbers & freshly baked focaccia. It's important to us to make High Tea just as delicious & authentic as any of our other feasts.
Let us Look After You
Our chefs will put a completely unique menu together for you - you don't need to make any choices, we just need to know any dietary requirements and we'll put out a perfect spread. Our feasting table will be set up for your guests, drinks and savouries served. For pudding we will set up a beautifully styled pudding table for you to help yourself to. We'll be on hand for anything you need.
The Chimney House High Tea £40pp (excluding vat) £48pp (including vat) (including 3 hours exclusive hire of The Chimney House)
We make and bake with only the freshest, choicest and local ingredients. Everything is made from scratch using skill and passion to serve you a taste sensational afternoon for you to enjoy with friends and family. The menu price also includes 3 hours private use of The Chimney House with our lovely team to take good care of you. We'll naturally take care of any dietary requirements as well.
If your numbers are more than 32 - we would suggest The Mowbray to host your High Tea...
Parties of 20-32 will be served...
On The Table
A delicious tart with the pick of the most delicious seasonal veggies
2 kinds of homemade snacks such as arancini, scotch eggs, sausage rolls or cheddar scones
2 gorgeous fresh salads
A selection of charcuterie with house made pickles & capers
A side of our famous Mowbray made lightly cured & hot smoked salmon with dill creme fraiche
Freshly baked Mowbray focaccia
The Pudding Table
A freshly baked gateaux or victoria sponge
Zesty citrus tart such as Amalfi lemon, blood orange & grapefruit or Key lime
A Mowbray PAV - perfect crisp meringue piled high with the best berries, or indulgent roast pears, peaches or plums
A batch of our favourite bakes; spiced brown butter or squidgy chocolate & ale
A wildcard: Pastel de Nata, doughnuts, mallow teacakes or iced buns to name a few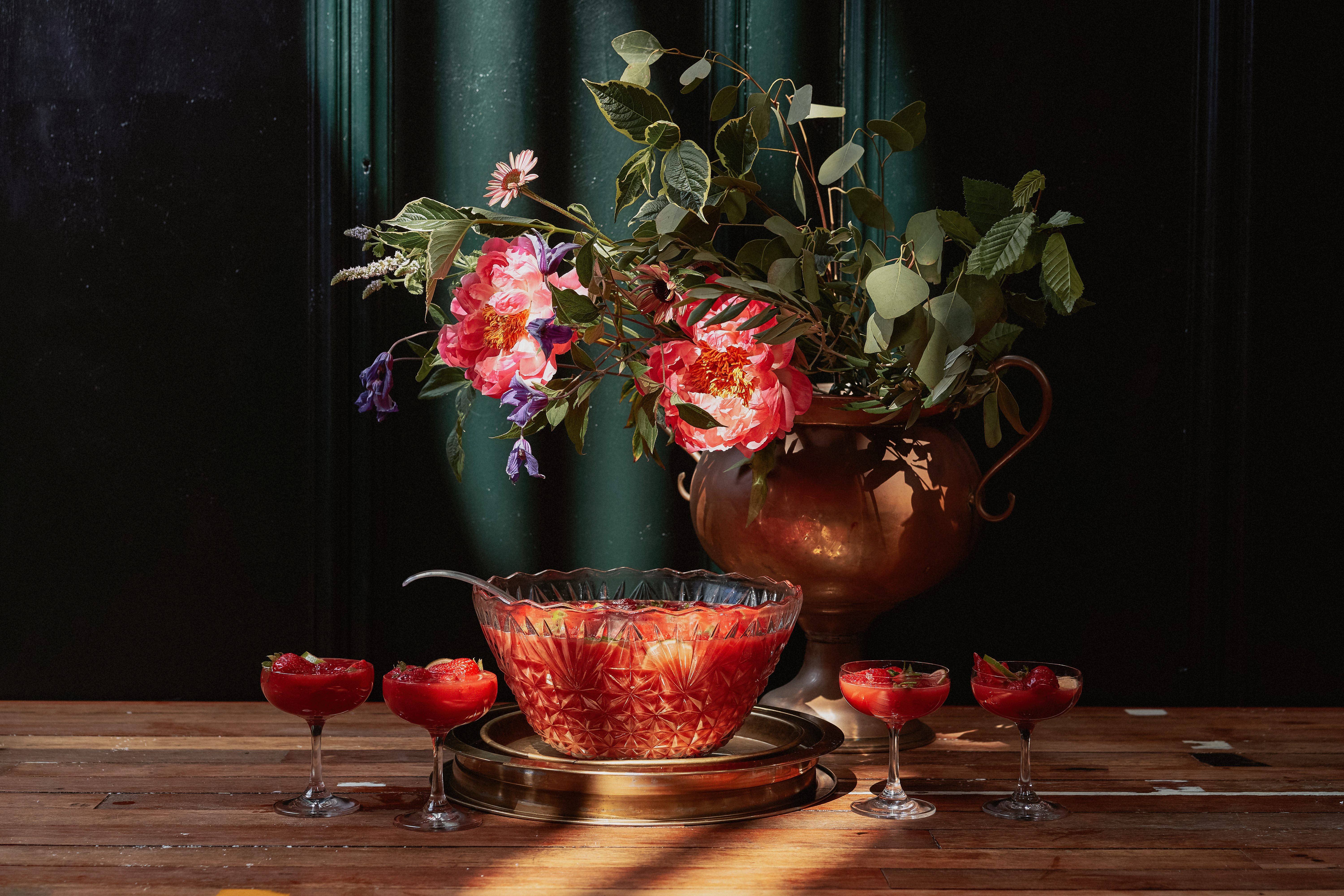 Bar Service at The Chimney House
We've carefully curated a delicious wine and beer line up that matches our menus and makes life super easy for you. Simply pre-order with us when you confirm your final numbers and we'll make sure that your wine and beer is served up perfectly for you to enjoy. We also have a selection of soft drinks that start from £2.50.
Check out our 'preorder' wine packages, punch bowls and cocktails
Included in the price...
Exclusive hire and bespoke styling of The Chimney House for 3 hours. Goodbyes no later than 5pm for afternoon events.
Table styling and dressing with The Chimney House collection candles and antiquities
Our ever attentive, expert team for your event
Cloakroom service
Premium paper napkins, glass and tableware
Filtered water on tables
Speaker system to play your tunes
Screen and projector to show your favourite memories
Managing of onward travel plans, we'll pre-book taxis to whizz you on to your next destination
Luxury bathroom amenities from cult brand Aesop - treat yourself to the botanically based skincare!
Optional Extras…
Additional time - £150 per hour
Cut flowers from our preferred supplier, antique holders and arranging - £60
Need to knows…
Menus can be served seated for 50
Menus and prices will change seasonally
We can cater to all dietary requirements
Allergen information is available for all menus on request
We prefer BAC payments.
Guests with Allergies and other Dietary Requirements:
We will make your menu as inclusive as possible, whilst making sure your menu is as delicious as possible for all guests, we just need a full list of any dietary requirements ahead of the event. We will produce a full bespoke menu for your event, with allergens clearly labelled so that you can relax and enjoy the afternoon. Guest numbers and dietary requirements need to be confirmed 7 days before your event.
We take a payment of £250 as a non-refundable deposit to secure your date, this is then subtracted from your final bill. Your deposit payment confirms your understanding and acceptance of our terms and conditions HERE
A few comments from some of our recent celebrations, and more testimonials here...
"Can we say a huge thank you for looking after us at my father's birthday on the 17th of May.
The food was fantastic, the venue perfect and the hospitality wonderful.
My parents have not stopped talking about it and the whole family had a wonderful and memorable night. Thank you so much!"
Mike Holton.
"The Chimney House was the perfect venue for getting all our family together... From the moment we first visited, we just knew that no where else would compare. Everyone fell in love with the venue which was truly special and unique. The service, the food and the beautiful decorations were all outstanding. They even included my mum's favourite flowers in the table decorations which she noticed straight away. We didn't have to worry about anything except to turn up and enjoy ourselves. We can't praise it or recommend it enough because it really was just the most perfect evening"
Sarah Moga.
Make an Enquiry
We are very happy to arrange viewings, to talk about prices and offering to suit your event. Please fill out the form below or call us on The Chimney House Hotline on 0114 276 7885.