CANCELLED - Candlelit Classical Music at The Chimney House!
Posted 22nd February, 2018

CANCELLED! A message from Manchester Collective...
With heavy hearts we have to announce that 100 Demons // Sheffieldtonight at the The Chimney House has had to be cancelled. The venue is completely snowed under, and all roads from Manchester are currently closed. It's a complex show for us with lots of kit, and there's no way we can physically get to the venue.
We're really sorry that it's come to this - however, there is a silver lining. 100 DEMONS has been picked up by a major London venue for a revival later this year, (announcement soon!), and we will be attaching a Sheffield performance to this revival. So, 100 DEMONS will return (if just a few months later than expected).
As far as we are aware, trains are still running between Manchester and Sheffield - if anyone would like to travel to our gig at The Stoller Hall in Manchester on Saturday night, I would be very happy to offer them a free ticket.
All tickets to 100 DEMONS tonight have now been refunded - this should sort itself out over the next few days.
Again, we're so sorry to let you down this time - we've done our utmost, but the beast from the east has proved to be a formidable foe!
-
We're delighted to welcome Manchester Collective back to The Chimney House for an evening of candlelit classical music, and the World Premiere of 100 DEMONS on Thursday 1st March.
We love to welcome guests out of the cold and into the flickering candlelit sanctuary of our beautiful Sheffield venue. Luxuriate in the excuse to relax with a glass of wine, and listen to something incredible unfold right in front of you. Experience the interesting, intriguing and unexpected during your evening with us...
Manchester Collective say they're going to be "presenting three sets of wild new music - music that is probably very different to anything you might have heard before...in [the] first set, underground electronic artist Vessel presents a collection of live tracks from his latest album... the chance to hear some of this new work for the first time... [before] some of the biggest festivals in Europe... The second set features various combinations of solo violin, solo cello, and electronics. From much loved works like Steve Reich's Violin Phase, to works that have never been performed in the UK, we've assembled a collection of music that we find incredibly exciting... [and] the heart of show is 100 DEMONS, our titular commissioned work, written for Manchester Collective by Daniel Elms.. about politics and the media. Fear. Manipulation. Japan. 100 DEMONS comes from a very unusual place, and we can't wait for you hear it."
FIRST SET
VESSEL The Birth of the Queen
SECOND SET
STEVE REICH Violin Phase
JONATHAN HARVEY Ricercare una melodia
IANNIS XENAKIS Mikka S
EDMUND FINNIS Sister
MICHAEL GORDON Industry
THIRD SET
DANIEL ELMS 100 Demons WORLD PREMIERE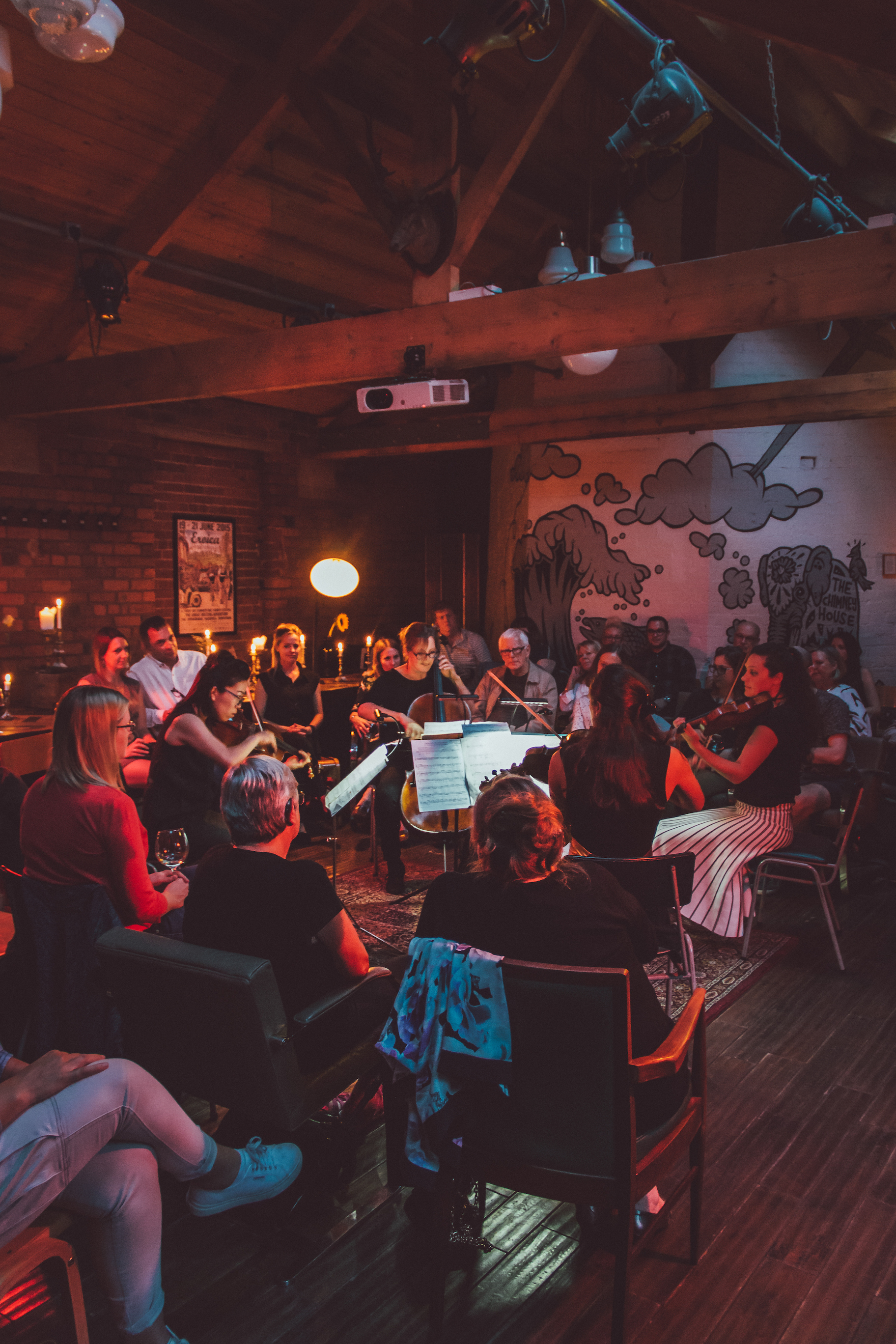 THURSDAY 1ST MARCH 2018
Tickets are £18 per person (concessions £5)
Doors open at 7.30pm
Performance at 8pm prompt
Please note there will be a cash bar for the evening
More info and tickets
HERE
Click here to

Sign up to good news
Make an Enquiry
We are very happy to arrange viewings, to talk about prices and offering to suit your event. Please fill out the form below or call us on The Chimney House Hotline on 0114 276 7885.